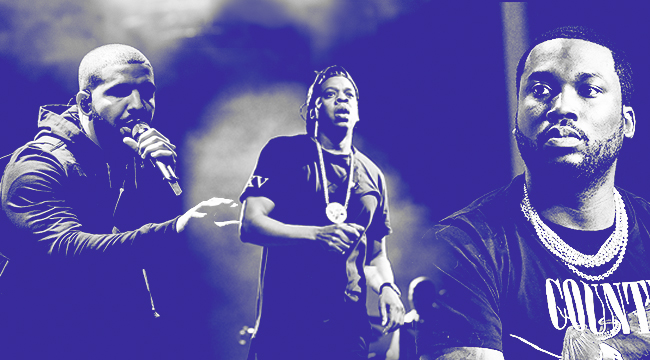 It's Meek Mill's week, and we're just living in it. This week had a slew of impressive releases, but it was capped off by Meek Mill's triumphant return to the rap game with his Championships album. He was released from his prison sentence this May, and took his time to craft an album with high-profile features like Jay-Z, Drake, and Cardi B. Meek's Championships effort sets off this week's roundup, but there was more you should check out, including an EP from fellow Philly spitter Black Thought and another long-awaited project from Earl Sweatshirt:
Meek Mill, Championships
It's here. There's a lot to be said about what could be Meek's best album yet, but the joy is that it's out at all after what he went through with his jail sentence. That injustice understandably served as the backdrop of the project, as he pours through his circumstance on songs like the thrilling "What's Free" featuring Rick Ross and a god-level Jay-Z verse, and on the aptly-named, "Trauma." He's admitted that he still doesn't feel free on probation, but it's not all bad, as his "Going Bad" reconciliation with Drake and churning "On Me" with Cardi B show.
Earl Sweatshirt, Some Rap Songs
Don't let the understated title fool you — these aren't just some songs, these are the songs you need in your rotation. Earl put on a dazzling rap clinic on his latest album. Coming in at 15-tracks — yet 25 minutes — the project is a fleeting, but nourishing visit by one of the game's most lyrically gifted, thoughtful poets. He commandeers most tracks with a surgical brevity, with concise lyrics that carry a ton of impact like the tight juncture following on "Nowhere2go:
I spent most of my life depressed, only thing on my mind was death
Didn't know if my time was next
Tryna refine this sh*t, I redefined myself
First I had to find it
Mac Miller, "Dunno," "Nothing From Nothing" (Spotify Singles)
There are positive things said about nearly everyone who passes, but based on the outpouring of peer shoutouts and devotion showed from acts who performed at Mac's Halloween tribute show, the appreciation for the Pittsburgh artist is genuine. Not only was he a great friend to many, including Lil Xan and JID, he was a great musician. That musicianship is on display for two of his recent "Spotify" singles, as he played an acoustic version of "Dunno" from Swimming, as well as a cover of Billy Preston's 1974 "Nothing From Nothing."
Black Thought, Streams Of Thought Vol. 2
First Black Thought released his Streams Of Thought Vol. 1 solo with 9th Wonder and Khrysis, and now he's offering more Streams with Salaam Remi. The legendary MC's latest 9-track effort shows what everyone and their mother should already know: he's one of the best rappers you'll ever hear. His lyrical wizardry is on full display throughout the album, specifically on standouts "Streets" and "Fentanyl," where he delves into the collective cost we're all paying for drugs.
Jay Rock Feat. Tee Grizzly, "Sh*t Real"
Jay Rock's "Sh*t Real" video starts off with a scene showing someone kicking a door in and shooting twice. The two gun sparks are a jarring reminder that while we enjoy gangsta rap as entertainment, the content they rap about is as real as it gets for some people. Artists like Jay Rock and Tee Grizzley have seen the worst of gun violence in their respective hometowns of Compton and Detroit, and tell their side of it on the cut from Jay Rock's Redemption.
Lil Skies, "Opps Want Me Dead"
Lil Skies is ascending true to his name, but that doesn't mean everything is rosy in his world. He divulged after XXXTentacion's death in June that he was almost robbed at gunpoint in LA. That kind of incident could sour anyone's worldview, and it's reflected in Skies' latest offering "Opps Want Me Dead," where he reflects on fake friends and backbiters.
Smoke DZA, Free Smoke
Smoke DZA recently released a three-song EP entitled Free Smoke, which features DC artists Wale and Phil Ade on the bluesy "Fiscal Thoughts" as well as the laidback "Get You Some" with Compton MC Buddy. His "Energy" solo is a soulful lyrical exercise where he asks the listener, "you know how many times somebody asked if I was good, and I wasn't?," while imploring them to "switch the cycle up."
G. Perico Feat. Polyester The Saint, "Love Letter"
G. Perico is back with more of the west coast bounce on "Love Letter." Instead of rhyming about the menacing streets of LA, however, he pens an ode to a woman who's "gonna be mine sometime down the line."
A$AP Ant Feat. Offset & Hoodrich Pablo Juan, "Testarossa"
A trio of hot artists came together on "Testarossa." Not only did A$AP Ant and Offset kick off the QC-ASAP connection that the game needs to hear more of, Murda Beatz and Cassius Jay collaborated on the smooth vibes. The song is named after a sports car, but it sounds like it's made for slow, scenic cruising.