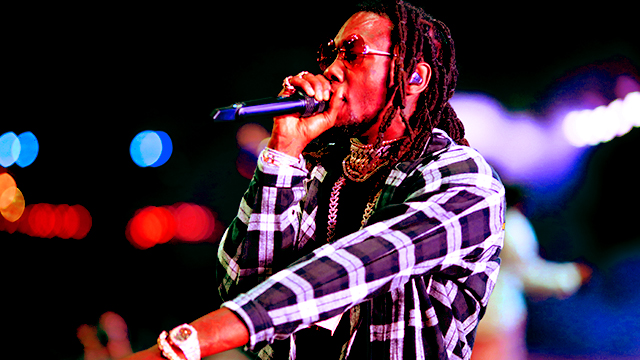 Hip-hop is moving as quickly as ever. Luckily, we're doing the work to compile the best singles of the past week and highlight them in one space for you. This week, there were offerings from Juice WLRD, as well as the newly reconciled Offset, who harkened to a darker moment of his life in his "Red Room" video. Elsewhere, Wiz Khalifa, Earl Sweatshirt and Vic Mensa followed up their recent projects with guest verses, T.I. called out Floyd Mayweather for wearing Gucci, and Lil Durk crafted a passionate ode to Chicago:
Offset, "Red Room"
Offset, and now his long-awaited solo album has an actual release date. The release will undoubtedly be one of the brightest moments of his life, but for the video for "Red Room" he recalled a dark moment: His 2018 car crash. He started the video with a news clip about the incident, before the moody beat drops and he recalls "I like to throw up when I think about the crash." Hopefully the only impact he makes this year is on the Billboard charts.
Juice WRLD, "Robbery"
Emo rap maven Juice WRLD is back with another one, dropping off the melancholy "Robbery." Over a piano-driven production, he croons passionately about an ex who was a "gift and a curse." The track is in a similar lovelorn vein to his "Lucid Dreams" smash, which will surely appease his core fanbase and pique their interest for his March sophomore album.
Gunna, "Speed It Up"
Gunna's Drip Or Drown 2 is on the way. Gunna released a dose of what to expect with the hypnotic "Speed It Up," which showcases his masterful formula of autotuned harmonies and boastful bars in peak form. He employs a stuttering flow to speak about the girl on his mind.
Warm Brew Feat. Wiz Khalifa, "Player Way"
Days after releasing his long-awaited 2009 collaboration project with Currensy, fans were treated to more new Wiz Khalifa with the video for Warm Brew's "Player Way." The fun, animated video matches the "good time" vibe of the track, where Wiz' deliberate crooning is surrounding by a trio of double-time debauchery by the LA-based trio.
T-Pain Feat. Flipp Dinero, "All I Want"
T-Pain started this autotune game (in the modern music scene), which is why he sounds right at home on the summery "All I Want," a collaboration with Flipp Dinero from T-Pain's upcoming 1 Up album. "All I Want" may have been in play yesterday, as T-Pain harmonizes about wanting one girl and one girl only.
Lucki Feat. Earl Sweatshirt, "All In"
ASSET NEEDED
Lucki and Earl both employed their layered lyricism and polarizing flows on "All In," a single from Lucki's new Freewave 3 project. The two take turns over the vocal sample-dominated production, showing why they're two of the game's most appreciate young lyricists.
KAMI Fear. Vic Mensa, "Fake Decent"
It's a Windy City thing on "Fake Decent," an understated ode to great sex from Kami and Vic Mensa. The two take turns rhyming about their "raunchy" encounters on the Papi Beatz-produced loosie.
Lil Durk, "Chiraqimony"
Lil Durk is offering more love songs for the streets, meshing his lithe vocals with gritty, thoughtful lyricism such as on "Chiraqimony," his interpretation of Kodak Black's "Testimony." Durk uses the sonorous production to vent about his stresses, from incarcerated friends to Kenneka Jenkins to the fact that he still "can't do no shows in Chicago." In other news, at least he got a silver lining earlier this month when his father Big Durk came home from a long prison sentence.
Blocboy JB, "Clap Out"
Blocboy JB is one of the steadiest rhymers in the game and a frequent entry in this roundup. He's constantly working, and his latest track is "Clap Out," a minimalist track dominated by spooky keys. He paired the song with a low frills video where he has the good sense to hide whatever that is dangling from his hand while he rhymes about letting his guns clap.
Papoose, "Numerical Slaughter"
Papoose's "Alphabetical Slaughter" is a hip-hop classic, and he went back to that inventive well with "Numerical Slaughter," a track with DJ Premier where he uses the numbers 1-10 as the impetus to go wild with wordplay and show off his considerable lyrical ability over a banging beat. The track is from his aptly-titled Underrated album.
Remy Banks, "Like Me"
Most of us either can't forget or want to forget that Valentine's Day was yesterday. But Remy Banks of the World's Fair collective commemorated the day with "Like Me," a sultry single produced by K-NITE 13. In just under two minutes, Remy weaves a tale about the girl on his mind. As he rhymes about scooping her up after a studio session and vibin' with her, one can't help but connect with the glorious horn sample and his easygoing delivery.