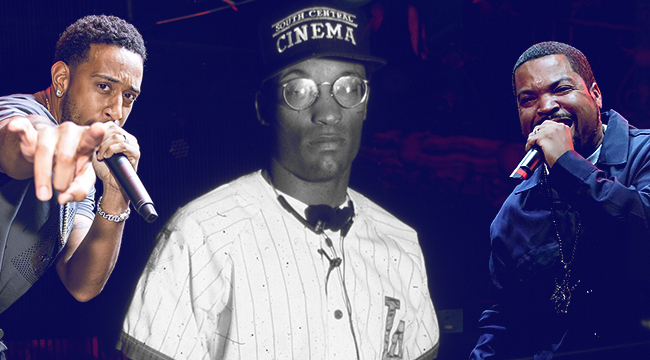 We're living in a golden age of hip-hop film soundtracks. While there are plenty of reasons for this, there's one that needs to be highlighted, because without it, the other ones may not even have been able to come into play. John Singleton, who directed films like Boyz N The Hood, Baby Boy, Higher Learning, and Poetic Justice, died yesterday when he was taken off life support by his family after having a massive stroke. He was 51-years-old.
Before he went, Singleton left behind a filmography that had a lasting impact on the landscape of hip-hop. He was the first director, at the age of 23, to cast a gangsta rapper, Ice Cube, in a serious drama. Boyz N The Hood was one of the first films to prove that rappers could really act, earning Singleton an Oscar nomination for Best Director at just 24-years-old, and making him the first Black director to be honored in that way. He wouldn't be the last. He opened doors to tell Black stories in Hollywood, earning him the respect of an entire sector of Black actors and directors that wouldn't exist without him.
His films introduced the visual element of gangsta rap to a large swath of the country who had heard "Straight Outta Compton" but couldn't quite picture the environment that created NWA. His film Poetic Justice gave Tupac Shakur his first starring credit in a romantic film, helping the rapper broaden his commercial appeal after appearing in the New York crime thriller Juice.
But perhaps Singleton's greatest contribution to hip-hop was the way he helped revolutionize the rap-centric film soundtrack with one of his most underrated films. In what may be his unlikeliest credit, Singleton directed the oft-overlooked, sometimes maligned sequel, 2 Fast 2 Furious, in which he cast two of the now-monstrous film franchise's key players.
When Singleton introduced Watts singer Tyrese and Atlanta rapper Ludacris as Roman Pearce and Tej Parker, respectively, there was likely no way he could have known the two musicians would eventually become a pair of the linchpins of the ninth-highest-grossing film series of all time, or that both would become better known for their roles in it than their new music.
When Luda was cast as a replacement for Ja Rule's cameo character from the first The Fast And The Furious film, the goal was to use his star power as promotion for the movie, but the most lasting legacy of the sequel was its star-powered soundtrack, which was filled with southern rap staples like 2 Chainz, Dead Prez, Pitbull and Trick Daddy, and capped with the smash single "Act A Fool" by Ludacris himself.
The single was nominated for the Grammy Award for Best Song Written For A Motion Picture, Television Or Other Visual Media, peaked at No. 32 on the US Billboard Hot 100, and is among Luda's most successful singles. However, the soundtrack's real value to the hip-hop landscape at large how hip-hop-heavy it was, at a time when hip-hop soundtracks were largely confined to "traditionally" hip-hop films like Above The Rim, Juice, or Menace II Society — i.e. films with primarily Black casts, set in "the hood" and revolving around typically "Black" problems like poverty and gangs, or films actually about the music of hip-hop itself like 8 Mile and Brown Sugar.
2 Fast 2 Furious might very well have been one of the first true Hollywood blockbusters to utilize hip-hop in the way it did. There had been plenty of straightforward, hood-centric action films to cast rappers in key roles — Belly, for example — but 2 Fast 2 Furious was a franchise sequel featuring big-budget stunts and a handsome white man in its lead role. It was one of the first straightforward, mainstream action films to primarily use hip-hop on its soundtrack, opening the door for hip-hop as the default action music after decades of heavy metal and techno as the de facto go-tos for the entire industry — as seen in Blade or The Matrix.
Now, superhero films like Black Panther and Spider-Man: Into The Spider-Verse build out their soundtracks around rap superstars like Kendrick Lamar and Vince Staples, introducing rising up-and-comers such as Reason and Ski Mask The Slump God to larger audiences. And, in a twist of irony, the Fast And Furious franchise's soundtracks returned to their hip-hop roots with the seventh installment, granting Wiz Khalifa one of the biggest singles of all time in 2017 with "See You Again," which, with his feature verse on the Charlie Puth-penned hit, became one of the two longest-running rap No. 1 singles in the US (alongside Eminem's "Lose Yourself" from 8 Mile at 12 weeks). "See You Again," like "Act A Fool," was nominated for high honors: In this case, the Grammys for Song of the Year, Best Pop Duo/Group Performance and Best Song Written for Visual Media.
Whether it was telling stories unique to the worlds of young, Black people fighting through dire circumstances in the inner city, casting rappers to lead films that would take those stories to the heights of American culture, or contributing to a change in the landscape of possibilities for hip-hop in film, John Singleton's impact on hip-hop culture is profound and undeniable. Because of his work, hip-hop is a centerpiece in a world that otherwise might not have ever acknowledged it. He saw the possibility in "a crazy motherf*cker named Ice Cube," in letting Ludacris "Act A Fool," in Tupac's thug passion, and in giving them a chance, he helped hip-hop become a worldwide phenomenon.