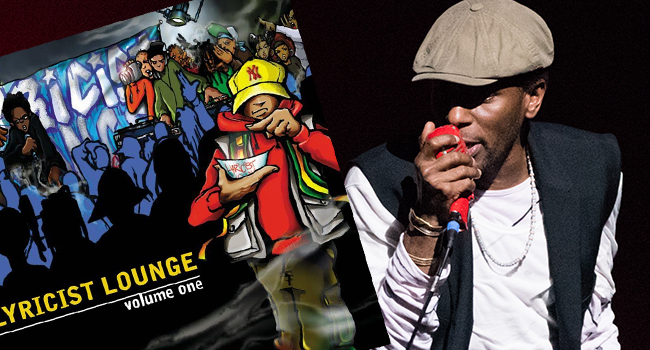 It's widely accepted hip-hop canon that Rawkus Records was one of the most groundbreaking, forward-thinking rap labels in the world.
However, what might have gotten lost in the process of sanctioning the highly-regarded indie label into the lauded halls of hip-hop holy writ is the fact that there were two Rawkuses.
Many remember the Mos Defs and Talib Kwelis, the Pharoahe Monches, and the near signing of would-be rap prophet Kanye West, but the roots of Rawkus Entertainment, the foundation all those later seminal works stood and built upon, was that underground, backpack, real-rap, raw shit.
Starting in 1997 with Company Flow's Funcrusher Plus and the eclectic mashup of the Soundbombing compilation of the label's previously release 12″ singles, Rawkus differentiated itself from the morass of late-'90s vanity rap label escalation with contrarian, quirky, and outright weird rap that refuses to follow the rules for radio success. However, those early efforts felt experimental, tentative, reactionary. The moment that solidified and codified the Rawkus credo came a year later.
Before the Afrocentric, eloquent, college-dorm-rap of Black Star, before the underground platinum status of Big L, before the pioneering of blog rap and the internet era with The Procussions and Kidz In The Hall, Rawkus released a collection of straightforward singles from a group of artists who only cared about, loved, lived, ate, drank, and breathed one thing: Heady, lyrically-focused, wordplay-drenched, syllable-slinging rap.
20 years ago this weekend, on May 5, 1998, Rawkus Entertainment was truly born with the release of Lyricist Lounge, Vol, 1. Its impact is still being felt today, even as hip-hop's entire landscape has experienced seismic upheaval and global evolution.
Born from New York's Lower East Side, the Lyricist Lounge was an open mic showcase of the city's strongest hip-hop talents, coming together to challenge their skills, soak up the culture, and celebrate the elements of hip-hop. Founded in 1991 by Danny Castro and Ant Marshall, the Lyricist Lounge became the unofficial gathering place for aficionados of pure, unvarnished hip-hop, free from the trappings of the genre's burgeoning success. No shiny suits, no gold necklaces, no Versace shades, just beats, rhymes, and the rebel, fuck-the-mainstream attitude that set rappers like Punchline, Wordsworth, A.L., Tash, Ras Kass, Rah Digga, and Jurassic 5 apart from their more recognizable counterparts at labels like Bad Boy, Rocafella, and Murder, Inc.
Lyricist Lounge, Vol. 1 was a critical component in shining a much-needed light onto that cultural center, amplifying the voices that spoke for rap fans desperate for a departure from unrelatable jiggy radio singles. With two discs of deep-cut, rhyme-heavy tracks, massive group freestyle ciphers, and drolly satirical skits, Rawkus set the stage to take the premier MCs of Lyricist Lounge from that New York studio apartment to international rap superstardom. It also sparked the beginnings of the anti-mainstream movement that holds strong in hip-hop this day, despite the dissolution of the once concrete delineations between underground, mainstream, indie, and commercial hip-hop with the advent of streaming sites, social media, and a more cultured, diverse base of rap listeners.
That manifesto is exemplified through the first official song of the album, "Bring Hip Hop Back," by Cipher Complete. Never mind that CC rails against a system that they actively participate in, or pine for a bygone era of obsolete technology that will never return, the song typifies the strictures of "real hip-hop" that fans cling to even today: Staunch anti-drug stances, resentment for the establishment and any rap act that's achieved success under the current regime, and a strict, hypermasculine refusal to accept singing as part of an MC's skillset.
You can still see this attitude reflected in the bellicose opposition to singing rappers like Drake from many fans and rappers alike, or even in the slightly stodgy deliveries of lyricism-focused rappers like Kendrick Lamar and J. Cole, despite the obvious irony of the reversal of fortunes of many a former backpack rapper in the streaming generation.
You can hear the early DNA of rap internet favorite singles like Kendrick's verse on "Control" and J. Cole's Soundcloud rapper-upbraiding "1985" in tracks like Punch & Words' "Da Cipher," Kweli's "The Manifesto," and A.L's "Lyrics." The many, many laments from fans of Nicki Minaj and Cardi B as hyperactive super stans and storyline-thirsty media personalities play them one against the other are predicted, acknowledged, and assuaged all in one go on Rah Digga and Bahamadia's collaborative "Be OK." The Zach De La Rocha, KRS-One, and Last Emperor posse cut "C.I.A. (Criminals In Action)" presages hip-hop's "woke" turn, proving that nothing new exists under the sun and that everything old becomes new again — eventually.
The compilation was so successful, it even led to a television sketch comedy show, resulting in one of the medium's first experiments in putting rappers onscreen and incorporating their primary skill as a feature rather than an incidental star power booster. Where Tupac, Will Smith, Queen Latifah, and others had already appeared on TV, playing either themselves or using their existing fan base to bolster the ratings of a show where they guest starred (or in Smith's case, headlined), Mos Def, Wordsworth, Master Fuol, and their colorful cohort of colloquialism connoisseurs built their show's sketches from the bars up, narrating and trading dialogue in a format normally reserved for tape decks and Discman players.
While the show may have been too left field to gain more than a toehold on the public's attention, it set an important precedent, opening the door for later experiments in hip-hop formatted shows like Scratch And Burn, another attempt at rap sketch comedy, this time purveyed by a quartet of white guy comedians, many of whom went on to find success with other shows.
Again, the DNA of The Lyricist Lounge Show litters the modern television landscape. Wild'n Out borrows heavily from the idea of battling and rhyming in its comedy competitions, leading to the current success of TBS' Drop The Mic, the celebrity battle rap show hosted by Method Man. Successful actor, producer, writer, and comedian Tracee Ellis Ross launched her comedic career on the hip-hop sketch comedy show, and still occasionally entertains fans with a jokey rapper personality, T-Murda, on her Instagram.
The show increased the profile of Mos Def, now known as Yasiin Bey, who went on to star in films and become one of the most recognizable icons of the late-'90s "real hip-hop" movement. It could even be argued that the show's use of hip-hop's natural emphasis on storytelling to weave an onscreen narrative set the stage for MTV's later test concept Carmen: A Hip Hopera only a year later, featuring Lyricist Lounge regulars Rah Digga and Mos Def, which — despite its critical panning — could be said to have cleared the path for the ridiculously successful Broadway musical, Hamilton.
Yet, none of this would have been possible without that first compilation. It was the last time Rawkus was still truly underground, yet the first time Rawkus saw success on a mainstream level. It may even have introduced the idea of the mainstream/underground schism to pre-millennial hip-hop culture, setting the stage for the next decade of struggle and growth for the genre as a whole, as dozens of rappers, some of them Rawkus artists, strove to bridge the divide.
Their efforts eventually led to the freewheeling, anything-goes modern landscape, where Dilla-loving, Little Brother-aping Drake can crossover to become one of the most successful hip-hop acts of all time, where ten years after Kanye West "proved" regular-guy rap could be more commercially successful than gangsta rap, gangsta rappers cosign regular-guy rappers — and vice versa.
Lyricist Lounge, Vol. 1, in its fervor to differentiate lyrical rap from what was popping on the radio, inadvertently helped make lyrical rap radio's favorite category. Twenty years later, it turns out Cipher Complete lived up to their name; rap music has come full circle, and hip-hop has been back for a while. Thanks to the Lyricist Lounge, Rawkus Records, and Lyricist Lounge, Vol. 1, it never really left.