Festival Frequency is a monthly look at music festival-related topics that step beyond the shadow of the Ferris wheel, discussing everything from the performances to the inner workings that make this a global phenomenon.
It was only five years ago, in 2014, that Neko Case played Coachella. When the lineup was released that year, the indie folk icon was the tenth artist listed on Friday, sandwiched between the ascendent Haim and the inexplicable AFI, on a day buoyed by such eclectic programming as The Knife, The Replacements, Ellie Goulding, and, the headliner, Outkast. There's a lot about that day that would never happen in 2019, but Neko Case's set still stands out, given the plush right-before-sunset on the Outdoor Theatre slot that felt aligned with her 15 years of acclaimed output. Showing up a little late, I was able to walk right up to the railing of the stage through the sparse crowd, while the majority of her fans that claimed a spot enjoyed spreading out on the lawn, taking a seat, and watching the day slowly turn into night. The lack of general interest on the polo fields that day was undeniable.
In the years that would follow, moments like these would become rarer at Coachella. In 2015, the same kind of crowd apathy could be felt at sets from Belle & Sebastian and Ryan Adams, but by 2016, sets from mature indie artists whose core audience had largely aged out of the event were all but a memory. These were critical years for the California festival, on the heels of expanding to two weekends and witnessing a major cultural shift where indie became less bankable and pop and hip-hop flooded the public consciousness. And it was this time that Coachella really defined itself, not by the genres it featured, but by the demographic it reached.
In 2019, Coachella knows exactly what it is, and that is apparent in its lineup this year. It's in the headliners, with Childish Gambino and Ariana Grande not just the purveyors of recent massive songs, but possessing the kind of celebrity appeal that speaks to the affluent fashionistas and tanned SoCal music junkies, where Hollywood glitz embraces the desert vibes. It's in the inclusion of international risers like Bad Bunny, J Balvin, and Blackpink, where the festival foresees a continued globalization in the pop world and seeks to be a trendsetter by booking artists in this vein. And it's in the undercard that includes Kacey Musgraves, The 1975, Janelle Monae, Maggie Rogers, Billie Eilish, Anderson Paak, and Pusha T, where the festival recognizes the best of recent offerings and the music that is happening right at this moment. Coachella wants to feel like a snapshot of both where music is now and where it is heading, and by accomplishing this, it's become the most dependable music event in America.
Unfortunately, one of the big storylines heading into 2019 isn't from festival success stories, but from the disappearance of many of the institutions that defined the last decade of North American fests. Washington's stunning Sasquatch called it quits after one final Memorial Day run last year, though Live Nation is already talking about reviving an event at the same location, with presumably new branding.
Following the dissolution of a business relationship with founder Sean Carlson after allegations of sexual misconduct, Los Angeles' FYF Fest attempted to continue in 2018, with a lineup that was decidedly more inclusive than most festivals of its size, but having to quickly cancel after sluggish sales, leaving the future of the festival looking bleak at best. And then there is something like Panorama, Goldenvoice's answer to Governors Ball in New York, which has already decided to take 2019 off after a poor-selling 2018, ostensibly as they search for a new location but putting the future of the festival on life support.
Every festival has their own story of why they fail or succeed, but in these cases, you can see issues in identity. Sasquatch, in its best form, used the rise of indie rock to define itself. Throughout the aughts and early in the decade, it was common to see headliners like The National, Foo Fighters, Modest Mouse, Beastie Boys, Jack White, and Bjork anchoring the event, as much a showcase for the depth of the bill as it was for the top. But when festival culture began to shift, Sasquatch found itself on shaky ground. Still, one of the strangest years to look at came in 2016, when the festival offered up The Cure, Florence + The Machine, Major Lazer, and Disclosure as their headliners, all fine offerings on their own, but seemingly out of step with the tastes of any actual human being when put together. 2017's coup of booking Frank Ocean was quickly erased by Ocean's canceling his appearance, but the originally scheduled headliners for that year were Ocean, Chance The Rapper, and Twenty One Pilots, a move that would make more sense for any other populist festival, but just seemed like a play for Sasquatch to be something it wasn't. 2018's return to their indie rock roots (The National, Modest Mouse, Bon Iver) ultimately was too little, too late, resulting in the end of the festival.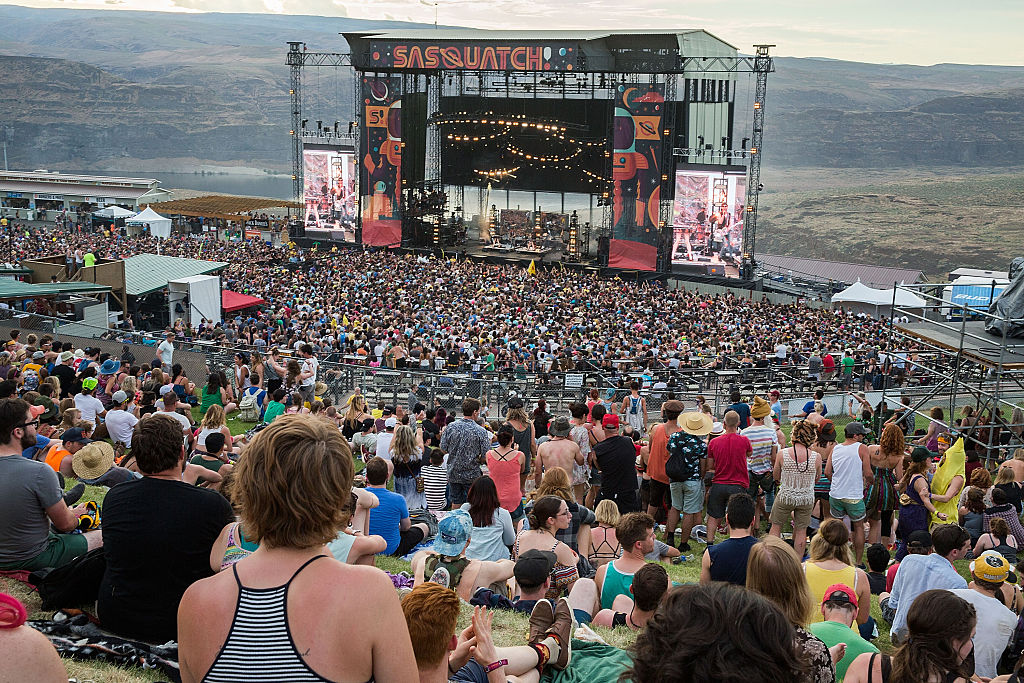 For FYF Fest, their meteoric ascent from essentially a DIY showcase to landing headliners like Kanye West, Frank Ocean, The Strokes, and Missy Elliott was one of the great festival storylines of recent years. But the feeling that something truly special was happening quickly faded with the dismissal of Carlson. That's not to say the lineup they attempted to rollout for 2018 was bad, but it just felt out of step with what the festival was. Janet Jackson, Florence + The Machine, and Future were all stretches of the fest's aesthetic, and the lack of enthusiasm around this talent was felt almost immediately. In a recent interview with the LA Times, Coachella and Goldenvoice founder Paul Tollett noted that if FYF were to return, it would be something closer to its original vision, showing an understanding of how events get away from the tenets of which they were founded, and how they need to know their fanbase and serve them, rather than trying to please more broadly and shallowly.
It's a lesson that festivals seem to be learning in 2019 (and one that a festival like Panorama might never get the chance to grow into). Look at Bonnaroo, whose waning attendance has made it at risk for being another longrunning festival institution that could be on the chopping block. Festival ticket sales reportedly dropped by as much as 50% from 2014 to 2016. And even though there was a slight rebound in 2017, a look at the lineup from that time, in which U2, Red Hot Chili Peppers, The Weeknd, Chance The Rapper, and Major Lazer earned top billing, showed a festival that had less its own identity and was more just replicating the same things people could see at any event in the country. Last year was worse, with Muse, The Killers, Eminem, and Future topping the docket, erasing all memory of their jam roots, love of legacy acts, or sense of coolness and curation that the festival earned at its peak.
But this year's Bonnaroo lineup feels like a return to form. Sure, most of us might groan at the idea of two Phish sets, but at least it speaks to the festival's tradition. As does the inclusion of someone like The Lonely Island, where the festival's long focus on comedy results in the booking of one of the most elusive comedy acts of their generation. The Lumineers, Cardi B, Post Malone, The National, Kacey Musgraves, Childish Gambino, Solange, and even the EDM acts like Odesza and Zhu all speak to the Bonnaroo aesthetic, checking off boxes that the festival has long been establishing as their own.
Early 2019 festival III Points in Miami is also a great example of knowing its own brand. Their lineup, which includes Tyler, The Creator, SZA, Beach House, James Blake, and ASAP Rocky, doesn't not necessarily feel the need to come from the same genre, but speaks to a certain level of taste. It's easy to imagine the Tyler and SZA and Beach House fan all liking similar things, and though hip-hop, indie, and electronic are all in play, the festival works because it's catering to a underscored aesthetic, not just grabbing whatever relevant talent they can find. And as genre fests like Rolling Loud and Riot Fest continue to thrive in their own lane, 2019 seems to be showing that festivals can all find success across genres as long as they know exactly who they are catering to. You don't have to be Coachella or Lollapalooza or Pitchfork Festival to be successful in America, you just have to be yourself.
There is no better example of thriving in their own lane in 2019 than Barcelona's Primavera Sound. Long known as an event for music obsessives, where curation of underground sensations could sit comfortably next to esoteric legends and rare superstars, there's a reason it has long held the reputation as one of the best festivals in the world. But this year, they are putting their money where their mouth is, and attempting something that no festival of its stature has before, by enacting a 50/50 gender balance for its bill, which they are calling The New Normal. For a festival like Primavera, who has always seemed more interested in having interesting bookings than widely-appealing ones, its proof that they can maintain their unique perspective while still pushing forward ideologically. And in the end, they are further carving out their own identity while challenging others to follow in their footsteps. But for now, these are Primavera's footsteps alone, giving it the sense of self that all burgeoning festivals should strive for.