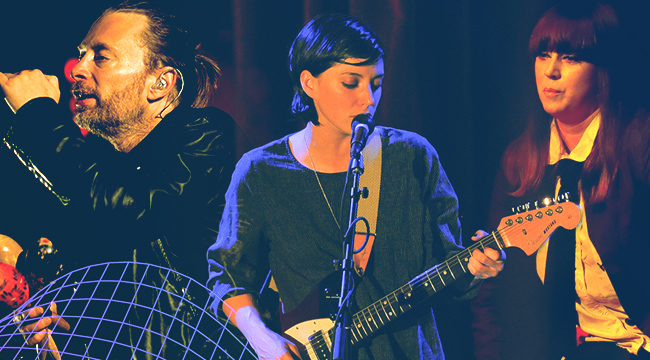 Indie music has grown to include so much. It's not just music that is released on independent labels, but speaks to an aesthetic that deviates from the norm and follows its own weirdo heart. It can come in the form of rock music, pop, or folk. In a sense, it says as much about the people that are drawn to it as it does about the people that make it.
Every week, Uproxx is rounding up the very best of the indie releases from the past seven days. This week offered up great new albums from indie stalwarts Cat Power and Phosphorescent, the best Thom Yorke solo single of his career, and St. Vincent reimagining her music as piano ballads. It was a pretty great week for indie music.
Phosphorescent — C'est La Vie
In his first album in five years, Phosphorescent's Matthew Houck taps into the down home juxtaposition between the joyful and the somber that's long characterized his music. The record finds him living with new love in a new home, but his weary singing and ear for subtle beauty have remained constants in his career. C'est La Vie is another example of why Houck is one of our best and most underrated songwriting forces, with the time fans have waited for the album evident in the care with which it has been constructed.
Cat Power — Wanderer
Cat Power's career has now found her in the spotlight for more than 20 years now, but this round for her new album Wanderer might find her getting the respect she deserves. The album features Lana Del Rey on backing vocals and a Rihanna cover, but the narrative of the album found her parting ways with her longtime label of Matador after they asked her to go more pop. In his review of the record, our own Steven Hyden called the album "her strongest release since You Are Free, and a stirring return to that record's subdued, stripped-back squall."
Adrianne Lenker — Abysskiss
Big Thief would never be accused of being an expansive rock band, but the indie group's compositions do obscure Adrianne Lenker's songwriting with enough distorted guitar to take the project out of folk territory. So, her solo album is a much more intimate affair, but hardly a big leap from the elements of Big Thief that her fans love. Written over the last few years, this record paints an alternate history of a prolific artist, showing that behind the great band is an artist always working at expressing herself.
St. Vincent — "Slow Slow Disco"
The third version of this song released, and the third essential take of the track. Following a lush orchestral album version and an upbeat industrial remix, St. Vincent's piano-only version of the song preceded the announcement of a piano-only version of her Masseduction album, now titled Masseducation. The song is graceful and beautiful in any format, and the fact that St. Vincent feels comfortable enough to share so many forms of the tune speaks volumes.
Thom Yorke — "Has Ended"
Thom Yorke's Suspiria soundtrack makes him the latest member of Radiohead to try his hand at high-profile movie scores. But unlike Jonny Greenwood's work with Paul Thomas Anderson, Yorke is including songs with vocals that can stand comfortably on their own. "Has Ended" is vibey as all hell, operating near trip-hop territory in its aesthetic with Yorke slinking his way around shadowy corners with his haunting vocals. It's a masterclass in mood from one of music's most singular presences.
Sharon Van Etten — "Comeback Kid"
In the long wait for new music that included a t-shirt campaign to get some clarity on when the album might appear, fans were greeted with both the record announcement and a new song this week. The track is a little more production-heavy than we're used to from SVE, but it's just another example of her mutability and how her voice sounds appealing in almost any format. Don't call it a comeback.
Ian Sweet — "Holographic Jesus"
Just because Jilian Medford reverted Ian Sweet back to being a solo project for her latest album doesn't mean that the project is going to sound stripped-down or spare. The opposite is the case on "Holographic Jesus," which builds to a soaring chorus and fuzzed-out conclusion that Medford's vocals effectively float above. The song works as a powerful statement for the project, positioning Sweet as an indie artist that needs to be on everyone's radar.
Pill — "Midtown"
The VHS, midnight-on-public-access-television psychedelia of Pill is in full-force on their latest song, "Midtown." The New York band even made a video to support their aesthetic and showcase the trippy horror of an NYC commute. But the song stands firmly on its own, too, all ominous and unnerving, with frontperson Veronica Torres using her breathy delivery to sell the ghostliness of it all.
Jessie Ware — "Overtime"
Jessie Ware's critically acclaimed pop music is often subdued, focusing on both her stunning voice and deft songwriting. But that's only one side of her, and she's also done quite a few songs with noted dance artists, including Disclosure and SBTRKT, and her latest, "Overtime," is a club-ready anthem in that vein. The song showcases Ware's ability to excel in all realms of pop music, be it upbeat or down-tempo, reaffirming her status as a special and essential force in pop.
Kero Kero Bonito — Time 'N' Place
Who says you have to be a giant band to effectively surprise release an album. That's just what London-based indie pop group Kero Kero Bonito are out to prove with their sophomore offering, Time 'N' Place. Writing about the album, Uproxx's Chloe Gilke said, "KKB mix the bluntness of punk with pop melodies, and Time 'N' Place (like all their other music) captures the frenetic energy of how the music sounds live.
Courtney Barnett — "Small Talk"
One of the aspects of Courtney Barnett's career that's often downplayed is her prolific nature. But even with the release of two albums in the recent rearview, her own Tell Me How You Really Feel and her collaboration with Kurt Vile Lotta Sea Lice, Barnett still manages a steady stream of new songs not tied to any particular album. And the amazing thing is the strength and consistency of it all. "Small Talk" doesn't sound as minor as its title suggests, instead portraying a noodly, direct bit of songwriting that showcases Barnett's ear for melody and penchant for clever, captivating lyrics.