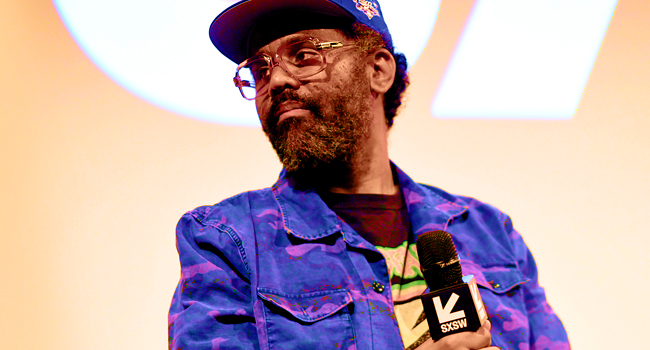 As hip-hop continues to fracture into factions and subcategories along long-existing generational and regional fault lines and newer, more hazily-defined delineations, it becomes increasingly more difficult to determine: Just what is hip-hop, anyway? The genre, in some respects, sounds nothing like the revolutionary music of the '80s and '90s, yet in the the 2010s is no less groundbreaking, innovative, original, and rebellious. Still, for an outsider looking in — or even for an insider looking around at all the changes and new figures cropping up that have changed rap's musical landscape over the last three decades — it can be a chore to make sense of it all.
Fortunately, documentarian Sacha Jenkins, creative director of Mass Appeal magazine and co-founder of Ego Trip, has just the remedy. His Netflix show, Rapture, co-produced with Mass Appeal founder Peter Bittenbender and Ben Selkow, just released its first complete season detailing the lives and music of some of rap's currently prominent figures. From veterans like Nas and T.I. to newcomers like Logic, Dave East, and Rapsody, the show documents some of rap's most popular acts. While the first season touches on some of hip-hop's mainstream heavyweights, Jenkins has ambitious plans for the future of Rapture, expanding its scope to include international stars like the UK's Skepta and fast-rising internet sensations such as Tekashi 69.
As a huge fan of both Jenkins' prior work with Ego Trip (ego trip's Book of Rap, ego trip's Big Book of Racism, The (White) Rapper Show, and Miss Rap Supreme) and Rapture (including most of the rappers profiled in the first season), I was honored to interview the legendary writer, director, musician, and historian about the inspiration behind the show, its plans for the future, and using the stories presented in its eight episodes to hopefully bridge the gaps between hip-hop's new and old schools. Over the course of our conversation, he imparted wisdom that went way beyond just the music, style, and language of hip-hop, delving into just what it is that has made the genre and culture such an enduring, global phenomenon.
One of the things that has been a sort of constant topic of conversation amongst my circle is: where are all of the LA rappers?
Yeah, there's no beef with Los Angeles — it was just scheduling and availability, and in today's world, artists have their own platform, their own Instagram, their own Twitter, and everything else. So when you're approaching folks and you're saying, 'Hey we're doing this great show. I know you've never seen it before, it's on Netflix, and we're not paying you anything,' it's challenging because while we're not paying them anything, they've got other stuff they've got to do.
So, I've got a lot of love for the west coast, and it was not a conscious decision to not include them. It just so happened that scheduling and various other things made it so it didn't work out this go round. If there's a second season, I would imagine people might feel like, 'Okay, we know what this show is, they've proven themselves, I think it's cool, they want to participate in it.'
Absolutely, I don't mean to suggest you didn't have love for the West Coast! That was something that kept coming up with my circle because we're in LA.
Of course!
So, while we're on those subject of those platforms, how do you feel about how the game has changed so much since the Ego Trip days when artists had to kind of rely on print and publications to get their stuff out? Now they can just communicate directly to the fans. What are some of the benefits and what do you think are some of the drawbacks?
I mean, for artists, having control over your platform, control over your distribution is liberating. [Now] artists are able to build these strong fan bases and have a direct rapport with their fans and people want to communicate with them so that's amazing. I would imagine as a journalist in this climate, where you have artists who didn't grow up on reading magazines or don't really have a connection with any writers, the value of the opportunity to be interviewed or the value of a platform where they don't somehow get paid has diminished greatly.
At least, that's my outside observation because I haven't really written about music for some time. So, what I've experienced in putting together the show and dealing with publicists and learning how things are: It definitely feels like there's a big change from now to then, when I was writing about hip-hop in the 90's and 2000's.
Is it good or bad? Someone like yourself is here doing your thing, so there are obviously opportunities for writers to do things and obviously, artists are still interested in speaking with folks. But it feels like it's a little more difficult to have this mutual ground because artists have all these expectations in terms of what their participation constitutes.
What are some of the challenges of transitioning from doing print to doing a documentary? You did start out having to build a rapport a different kind of way and now, you're telling a story in a completely different medium that has all these different rules.
To me, I'm doing the exact same thing I did when I was doing a cover story for Vibe magazine. I would do my research, I would go to a city. I would meet an artist, I would hang out with them. I would interview people in their circle. I'd interview people who were experts and had other interesting things to say. I would interview people on the street, and then I would go back, I would write something, an editor would edit it, and then you'd have a story.
I'm just doing the same thing with cameras. I'm showing up with cameras, I'm doing these interviews. We're interviewing experts, we're interviewing family members, and then we go back and we process the footage. We sit there, edit it, and put together a story. So, folks have asked me this question before, and I'm fascinated by it because I say very simply, I'm literally doing what I've always done.
So, now you do have this great opportunity with Netflix and Rapture. What was it like to come up with this idea of Rapture and to try and pitch it to Netflix and to the artists?
I didn't have to convince anyone, really. I directed a film that we produced called Fresh Dressed some years ago for CNN. It aired on CNN and went to Sundance and hit some theaters, then it wound up on Netflix. So, based on the success of that film, we had a general meeting with Netflix and they said, 'Hey if you guys have any other ideas, please come back to the table with some ideas.' And then we came back with Rapture thinking that there wasn't anything that covered hip-hop in the way that we would like to cover hip-hop on their platform.
It's an amazing platform, it's a global network. You drop something on Netflix, it's not just seen in the United States and hip-hop is a music that isn't just played in the United States, it's a global music. It's a global language. It's very popular and so it wasn't rocket science for us to say, 'Hey, we're Mass Appeal, I am who I am, I have this experience and these relationships and these ideas on how to tell stories.'
Do you think that in the future you would want to address how hip-hop has affected other cultures? How do you think something like that would be received in America where you're highlighting global rappers as opposed to just people someone would already know here?
Well, we wanted to have global artists for the first season, we had Skepta from the UK onboard, and then things fell apart.
But for season two — if we are lucky enough to have a season two — we're definitely going to be looking at global artists. Because, again, I look at hip-hop culture as language and I could not understand your language but I can understand the beats and the rhythms. I can understand certain cultural connectives. Coming from New York City, I can go anywhere in the world and connect with people who speak the language of hip-hop. And it's one of the dominant languages in the world. So opening up the conversation to artists who have a global presence or originate from places other than the United States is, for us, an obvious evolution for what it is that we're trying to do.
So of the artists that you did get a chance to work with for this season, did you have any high points or low points during the production of the season? Are there any interesting stories that came out of trying to chase down one of the peripheral figures or the artists themselves?
I think in some instances there are artists we have relationships or know, like Nas, for instance. We have a relationship with Nas. We know Nas. We know Dave East. So getting them on board wasn't hard. Other folks, they don't know us, they don't have a relationship with us, so it takes a bit of time to build the kind of communication that you need to pull something like this off. And that communication comes by way of trust. So, in some cases it took us a little bit longer to develop the trust, but I think once we got in there and folks understood what we were doing, the access they gave us was unprecedented and the artists were very forthcoming in telling their stories and letting us in.
How do you build that sort of trust on a cold call? Say, for instance, you were reaching out to Logic and you wanted to do a documentary about him. How do you build that sort of trust with somebody who may not even know the significance of Ego Trip or — I hate to say it, but in 2018 it's entirely possible — that they wouldn't know Mass Appeal?
Well, you just plead your case. I think that we've had progress recently to demonstrate what it is that we do. I mean, there are a bunch of people who did see Fresh Dressed, who are familiar with that film. There are people who saw another film I did called, Burn, Motherf*cker, Burn, which was on Showtime, which is about the so-called riots of 1992 in Los Angeles. People saw my other film that I recently directed called, Word Is Bond, which is about rap lyrics and is also on Showtime.
We built a body of work that, if you don't know who we are and you think that what we're saying over the phone is bullshit, we can send you a link and you can watch it. And that link will sync up with everything that I said on the phone. We are of this culture, we are native of the culture. We are about this culture. You want to trust us with getting the story right. You want to trust us to give you a fair shake, and give you the opportunity to tell your side of the story. And we're going to do it with style, and with respect and understanding. And there's no learning curve in terms of someone who's not fluent in the language. We understand the spoken and unspoken language that ruminates inside of hip-hop. And so, if my bullshit over the phone doesn't sell you, I think we have examples of our work that can, and have.
It's interesting, though, how that language has changed. Even just down to the visual language of hip-hop, where a lot of artists don't necessarily identify with that classic New York, '90s, Polo, Girbaud, and then Timberland boot look. How do you translate for that generational gap, for that generational transition in hip-hop?
Well, initially, Rapture was going to be, like, 'Oh it's hip-hop, so it'll be an episode on break dancing, an episode on graffiti, an episode on dj-ing.' But then we realized kids don't process hip-hop in the same way. Not my hip-hop, not hip-hop that I grew up on. There's a really cool show called Hip-Hop Evolution that kind of touches on all of that stuff. So if we would have gone down that road a little bit, it would have been redundant. That's not all the show does, but it kind of treads on some of that territory. So we said, 'Well, how are we going to add value to the network? How are we going to separate ourselves?' And the initial idea was to do all that, "hip-hop" stuff and then it was like, 'No, kids today don't see hip-hop in the same way."'
Today, it's more about lifestyle in many regards. It's about fashion. But hip-hop has always been about fashion. It's always been about what you're wearing and how you're wearing it. Let's say fashion is more prevalent in hip-hop than it was in its past. It's more part of the overall lifestyle. The original hip-hop was "establish that aesthetic." So, even though I don't fully understand everything they're rapping about, or the reference points, I understand the aesthetic that what they're doing is based on. And because I understand that, I can have a conversation with these kids. Or, because I understand that, I can help shepherd a bigger idea that encapsulates that artist.
I directed the Nas and Dave East episode because there's already a film called Time Is Illmatic, about Nas's life. It's a great film, [but] we've been seeing Nas for twenty-five years, and I thought to myself, Well, what can I do that's different? And then I thought about Dave East. Myself, Dave, and Nas are all pretty much from the same neighborhood. And so I believe that for people to see the rapport that Dave and Nas have, to see this mentor/mentee relationship, I thought was really powerful. But I also thought it's going to bring in younger viewers who know Dave East and who are fans currently. And it's going to bridge those young folks with their parents who like Nas.
That sounds like that would be the main idea or the thesis of a project like Rapture, if there was one.
The great thing about hip-hop or rap is it's about creating an identity. If you're a rapper, your parents gave you a name but you renamed yourself and you become this character or this superhero. Mass Appeal did the same thing. It started out as a graffiti magazine, and it had a brand that was authentic and native. The people who started the magazine, they were graffiti artists and they made a magazine that documented that culture. And I think that, like in the spirit of hip-hop, [there was] this idea of creating your own brand, or your own identity, and staying true to it.
And it's something that came from folks who were struggling with identity in a country where they were told that their identity has no value beyond servitude. And hip-hop, what it did was, it gave folks the opportunity to break chains, and/or make those chains go from industrial usage to gold and platinum. We took those chains off our ankles and put them around our necks and suddenly, they were gold because we could afford it.
Me and Nas [went] to the same junior high, when the guidance counselors told us that all we could do is go to vocational school. So, Nas could have gone to vocational school and he could have fixed refrigerators and that would have been cool. But, we might not have had Nas. So hip-hop has changed his life and changed my life and changed the lives of so many people. Not only the people who make the music, but the people who hear the music have been changed and affected by it. So, it's powerful.