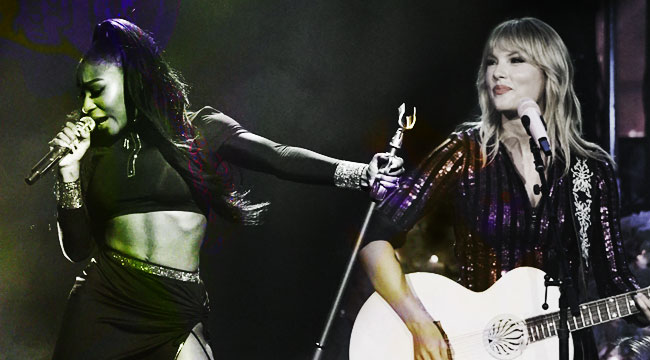 The pop gods truly blessed us this week. Taylor Swift's Lover rollout has featured an eclectic mix of songs so far, but the pop legend just outdid herself with the sweet, romantic title track. Normani's post-Fifth Harmony collab singles have been incredible, but the singer proved that she's a force to be reckoned with on her new solo track, "Motivation." Charli XCX teamed up with Sky Ferreira for the glittering angst anthem "Cross You Out," and Miley Cyrus is healing from heartbreak on her vulnerable new track "Slide Away."
Overwhelmed yet? I'm right there with you. Every week, Uproxx will round out the best new pop releases of the last seven days. Listen up.
Rosalía — "Yo x Ti, Tu x Mi" Feat Ozuna
Rosalía and Ozuna are two of the biggest Spanish-language pop stars in the world right now, and their collab is as incredible as one would expect. Rosalía has had a really strong run of singles this summer, from the bass-thumping J Balvin collab "Con Altura" to the cash-burning "Milionária" and "Dios Nos Libre Del Dinero." On "Yo x Ti, Tu x Mi," Rosalía and Ozuna sing their devotion to one another. Over a bouncy, tropical beat, the pair paint a portrait of consuming love — clothes around necks, "flowers and bills" surrounding them.
Taylor Swift — "Lover"
Just days ahead of the release of her seventh studio album, Lover, Taylor Swift dropped her strongest song from this cycle. The album's title track is dizzyingly romantic, the lovesick vibes of Fearless and Speak Now all grown up. Music writers will run themselves in circles trying to decide if "Lover" sounds more like Rilo Kiley or Mazzy Star, but more than anything the song feels like a continuation of the love stories Swift has been sharing with us for a decade. It's warm and intimate, optimistic and nostalgic. From the confident highs of "ME!" to the self-aware doubt of "The Archer," Lover is shaping up to be one of Swift's most vulnerable and wide-ranging releases to date.
Muna — "Stayaway"
On the glimmering "Stayaway," Muna lament the messy aftermath of leaving someone or something behind. "No one ever told me leaving was the easy part," singer Katie Gavin confesses over insistent synths. The song could be about heartbreak, but it could just as easily be about breaking toxic patterns of thought or situations. Leaving is the easy part. Staying away to heal on your own is where the real challenge comes in. Muna's album Saves The World is due out September 6, and it's sure to be packed with more cathartic, expressive synth-pop.
Charli XCX — "Cross You Out" Feat. Sky Ferreira
Over the last few weeks, Charli XCX has been breadcrumbing the release of her upcoming album Charli. The record is packed with all-star collabs, featuring everyone from Yaeji to Lizzo, but prior to its release "Cross You Out" was one of the album's most-anticipated. Sky Ferreira is one of pop's great enigmatic geniuses. It's been six years since she released Night Time, My Time, and the album somehow still feels just as fresh as it did when it came out. XCX and Ferreira have made careers out of being ahead of the pop curve, and "Cross You Out" puts their songwriting and vocal talent on electric display.
Normani — "Motivation"
Normani's first true solo song, "Motivation," is her entrance as the next great pop star. The singer has already made an impressive chart showing — "Love Lies" featuring Khalid and "Dancing With A Stranger" with Sam Smith have been everywhere this year — but "Motivation" is some next-level pop genius. With a bold, Homecoming-esque brassy sound and vocal runs that would make any non-Bey pop queen go home and cry, Normani introduces the rest of the world to what her fans have known for years. Her dancing is unmatched. Her voice is clear and gorgeous. The artistry in that video? Legend-making. She's about to be everywhere, so stan bright and early.
Miley Cyrus — "Slide Away"
Following the release of She Is Coming, Miley Cyrus is getting back to what she does best. While She Is Coming was a return to the hip-hop influenced weirdo-pop she made with Bangerz, "Slide Away" shows a side of Miley we haven't seen in a while. Over a languid, guitar-driven melody, Cyrus sings about a breakup and a new beginning. "Move on, we're not 17 / I'm not who I used to be," she sings, perhaps referencing her recent real-life split with husband Liam Hemsworth. But no matter the tabloid gossip that might be behind the scenes, "Slide Away" is a gorgeous and contemplative song. Cyrus is apparently gearing up to drop another pair of EPs, so expect to hear more from her soon.
Fletcher — "All Love"
Singer-songwriter Fletcher's long-awaited major label debut, You Ruined New York City For Me, is finally here. "All Love" is a confessional crying-in-the-club anthem, as Fletcher aches with the aftereffects of a hard breakup. "I take another shot, need the novocaine / Wish it would numb my heart way it numbs my brain / But it's all love," she sings over thrumming synths and electric drums. Fletcher shows an impressive range over the EP's five songs, and her debut LP, whenever it arrives, is sure to be incredible.
Slayyyter — "Cha Ching"
On "Cha Ching," St. Louis up-and-comer Slayyyter goes full pop queen. Over a glitchy, noisy beat, Slayyyter mixes her metaphors. She sings about having that "cha ching," but is it money or something else? (Lyrics like "I got something that you don't own and / All the boys say they want to know it" makes me think the latter.) Slayyyter's music is a send-up to the glorious trash-pop of the 2000s. "Cha Ching" would make Paris Hilton and Heidi Montag proud, but as kitschy as her strain of pop is, she's also got some impressive technical flair and real star power. "Cha Ching" is the latest in her strong run of standalone singles, and whatever she's got planned next is sure to be just as iconic.
Some artists covered here are Warner Music artists. Uproxx is an independent subsidiary of Warner Music Group.