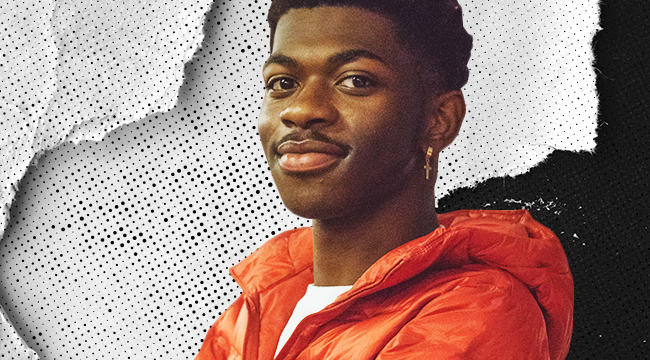 Lil Nas X really seems to be enjoying the success of his viral hit, "Old Town Road" — as he should. Viral moments seem to come along more and more often these days, but their ability to translate into real-world success still has varying degress of return. Nas' version includes a Columbia Records album deal, three consecutive weeks at No. 1 on the Hot 100, a remix with Bill Ray Cyrus, and a batch of parodies and takes ranging from wildly explicit to dad joke corny. The fact that the 20-year-old rapper from Atlanta is taking all of this in stride makes the rollout even more fun to watch than usual.
Lil Nas X's responses to the challenges that have arisen from his viral hit's ubiquity are like a master class in how to handle unexpected fame, enjoy the moment, and make the most of the opportunity, and his ability to roll with the punches proves he's ready for an even bigger spotlight. When longer-established rappers try to detract from his song's success, rather than entering an ill-advised war of words, he focuses on that elusive No. 1 status, reminding the world that he does not give a f*ck what a hater thinks — even when the hater in question says he isn't being a hater in the first place.
Some might believe that hate is justified though: Rap and country have long been considered mortal enemies at worst and strange bedfellows at best. Prior attempts at blending the two seemingly opposing genres were met with mixed responses, from the ridicule that followed Nelly and Tim McGraw's "Over And Over" and LL Cool J and Brad Paisely's "Accidental Racist" (rightly so, in the latter case), to the ho-hum commercial performance of more earnest attempts like Bubba Sparxxx's Deliverance or other so-called "hick-hop" artists like Big Smo and Cowboy Troy. "Old Town Road" is the first song to chart on both the Rap and Country Bilboard lists, seemingly bridging the gap, but not without resistance, in part from Billboard itself.
When Billboard removed the song from its Country chart, the resulting backlash from social media invoked the genre's long history of whitewashing Black artists, even as Billboard's reasoning that "Old Town Road" didn't contain enough country elements sorta-kinda holds up. Fans who wanted to see this trend upended championed the song right back onto the Country Airplay chart as well as the Hot 100. While it has its detractors — mainly from established country and rap purists like Brothers Osbourne and Dave East — it has earned many more rabid supporters, including the aforementioned Billy Ray, who claimed that it was "obvious" that "Old Town Road" should qualify as country as much as hip-hop.
Normally, when a song gets as huge as "Old Town Road" has, there's a worry that the song has become bigger than the artist, which is the first step toward them becoming a one-hit wonder. Lil Nas X's fellow Atlantan 6lack spoke on this effect on his own breakthrough mixtape, Free 6lack, discussing the dangers of falling into a formula on the mixtape's closer, "Alone/EA6." "I'm not settling for that sh*t," he says on the track's introductory monologue, "'Cause if I do it once and it pop, I'ma have to keep doing that sh*t over and over again. You can't build no fanbase like that. You become a f*ckin' song instead of a person."
Lil Nas X takes a different approach. He seemingly wonders "What's so bad about being a one-hit wonder?" Rather than shying away from the success of "Old Town Road," which, let's be frank, seems accidental, considering the jokey subject matter of the song and its broad departure from the sounds and content of Lil Nas X's 2018 debut mixtape Nasarati, he's leaned into it. He's in on the joke. He reposts the memes. He wears Wrangler jeans and cowboy hats and posts goofy photos to Twitter posing with antique, pearl-handled revolvers straight out of the Old West.
By doing so, he endears himself to fans as a good-natured, funny, charismatic guy who they want to see win. When fans have an investment in an artist like that, they'll take them to the top of the charts, as they did for his viral single, but they'll also stick with the artist through thick and thin. If XXXTentacion could engender the level of outsized support he did with his rap sheet, a relatively unproblematic jokester like Lil Nas X should be easy to root for. It doesn't hurt that the rest of his music is also enjoyable.
Even if I wasn't much impressed with Nasarati when it dropped, revisiting it in the wake of Lil Nas X's yee-haw takeover really lends some perspective to why the standalone "Old Town Road" blew up when nothing else on that project did. He flashed a lot of potential, but seemed limited by his resources. As a kid likely making songs on a laptop with whatever beats he got for free or cheap, the sound quality hamstrung some of the more clever songs. It's a first effort and it sounds like it, both content-wise and from a production perspective. Now, he's got access to million dollar studios and name-brand producers like Take A Daytrip, who produced "Mo Bamba" and "Home" from the Into The Spider-Verse soundtrack, and Nick Mira, who gave Juice WRLD some of his biggest hits ("All Girls Are The Same," "Lucid Dreams," "Robbery," and more).
We his future plans because Lil Nas is savvy at the use of social media — maybe more so than any other rapper who's had a massive hit. That's likely to be expected from an artist who once ran a Twitter meme account, but pinning a thread of his works in progress to his profile as the top tweet is the sort of promotional tactic that major labels should look to swipe for their other artists. He addressed the controversy surrounding his name succinctly and earnestly. He retweeted a Genius headline that stated he intended to "milk the f*ck" out of "Old Town Road" just to confirm it. Opportunity only knocks once, so he's holding opportunity hostage after opening the door and looking for ways to make his 15 minutes of fame last even longer, all while keeping the same sense of humor that brought opportunity calling in the first place. Even if he never has another hit, he has "Old Town Road" right now, and he's gunning to see exactly how far it goes.