Travel and food are partners in crime. It's damn near impossible to separate the two because, well, we need to eat every day. Travel becomes very food-centric just as often as it's centered around relaxing or grabbing that perfect flex for the 'gram. Finding the best food cities around the world is, in itself, a great reason to travel.
So what makes a food city worth traveling to? For us, there has to be a mix of accessible street food, beautiful mid-range food, and a smattering of something you simply can't get anywhere else. We know. That's pretty much true of any corner of the world. Still, the best food cities are the ones that transcend all of that and leaves you dreaming of going back before the plane even leaves the tarmac toward home.
To help us figure out which food cities are the best we popped over to Ranker to learn what the masses think. Turns out, they have a pretty good handle on the great food cities of the world. Interestingly, the United States didn't break the top ten. We guess we can argue about which American city deserves a little more love in the comments. New Orleans, anyone?
Let's dive in.
10. Florence, Italy
Italy makes the top ten three times according to the masses. That's a pretty big power move and totally understandable. The food in Italy tends to be outstanding thanks to a deep culture of local, seasonal, and artisan-focused resources.
Tuscany and Florence are at the epicenter of great food and wine in Italy. There are so many options on the streets of Florence from great ice cream to amazing tripe sandwiches washed down killer glasses of Chianti. You can't go wrong with a foodie adventure to Florence.
Can't-Miss Spot: Trattoria Sabatino
This family-run spot just outside the old city walls is a master class in local Tuscan and Florentine treats. Start with the ravioli al sugo (with meat sauce) and then get some nice prosciutto and well-cellared cheese before diving into a Florentine cut of beef, cooked to rare perfection on the bone. Order the wine by the bottle and get there early. This place gets packed.

9. Milan, Italy
Milan holds a unique spot in Italian culinary tradition. The northern city bridges the more Germanic Alpine culture of Tirol with the classic Italian products of Emilia-Romagna just to the south of the region. In short, Milan is a culinary wonderland where deep-fried pizza is just as easy to find as the perfect plate of cured meats and funky cheeses.
Can't-Miss Spot: Trattoria del Nuovo Macello
The breaded pork steak they do on the bone at this joint is a must. Fried slabs of pork shouldn't be this delicate and moist, ever. Yet, the chefs at Nuovo Macello pull it off. Don't sleep on their saffron risotto either.
8. Barcelona, Spain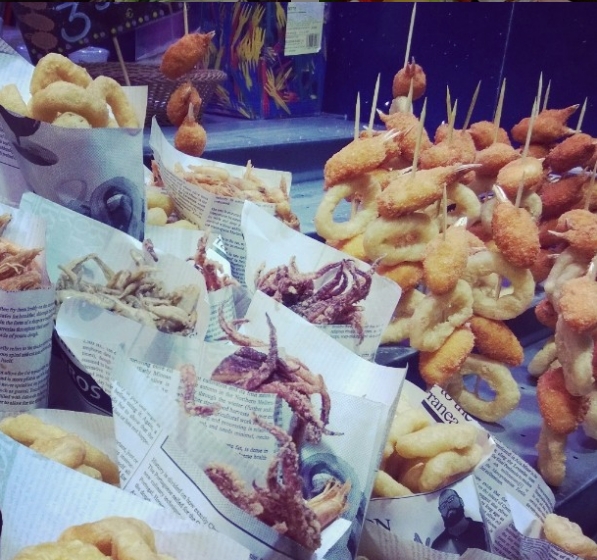 Ah, sunny Spain. It's hard to argue with Barcelona's food culture. It's all about eating big meals with plenty of wine and then taking a long afternoon nap so that you can, again, eat a great meal with a lot of wine late at night. Add in the beautiful culture of cured hams, piquant cheeses, fried bits of everything nice, and a killer wine scene and you've got a damn near perfect food city.
Can't-Miss Spot: Mercat de la Boqueria
The massive food hall/market on the top of the La Rambla in the center of the city is a food paradise. First, get a cone of Iberico ham. They cost about 3 bucks and are basically like chewing dreamy ham gum.
Next, hit up one of the many sit-down counter spots around the market for a full-on meal. The best clue to great quality: Scope out the busiest spots and wait patiently for a seat. You won't be disappointed.
7. Rome, Italy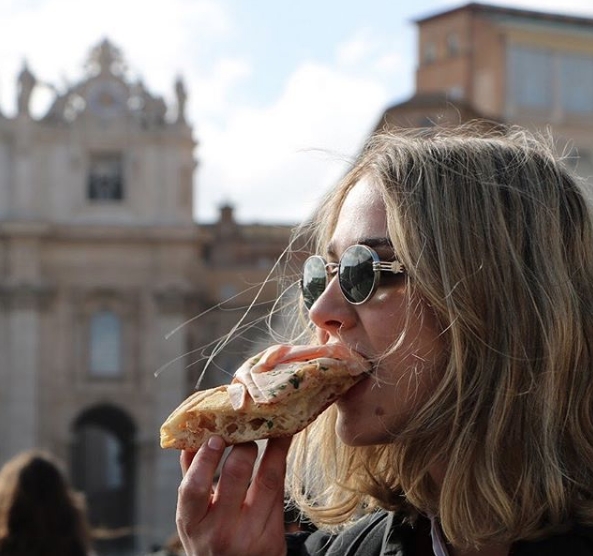 Rome is one of the busiest tourist cities on earth for good reason. History lives on the surface of the city. The atmosphere is shockingly chill for a capital. There's even one of the best beer scenes in all of Europe in the mix. And, yes, the food really is that good. But be warned, sometimes you need to get away from the Spanish Steps or Trevi Fountain to find the best stuff.
Can't-Miss Spot: Pizzarium Bonci
A trip to Rome without a stop at Pizzarium is a fail. The Roman style pizza joint sells huge chunks of innovative pizza by weight. All of it is outstanding and will upend your ideas of what can or can't go on top of a pizza — hint, you can top a pizza with anything.
6. Beijing, China
Beijing is a strong choice for food-focused wanderlusters. Chinese cuisine is not a monolith whatsoever. The variations in cuisines throughout the regions of China is vast. The country, after all, is bigger than the United States with over four times the population. Beijing is where all that food culture collides.
Can't-Miss Spot: Taste of Dadong
Beijing Duck is one of the most succulent and decadent dishes you can eat. Duck master Dong Zhenxiang opened up Taste of Dadong to make his beautiful fire-roasted ducks accessible to the masses at equally accessible prices. The super crispy duck skin, perfectly cooked meat, and an amazing array of seasonings make this a can't-miss food experience in Beijing.

5. Bangkok, Thailand
Bangkok is the epicenter of amazing street food in Southeast Asia. Great, cheap food is ubiquitous neighborhood by neighborhood in the city. Fiery woks, massive pots of bubbling broth, mountains of noodles, rainbows of fruits and veg, and millions of people make eating in Bangkok both a once-in-a-lifetime experience.
Can't-Miss Spot: Boat Noodle Alley
Boat Noodle Alley near the Victory Monument is one of the easiest and tastiest places to eat in Bangkok. The restaurant sits along a small canal specializes in a single bowl of noodles, kuay Teow Reua.
The noodles are usually pork based with plenty of subtle chili spice, vinegar tang, and fresh green crunch. You can also get your noodles dosed with a bit of pig blood to add to the texture and depth of the soup.
4. London, UK
London is one of the world's great foodie cities. The whole world seems to live in London and the culinary traditions of the world have come along for the ride. Neighborhood by neighborhood, you can score great Ghanaian food next to a spot slinging amazing Punjabi cuisine just a few doors down from a taco stand that's next to a fish and chip shop. A trip to London to eat is varied and often delicious.
Can't-Miss Spot: sketch

Err towards a more "traditional" English experience (whatever that means) and have high tea at least once. sketch is the perfect spot to post up in for an afternoon where caviar is served out of massive silver bowls, excellent tea goes hand-in-hand with glasses of champers and post-meal martinis, and the atmosphere always feels distinctly "London." There are even tiny finger sandwiches that are way too good for what they are.
3. Paris, France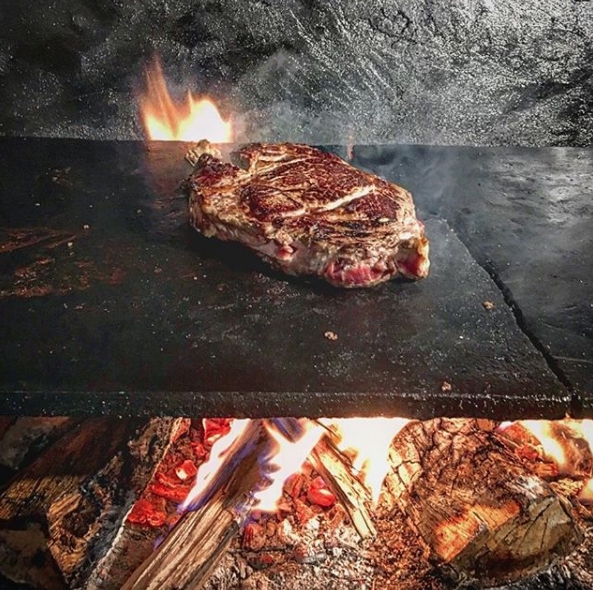 Paris and France are easy food destinations. Wine, cheese, baguettes, Champagne, foie gras, seafood stews, and so much more dominate the food conversation about France and, thereby, Paris.
It's hard not to eat well in a place like this. Hell, you can go to a grocery store, spend ten bucks on great wine, cheese, meat, and bread, and then have one of the best lunches of your life in a city park, sitting on the grass and watching Parisians do their thing.
Can't-Miss Spot: Robert et Louise

For a classic French country-living experience in the heart of Paris, hit up Robert et Louise. The steaks are all cooked on an iron plank in the fire at the back of the dining room. The tables tend to be communal, adding to the atmosphere. And the sides (get the oysters and foie) are all superb.
2. Hong Kong
Hong Kong has pretty much every food you could possibly want — depending on what neighborhood you're in. Great pizza, sure. Amazing Cantonese, of course. Killer sushi, duh. Outback Steakhouse, you'd better believe it.
All of that is before you even get to the street food that seems to be on every corner of the city. Hong Kong is the sort of place that feels like you could spend a lifetime eating your way through and never see a light at the end of the tunnel in the best possible way.
Can't-Miss Spot: Tsim Chai Kee Noodles

The wonton noodle soup at Tsim Chai Kee Noodles is so good it made it into the Michelin Guide. Don't let that prestige hold you back. This is still a crazy cheap and astoundingly delicious bowl of noodles at, basically, a walk-up joint. The mix of beef, tangy broth, fresh green veg, and delicate wontons is a masterclass in what great street food can be.

1. Tokyo, Japan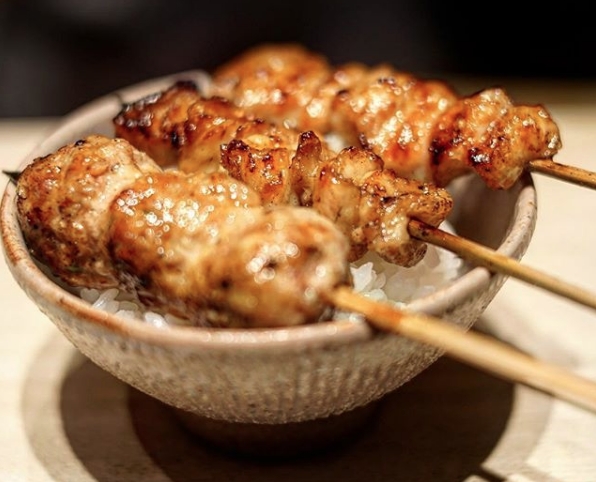 Finally, Tokyo lands at number one. It's really hard to argue with this ranking. Sure, we would have loved to see amazing food cities like L.A. or Chicago make the list — even Toronto — but we understand why Tokyo wins, according to the people.
The megapolis has an astounding food scene that goes deep on Japanese regional cuisines while embracing the foodways of cultures from all over the world with aplomb and crazy high-level skills. You might have to spend $1,000 on a sushi experience in a subway station but that moment of food will be life-changing. That's what food in Tokyo is all about.
Can't-Miss Spot: Torikado
Torikado is the ultimate unique yakitori experience in Tokyo. The joint is located near Meguro Station and specializes in yakitori chicken skewers but there's so much more.
This is the sort of place where you sit down and let the food flow. There are no menus. The meal is a conversation between a master chef and a box of fiery coals, which the chef then translates to you on plate after plate over the course of the meal.