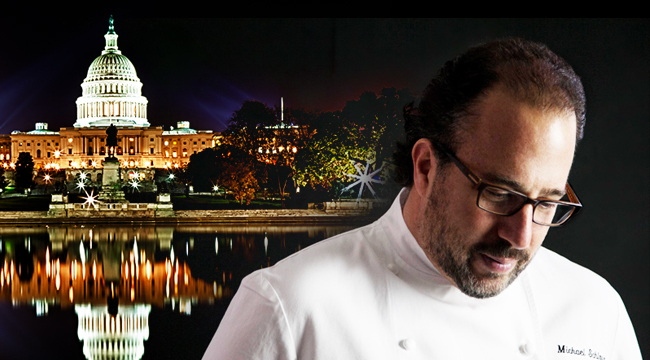 Welcome to EAT THIS CITY, your tour of the best restaurants in one of our favorite cities, as chosen by a world-class chef, celebrity, or local hero.
This week, we're off to the home of monuments, memorials, and our nation's federal government. Washington, D.C. is an iconic locale that invites visitors and residents to step inside the grandeur of the Lincoln Memorial, spend an afternoon wandering down 18th Street in Adams Morgan, and tour a free Smithsonian Institution Museum. And, if American history and government aren't your thing, the city also serves up first-class drinks, meals, and shopping.
In fact, the D.C. food scene is currently crushing — as a new generation of power players gets excited for more complicated dishes, ditching the straightforward steakhouses of yore. If that describes you, you've definitely heard of Michael Schlow, the man behind properties like Pine, Doretta Taverna & Raw Bar, and The Riggsby. An owner and concept-creator, Schlow started as a dishwasher at 14 and worked his way to the top, trying his hand at every position in the biz.
The man knows his stuff, as evidenced by the many, many accolades he's been awarded. Boston Magazine declared him "Best Chef." Food & Wine gave him "Best New Chef." He was awarded a James Beard Award of Excellence as the "Best Chef in the Northeast." And, he earned a Culinary Award of Excellence from Robert Mondavi.
If you're looking at his image and thinking he looks familiar, you've probably spotted Schlow on one of your favorite shows. His appearances include Tonight Show with Jimmy Fallon, Bravo's Top Chef Masters, The Today Show, Good Morning America, and The Food Network. The man is in demand. Looking at some of his food, that's no surprise.
Now, let's get to grubbing in Washington, D.C.!
Pizza
If I'm hungry for a bit of old nostalgia and looking for a NYC slice, Wiseguy Pizza never disappoints and always satisfies. It's a big, traditional, delicious slice of pizza that reminds of my childhood in Brooklyn, NY. If I'm going out for a little bit more of an experience, then I head over to 2Amys where the true Naples style pizza is quickly blistered in a wood burning oven, simply dressed, and perfect every time. A few other standout pies can be found at Timber Pizza, Ghibellina, Etto, and also at Mike Isabella's Graffiato … all excellent.
Tacos
Lots of good tacos to be found in D.C., but the best tacos are just outside of the District at Taco Bamba, which is run by my good friend Victor Albusi. Victor's no holds barred approach to Mexican food is my kind of cooking, and the flavor bombs get dropped on you one after another.
Asian
Little Serow & Chiko
https://www.instagram.com/p/Besj052la9j/?taken-at=7859666
Little Serow (Southeast Asian/Thai): The space is undeniably funky and cool and is owned and run by the same team behind Komi, a top notch fine dining restaurant. The team at Little Serow truly understands what it means to own the experience, and they seem genuine in their pursuit for perfect hospitality. The menu is an ever changing list of 5-6 dishes, with no options. For one price, your table gets all the dishes being presented today, and the kitchen nails it every time. They keep plenty of raw vegetables and rice on the table to keep you cool as some of the dishes can be fiery! One of my favorite restaurants in DC!
Chiko (Chinese, Korean, and just about everything else): The dream team of Scott Drewno (formerly of The Source) and Danny Lee (Mandu) have put together a small, playful space in Barracks Row, and the food has been sensational. These two are best of friends, and their love for one another and the food they are putting out is evident in every dish. Order anything and everything on the menu; its all delicious. If Chiko was in my neighborhood, I would weigh 400lbs, as I would order from there every day!
The sleeper hit on the menu is a Spicy Lamb and Cumin Noodle Dish. Delicious!
Street Food
Although not technically Street Food, I always suggest people visiting D.C. go check out Union Market. The different vendors there make excellent food, and you can always get a great meal, coffee, dessert … they even have a great knife maker there whose knives are pretty bad ass.
Sweet Food
Multiple
Do cocktails count? The cocktail culture is alive and well in DC; bartenders (sorry, mixologists) are as well known as chefs, sports stars, and politicians here. There are a ton of great places for a well balanced, even sweet if you like, libation served by a committed team of alcohol peddlers.
In no particular order, check out The Passenger, Gibson, Service Bar, 2 Birds 1 Stone.

Tie between minibar and Pineapple and Pearls. This is a tough one. Say the words "fine" and "dining" together and immediately your spine stiffens and you can feel the fun being taken out of the night. D.C. has some fantastic fine dining spots, but tops on my list are Jose Andres's minibar and Aaron Silverman's Pineapple and Pearls. Both restaurants bring the notion of fine dining into the 21st Century with fun, whimsical, always delicious food, world class service, and inventive beverage programs.
These are special can't miss places run by outstanding chefs and hospitality providers.
Casual Dining
For casual dining, I like to go late night to Le Diplomate on 14th Street. The have one of the best shellfish platters in the District and the place is always buzzing. This ode to all things French is a great addition to the neighborhood, and everything here just feels right. Aside from the shellfish plateau, they have a great steak tartare, light as air mousse of foie gras, and I'm a sucker for their skate grenoblaise.
The French fries don't suck either.
Vegetarian
https://www.instagram.com/p/BVUR6utlvJq/?taken-by=gbymikeisabella
My favorite vegetarian dish lives at Mike Isabella's sandwich shop called G by Mike Isabella. At G, they make this caramelized cauliflower sandwich that is downright addictive. Its spicy, smoky, and sweet with romesco, pickled vegetables, and paprika … and it's crave worthy.
Brunch
Again, Le Diplomate. When my wife Adrienne and I are in D.C., our favorite brunch spot is Le Diplomate. Steven Starr's ode to all things French is housed in a fabulously renovated old dry cleaning building, and no detail has been spared. Le Diplomate has some of the best bread in D.C.. We usually make a meal out of the abundant and delicious seafood plateau, fantastic French fries, and a bottle of Chablis. If a shellfish plateau isn't your thing, go for one of the amazing omelets, which are always perfect. Brunch never tasted so good. Viva La France!

Iconic Food of the City
I love going late night for the reverse Happy Hour at Clyde's. There's a little alley bar at this iconic spot and I go specifically to see Frank, a throwback to another generation. He remembers what you drank last time you were in, keeps 'em coming, and makes sure we have some late-night oysters and spicy chicken wings to keep us happy!
Also, you have to include Maryland crabs at Ivy City Smokehouse. Its crazy, but when hard shells are in season, it's not that easy to find the traditional experience inside the beltway. Maryland still has places to go where you sit with a hammer and get your aggressions out and enjoy sweet meaty crabs. If you are in D.C .and don't want to leave the District, head over to Ivy City Smokehouse where you can also enjoy lots of other delicious seafood dishes, drink a great, local beer, and listen to some amazing live music. Dreamy.
Odd Culinary Experience
The restaurant specializes in the spicy cuisine from Laos, and every time I've gone, we've had inspired and adventurous food; the offerings aren't odd, but the menu isn't mainstream. The kitchen team are masters at blending mint, chiles, fish sauce, ginger, sweet, salty, spice … all with addictive results. I go regularly and enjoy the burn caused by the abundant amount of chiles, which can be intense.
The one odd experience I did have is when I brought one of my friends not realizing he that he had a weak stomach. He didn't want to cause attention to his inability to hang with all of the spice junkies at the table. His attempt to be tough didn't really work out as he started to complain about the heat, and we all got a good laugh when we found out he went to see a his gastroenterologist the next day!!
Guilty Pleasure
Its not junk food but a guilty pleasure is the Dover Sole at Joe's Stone Crab. Perfect every time!
Hangover Food
I try to avoid hangovers, but if I do have one, a sure fire cure is the amazing Italian deli sandwiches at A.Litteri on Morse Street in Northeast near Union Market. It's an old school place with food packed to the rafters, and you simply cannot go wrong with anything you order, especially if you're hungover. Close your bloodshot eyes, point, eat, and start to feel restored. If you can't make it to A.Litteri, then the Proper Burger at Dukes on 17th Street near Dupont will set you straight. It's messy, delicious, and you'll need a nap after.

Date Night
Date night with my wife would definitely start with a cocktail (or two) at one of our favorite bars, Gibson. This super cool speakeasy makes really well-balanced cocktails and the vibe is always great for getting the night off to a good start.
After Gibson, a restaurant that is great for a date is The Dabney. We love to eat at the bar and just leave the menu up to the chef and the team there. The food is interesting, fresh, seasonal, and the open kitchen with the hearth cooking makes for a great, cozy, delicious night.
Restaurant Run By A Friend
Any of my good friend Jose Andres' restaurants. I love them all. For a special occasion, you need to indulge in minibar, where Jose and his team go all out with an exciting and innovative tasting menu that will blow your mind. Jose is a genius in the kitchen but also one of the most generous and energetic people I've ever come across. I've been a fan for a very long time!
Thank you, Chef Michael Schlow, for taking us on a culinary tour of Washington D.C!
Stay tuned for more EAT THIS CITY — where each week we'll feature a premier chef in a different city sharing their insider eating tips! Missed a week? Check out Dallas, Indianapolis, St. Louis, Napa Valley, Asheville, Charleston, Columbus, Kailua-Kona, Monterey, San Antonio, Louisville, Nashville, Raleigh, San Diego, Cambridge, Hoboken, Hollywood, Return to Miami, Return to Las Vegas, Manhattan, Oakland, Paris, Portland, Tampa, Durham, Toronto, Baltimore, Monterey, Vail, Lexington, Bentonville, San Antonio, Warsaw, Kansas City, NYC, Washington DC, New Orleans, Cleveland, Miami, Seattle, Las Vegas, San Francisco, Sydney, Portland, Chicago, Austin, Los Angeles, Brooklyn, New Orleans, Providence, Memphis, Orange County, Boston, and Detroit.
See you next week!