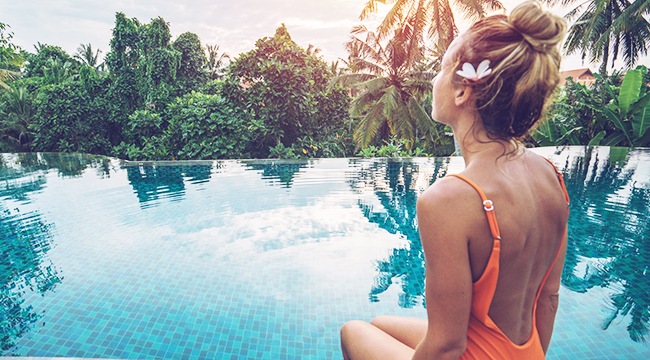 Some hotels are experiences unto themselves. The aesthetic, the gardens, the food — they all conspire together to make you want to stay on property. Other hotels leave you hyped to get up and out. To venture into the wilds of a national park or hike an abandoned ridge. These properties are great for relaxing when the day is done, but are so close to the wilds that it'd be a shame to hang around the pool all day.
Today, we're focusing on these "gateway to adventure" spots around the world. We're talking about places to stay when you're ready to #OptOutside for days of jungle trekking, abandoned beach wandering, or desert hiking. Some of these hotels are luxurious while others are quaint, but they're all excellent entry points for venturing into the great outdoors.
— Steve Bramucci, Uproxx Travel Editor
Kakadu Lodge: Jabiru, Northern Territory, Australia
Kakadu National Park — in Ausralia's "Top End" — is bigger than the entire national of Israel. It's a massive and massively rich cultural center for Australia's Northern Territory. It's also an area that holds a deep reverence for local Aboriginal people and involves them in every part of the park planning, maintence, and development. Worldwide, this park is a shining example for how to manage a large and very popular space, without marginalizing Indigenous owners.
The Kakadu Lodge is the perfect jumping off point for your adventures in the park. From this central position, most of the area's major attractions are easily driveable. Heritage sites like Ubirr Rock are close at hand, as is the towering Jim Jim Falls. Yellow Water, where the nation's largest crocs reside, is close, too. Gunlom Falls — an absolute must see/ must swim — is three hours south, which isn't too bad, considering Kakadu's vastness.
The lodge itself features a bar, which is rare in the park, and a very solid restaurant serving Aussie classics. There are also two pools for cooling off and nicely appointed stand alone cabins tucked into shady rows. As a home base for accessing one of the wildest spaces left on earth, this hotel is right on point while being very affordable.
Rooms start at $100
-Steve Bramucci
Aloft Asheville Downtown: Asheville, North Carolina
A rooftop pool, neon-lit bar with a playful cocktail menu, more bars and restaurants than you'll know what to do with, and, oh yeah, hiking among the highest peaks east of the Mississippi. This spot is [extremely Miley Cyrus voice] the best of both worlds, where you can take in all the urban delights the cozy western Carolina city has to offer and still be among the tall pines and outcrops in no time flat.