When it comes to making (or shaking) a good martini, there are endless factors that affect quality — gin vs. vodka, measurement amounts of dry vermouth, type of olives, addition of olive brine, the quality of ice and so much more can make or break a martini. But today, I want to dial it all back to the simplest terms — dry gin, dry vermouth, good ice, and a touch of lemon oils.
Even more specifically, I want to talk about the real foundational piece of the cocktail: the gin. And I think I've found the best of them all. Or the "best American gin for a martini" at the very least.
Farmer's Botanical Organic Gin is the gin I keep going back to again and again when I want a delicious, clean, and deeply flavored martini. I know "clean" sounds a little dubious when talking about martinis. It's kind of like saying "smooth" where all the character is sanded away. This gin is not that though. Think of "clean" more as a clear sense of the spirit and all its botanicals without overly sweet additives or muddled flavor notes.
Farmer's Botanical Organic Gin (which has been around for a couple of years now in its current form) is so clean (as in "direct") yet deeply flavored that you can sip it neat and find layer after layer of pure enjoyment. The juniper is there but far more back-dialed (compared to a London dry gin), with a nice medley of elderflower, hemp seed, lemongrass, coriander, rose, angelica root (for texture), and several other mild yet delicious botanicals.
It all adds up to a great gin martini base. Possibly "the best" — at least among American gins. If that sounds good, keep reading to see how you can make our new favorite gin martini this weekend at home!
Also Read: The Top Five Cocktail Recipes of the Last Six Months
Farmer's Organic Gin Martini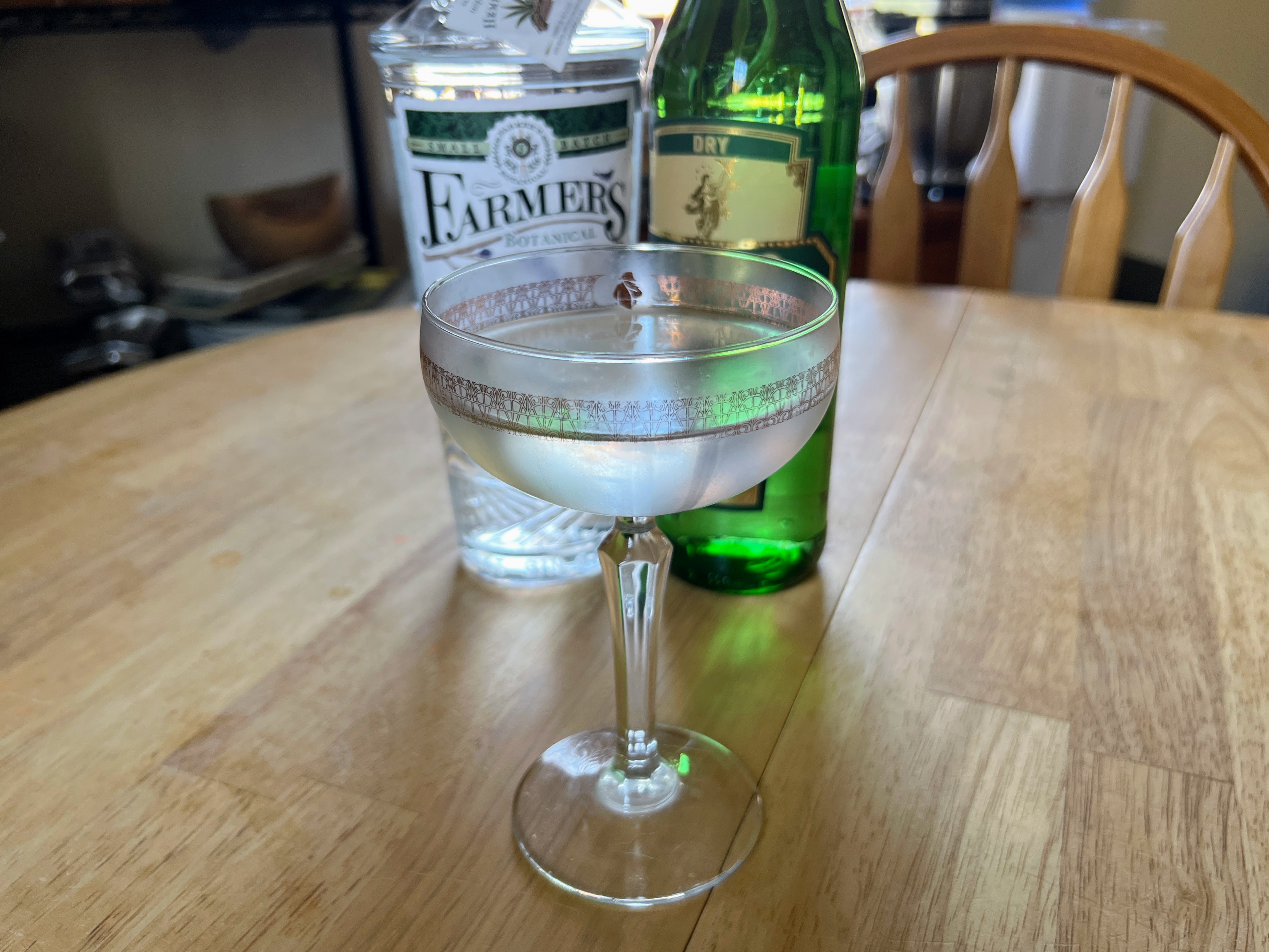 Ingredients:
3 oz. Farmer's Orangic Gin
0.5 oz. dry vermouth
Lemon peel (for oils)
Ice
In this case, you want to grab a bottle of Farmer's Gin. Luckily, it's readily available at most good liquor stores. I'm also using Foro Dry Vermouth as it has a soft floral vibe that works as a great counterpoint to the gentle botanicals of the gin.
What You'll Need:
Coupe, cocktail glass, or Nick and Nora
Cocktail mixing glass
Cocktail strainer
Barspoon
Jigger
Pairing knife
Method:
Prechill the glass, mixing glass, barspoon, and jigger in the freezer overnight. Prechill the gin and vermouth in the fridge overnight.
Fetch all ingredients from the freezer/fridge when ready to make the cocktail. Add the gin and vermouth to the mixing glass and add a handful of ice. Mix with the barspoon for 30 spins, or about 30 seconds. The ice should just start to dilute the cocktail.
Strain the cocktail into the frozen glass. Express the lemon oils over the glass and rub around the rim and stem. Discard lemon peel and serve.
Bottom Line:
Yeah, this is so good. The gin is the star of the show with a clean and very chilled vibe that speaks to really good botanicals with a slight woodiness next to dry florals and a delicate bitterness. I know that feels like a lot of buzzy words. But it's real. This is quintessential — the martini that you stir up when you want to introduce someone to the brilliance of the drink.