A spicy, lime-filled, ice-cold cocktail is perfect for the dog days of summer. The sweltering heat of August cries out for a little chili pepper to help us sweat and cool down while also demanding something deeply thirst-quenching and citrus-y. Enter the spicy vodka gimlet.
While the classic gimlet is generally made with gin and Rose's Lime, a hot summer day feels more like a vodka day. It's simpler and less taxing without those gin botanicals. Add in some serious chili pepper that mimics the cooling juice from the bottom of a cold ceviche or pico de gallo bowl, and you're really set.
To achieve that we're using a very specific chili pepper vodka for this recipe, St. George Green Chile Vodka. That expression is made with layers of fresh bell peppers and various California-grown hot and mild chili peppers, along with a touch of lime and cilantro. The corn-vodka base is also dialed in and doesn't have any of that "crafty" butterscotch or steely note that so many small producers can't seem to get past when making their juice. This is high-quality flavored vodka that over-delivers on the promise of its label, making it perfect for this cocktail.
Now then, let's get shaking!
Also Read: The Top Five Cocktail Recipes of the Last Six Months
The Spicy Vodka Gimlet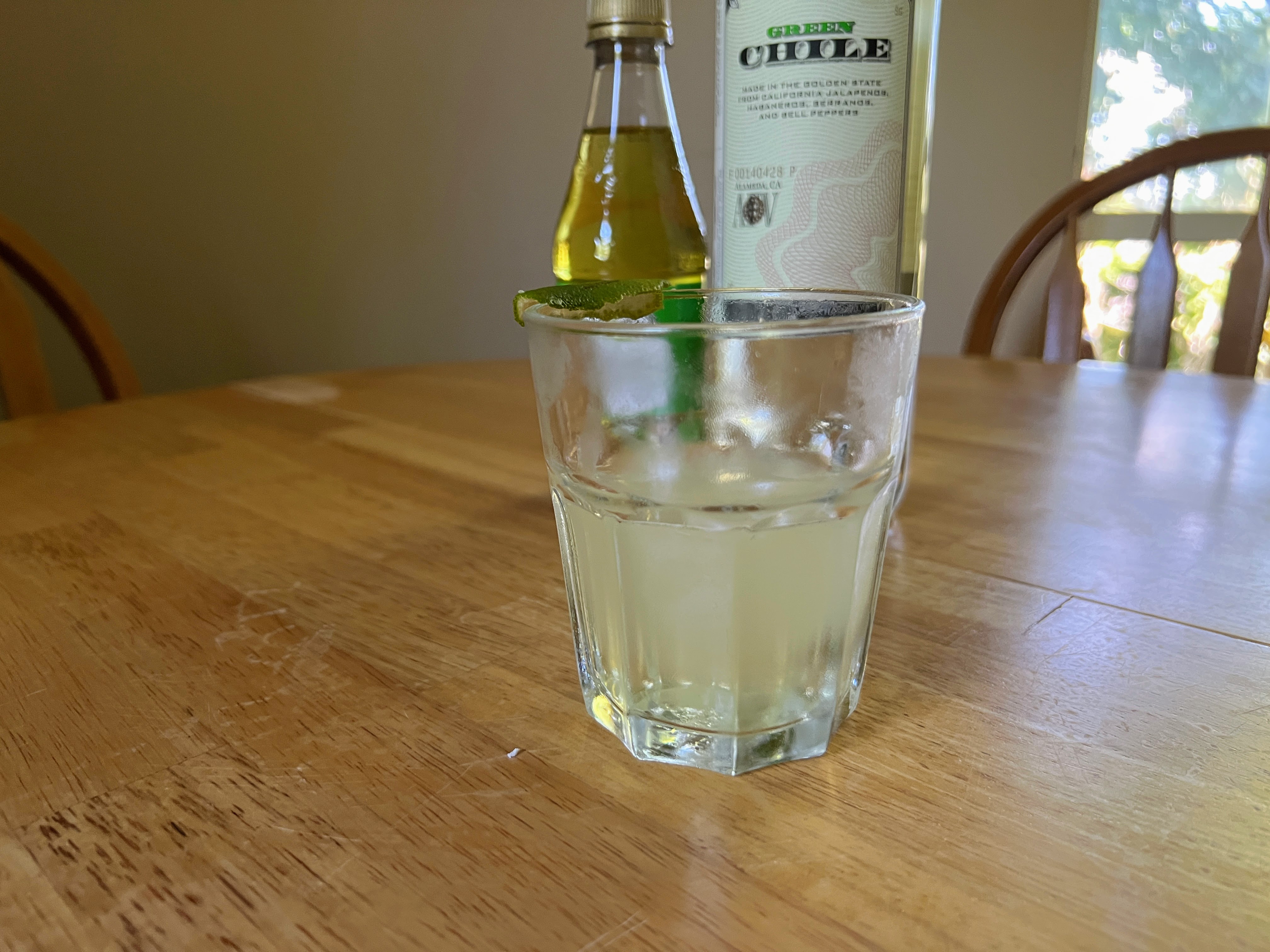 Ingredients:
2 oz. St. George Green Chile Vodka
0.75 oz. Rose's Lime
Lime peel
Ice
This is all pretty straightforward. I won't restate everything about St. George's chili pepper vodka from above. Still, this is the perfect base for this recipe. You can get the bottle here. Alternatively, you can use a standard chili pepper vodka if you can't find this. Or you can infuse some standard vodka with sliced chili pepper overnight and then strain the pepper from the vodka and, voila, you have pepper vodka. But be warned, you won't get the same depth/nuance as using St. George Green Chile.
Lastly, any legit gimlet needs Rose's Lime, which you can find at any grocery or liquor store.
What You'll Need:
Cocktail shaker
Cocktail strainer
Coupe or lowball glass
Jigger
Paring knife
Method:
Prechill the glass in the freezer for at least an hour.
Add the two ounces vodka, .75 ounce lime cordial, and a handful of ice to a cocktail shaker. Affix the lid and shake gently for 10 to 15 seconds or until the shaker is ice cold to touch.
Remove the glass from the freezer and strain the cocktail into it.
Cut a thin slice of peel from a lime and express the oils over the glass (gently bend with your thumb and index finger with the outside of the long edges of peel toward the glass, making sure not to break the peel).
Drop in the peel and serve.
Bottom Line:
This is great. It's kind of like a spicy lime shooter in a cocktail format. The citrus is soft and welcoming, creating a limeade vibe while the chili, cilantro, and bell pepper all make appearances, which really add some depth.
This isn't too hot but there is a fresh green chili pepper edge that kind of feels like standing in a pepper field and taking a bite of a fresh green chili pepper right off the vine. The mild cilantro and almost creamy lime really help balance the heat toward citrus and sweet, creating a nice nuance to the cocktail.
Overall, this is one of those cocktails that goes down almost too easily on a hot summer day. Consider yourself warned.