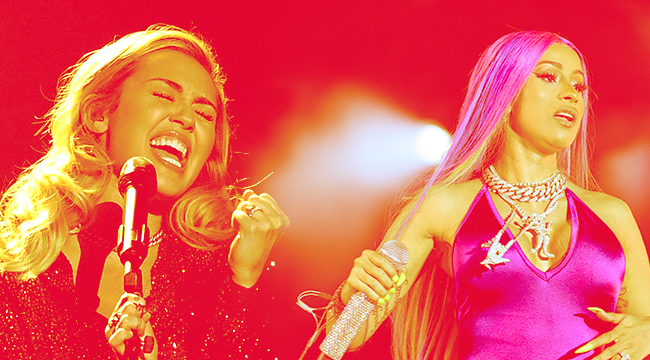 Keeping up with new music can be exhausting, even impossible. From the weekly album releases to standalone singles dropping on a daily basis, the amount of music is so vast it's easy for something to slip through the cracks. Even following along with the Uproxx recommendations on a daily basis can be a lot to ask, so every Monday we're offering up this rundown of the best music released in the last week.
This week saw a surprise new project from Miley Cyrus, as well as the return of grime star Skepta. Yeah, it was a great week for new music. Check out the highlights below.
Mark Ronson — "Find U Again" Feat. Camila Cabello
Mark Ronson and Camila Cabello are no strangers to big-time pop hits, so it makes sense that a collaboration between the two would work well. The disco-inspired single has a heavy bass line and a strong hook that makes this one of the better crying-in-the-club songs this year. There's even some indie cred here: Tame Impala's Kevin Parker co-wrote the song.
Skepta — Ignorance Is Bliss
It's been three years, but now one of grime's kings has returned. The album was led by the single "Bullet From A Gun," a bouncy track in which Skepta gets vulnerable, with lyrics like, "'Cause like a bullet from a gun it burns / When you realize she was never your girl / It was just your turn / You got to face your demons, don't matter how much money you earn."
Herve Pagez and Diplo — "Spicy" Feat. Charli XCX
The Spice Girls are a real band, because there's no way they could have made the timeless banger "Wannabe" if they weren't. It's a song worth honoring, and that's what Herve Pagez, Diplo, and Charli XCX have done with "Spicy." Despite the title change, the song is a cover, albeit with a refreshingly different aesthetic.
Sleater-Kinney — "Hurry On Home"
Sleater-Kinney worked on their new album with St. Vincent/Annie Clark, and finally, they've shared the first fruit of that effort. The record's lead single "Hurry On Home" shows why the band's reunion is so welcomed, and the phone-centric lyric video is quite clever.
Mozzy — Internal Affairs
Few people are hustling harder than Mozzy has been over the past couple years: Since 2018, he's released five albums/EPs, including his latest, Internal Affairs. On the record, Mozzy runs through the highs and lows of his life, like on "Winning," a chronicle of a rags-to-riches story.
Denzel Curry — Zuu
Florida rapper Denzel Curry pays tribute to where he came from in Zuu, in terms of how it made him and how it guides him today. He got some Florida help as well from fellow native Rick Ross on the bass-heavy banger "Birdz." Curry is an emphatic live performer, and these tracks are going to translate wonderfully to the stage.
Miley Cyrus — She Is Coming
Miley Cyrus has had a contentious relationship with the hip-hop community over the years, but whatever beef there was, that's clearly all behind her now. On the EP, there are guest appearances from Ghostface Killah, Swae Lee, Mike Will Made-It, and even RuPaul.
Read our review of She Is Coming here.
Katy Perry — "Never Really Over"
Katy Perry's most recent album, Witness, wasn't exactly beloved, but her next one could be different based on "Never Really Over." Perry's latest single is a fantastic one, drawing influence from Maggie Rogers in the chorus with a touch of Lil Dicky's "Freaky Friday" in the verses. Perry was meant to be singing pop hits, and once again, she is.
Taylor Bennett — The American Reject
Taylor Bennett has carved out a unique identity beyond "Chance The Rapper's brother" for years now, to the point where a surprise release like this gets people excited. He can go harder than his older sibling does, like on the album-opening title track, although he keeps things smoother and slower on "No One Outside," a delightful collab with Chance.
Cardi B — "Press"
Cardi B has had to slow down lately due to complications from cosmetic surgeries, but that doesn't mean she's shutting it down altogether. On her newest single, she addresses her haters in the media over a supremely aggressive instrumental. Just because Cardi is a legitimate pop star, that doesn't mean she can't still go hard as hell.
Some artists mentioned are Warner Music artists. Uproxx is an independent subsidiary of Warner Music.