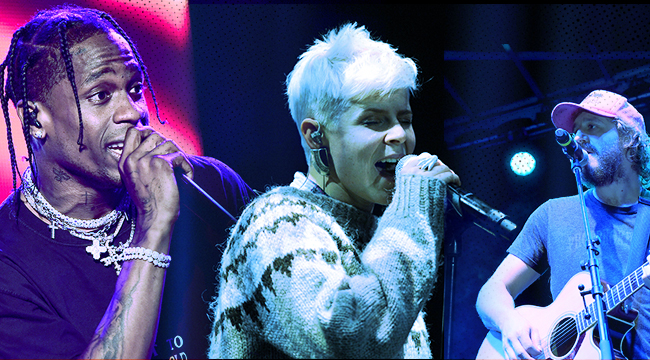 Keeping up with new music can be exhausting, even impossible. From the weekly album releases to standalone singles dropping on a daily basis, the amount of music is so vast it's easy for something to slip through the cracks. Even following along with the Uproxx recommendations on daily basis can be a lot to ask, so every Monday we're offering up this rundown of the best music released in the last week.
This week hip-hop heavyweights Travis Scott, Mac Miller, and YG all offered up new albums, Robyn and Phosphorescent delivered highly anticipated returns, and Chvrches collaborated with a Japanese electro-pop group. Yeah, it was a pretty good week for music. Check out the highlights below.
Travis Scott — Astroworld
Travis Scott has long flirted with A-list rapper status, but now with the release of his highly anticipated new album Astroworld, it feels hard to deny that he's arrived. If you need further proof beyond the numbers he boasts, the huge stages he's playing, and the general acclaim he receives, check out the guests he lined up for his latest album: Frank Ocean, Stevie Wonder, Drake, Pharrell, Quavo and Takeoff, The Weeknd, Tame Impala, James Blake, John Mayer, Juice WRLD, 21 Savage, and Swae Lee. It's Travis Scott's planet now, and we're just living on it.
Mac Miller — Swimming
After a public breakup and some legal trouble, Mac Miller let the storyline for his latest album get away from him a bit. But as our own Aaron Williams writes, "singles like 'Self Care' and 'Inertia' point to healthier coping mechanisms and a sense of inner peace that signal yet another reinvention for the artist alternately known as Larry Fisherman."

YG — Stay Dangerous
YG has emerged as one of the most important rappers from the Los Angeles area in the last decade. On his latest, Aaron Williams notes "it's stunning how far he's come as a rapper," saying that "it might be his most honest and his most confident" work yet. Whether this means that YG's stock rises as high globally as it is locally remains to be seen.
Amanda Shires – To The Sunset
In his recent RX interview with Amanda Shires, our own Steven Hyden called the album a "breakthrough" for the songwriter, which has been a longtime coming. "To The Sunset is ultimately concerned with comprehending the madness of modern times, and the necessary task of reaching out to others in order to connect and heal," he wrote. For fans of Americana and its surrounding sounds, the album is a must-hear.
Iggy Azalea — Survive The Summer
Iggy Azalea gets a lot of flack from the music press, but her determination in spite of it is inspiring. Her new EP may have suffered some delays, but it's release seeks to get he back in the public conversation. Tyga and Wiz Khalifa pop up on the abbreviated effort, which features six songs in about 16 minutes.
Robyn — "Missing U"
Despite the eight-year gap between Robyn's last solo album, Body Talk, and now, the pop genius feels as relevant today as ever. Her brand of pop music that doesn't feel particularly tied to trends — but, rather, sets them — has led to a generation of pop artists that don't need Top 40 success to find their audience. On her latest, Robyn makes the time that her fans have waited for the Body Talk follow-up feel worth the wait, with a song that pulses and hums and virtually pushes its listeners to the dancefloor.
Phosphorescent — "New Birth In New England"
Speaking of long breaks between albums, it's been five years since Phosphorescent last released a record, 2013's beloved Muchacho. In the time between, Matthew Houck moved to Nashville, started a family, and built a new recording studio. Still, the Paul Simon-esque new song feels very much in line with the project's oeuvre, which has always taken its cues from the great rock and country songwriters. At this point, Houck deserves to be spoken of in the same breath.

Spiritualized — "Here It Comes (The Road) Let's Go"
Some of the best music that Spiritualized has made in their career combines rootsy rock traditions with psychedelic otherworldliness, evoking both the past and the future with equal weight. Their latest song leans on the former until its liftoff of a conclusion, hammered home by the artwork of leader Jason Pierce dressed like an astronaut. It's business as usual for a band that's been making classics for more than 20 years.
Chvrches — "Out Of My Head" ft. Wednesday Campanella
Arriving just a couple months after their latest album, Chvrches are back with a peppy collaboration with Japanese electro-pop group Wednesday Campanella. The song reveals the two bands to be a pretty perfect match for each other and should help both find new audiences through the cross-cultural collaboration.
Jade Bird — "Uh Huh"
Jade Bird has recently been getting some notice in the alternative world, but her latest falls squarely between American and indie sensibilities. Her voice is almost impossible to place, sometimes affected like First Aid Kit, irreverent like Courtney Barnett, and punky like Courtney Love. But the lasting impression is of a songwriter that demands attention.