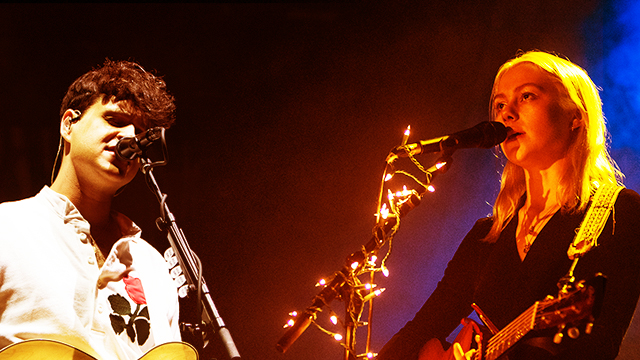 Indie music has grown to include so much. It's not just music that is released on independent labels, but speaks to an aesthetic that deviates from the norm and follows its own weirdo heart. It can come in the form of rock music, pop, or folk. In a sense, it says as much about the people that are drawn to it as it does about the people that make it.
Every week, Uproxx is rounding up the very best of the indie releases from the past seven days. This week saw the debut of Phoebe Bridgers and Conor Oberst's collaborative project, Better Oblivion Community Center, as well as the return of Vampire Weekend and a stunner from Ryan Adams. Yeah, it was a pretty great week for new indie music.
Better Oblivion Community Center — Better Oblivion Community Center
Two talented songwriters from different generations come together to bring out the best in each other. Phoebe Bridgers and Conor Oberst's new project Better Oblivion Community Center finds both artists pushing each other into exciting new terrain. As I wrote in my interview with the pair, "Musicians this well-matched rarely find each other, and when they do, even rarer is it in something so effortlessly symbiotic at Better Oblivion Community Center. Phoebe Bridgers and Conor Oberst come across as each other's biggest fans."
Vampire Weekend — "Harmony Hall"
There might not be a more anticipated single this year than Vampire Weekend's "Harmony Hall," which ends a nearly six-year drought of new music from the indie rock band. But even with all the wait and the tips of where their sound might be heading (they did have a Grateful Dead cover band opening for them last year), no one was really prepared for the '90s neo-jam style that appeared in the track. It's a polarizing song that showcases the effort that went into it, only whetting our appetite more for what else this cycle might bring.
Florence + The Machine — "Moderation
Even though her last album came out in 2018, Florence Welch is not taking her foot off the gas. And this single, "Moderation," is actually a better standalone than anything off her last record, relying less on vibe than that collection and going back to her hit-making days of old. Both looks are great for Florence + The Machine, and "Moderation" just puts a little more balance into the world.
Nilüfer Yanya — "In Your Head"
With a debut album, Miss Universe, due in June, Nilüfer Yanya is showing listeners what all the fuss is about. The songwriter, who is about to go on tour with Sharon Van Etten, shows a similar knack for landing a rock song as she has shown in her ability to conquer more spare territory. As our own Chloe Gilke notes, "'In Your Head' is a fuzzed-out, passionate rock song that evokes the feeling of clawing through the mud of your own mind and trying to break free, whatever that might look like."
Ryan Adams — "F*ck The Rain"
Ryan Adams has made a career off of transcendent, reflective, gorgeous songwriting. So the fact that his latest, "F*ck The Rain," is all of these things, isn't as much a surprise as it is an affirmation that Adams is once again drawing water from a deep well. John Mayer shows up for a guitar solo, but Adams owns this song's dreary mood, enough so that we're all ready to flip the bird at the rolling thunder and gathering puddles.
King Princess And Fiona Apple — "I Know"
King Princess doesn't need a cosign to prove her worth. Still, getting on a collaborative version of Fiona Apple's "I Know" with Apple has to feel good, like crossing some imaginary threshold of success. This version comes 20 years after the release of the original and is a Spotify exclusive. Still, it resonates as strongly today as it did when it was written, with two generations of talented musicians bridging that time with this collab.
William Tyler — Goes West
It's not just a clever title. Acoustic guitar wizard William Tyler's newest album chronicles his cross-country move to California, where a new band of collaborators, including Hand Habits' Meg Duffy, awaited him. The resulting collection, as M.C. Taylor wrote in Tyler's bio, "sounds as though he found a way to point himself directly towards the rich and bittersweet emotional center of his music without being distracted by side trips."
Jenny Lewis — "Red Bull & Hennessy"
It's been five years since Jenny Lewis' last excellent album, The Voyager, and she's back on March 22 with her next effort, On The Line. Her newest single is named after a club drink and sounds like Stevie Nicks, with a classic rock vibe that we've never quite heard from the former Rilo Kiley leader. Lewis still has surprises up her sleeve this deep into her career.
Kurt Vile — "Timing Is Everything (And I'm Falling Behind)"
Last year, Kurt Vile returned with his excellent (and maybe underrated) new album Bottle It In, but that doesn't mean we're done with new music from the Philly rocker. This song for Amazon Originals finds Vile in his chilled-out zone, with our own Leah Lu noting, "He lets out leisurely bird-call-like whistles between verses, and it's obvious that the song's title isn't a statement of panic, but rather a fact that he's made full peace with. Timing may be "everything," but maybe falling behind isn't so bad."
Rosie Tucker — "Gay Bar"
Rosie Tucker is a Los Angeles-based songwriter with a new album, Never Not Never Not Never Not, due on March 8. "Gay Bar" is a good example of what they are doing musically, with this ode to queer watering holes and the sense of self and acceptance that can be found there. As noted in the album's PR, Tucker draws a line from their work to the queer (and often blacklisted) voices of the '60s, including Dusty Springfield and Buffy St. Marie, writing songs with political implications that aren't themselves foremost about political issues.
Some artists covered here are Warner Music artists. Uproxx is an independent subsidiary of Warner Music Group.
IF you want even more indie music, sign up for our newsletter, Indie Mixtape, curated by Steven Hyden here.