Yes, Britney Spears has been freed from her conservatorship, but the public refuses to ease up on their grip on her. A few days ago, supposed fans crossed the line when they called the police requesting a wellness check on the pop singer as a prank. Well, the police followed through, popping by Spears' home to ensure she was safe. Days before that, fans rushed the entertainer to record videos of Spears while she and her husband, Sam Asghari, were out having dinner, an incident she later addressed. What makes it worse is another public figure has joined in on the spectacle.
Back in December, actress Alyssa Milano tweeted, "Someone, please go check on Britney Spears," presumably in response to the singer's risque social media posts, which led some to assume she was having a mental breakdown. This assumption being perpetuated by a celebrity without verification can cause far more harm than good.
Now, the tweet has reached Spears, who took to her Instagram Stories today (February 1) to respond, sharing the tweet and writing, "It saddens me to see things about me from people who don't know me. This definitely feels like a form of bullying!!! Ladies, were are supposed to be rooting for one another not pulling one another down!!!"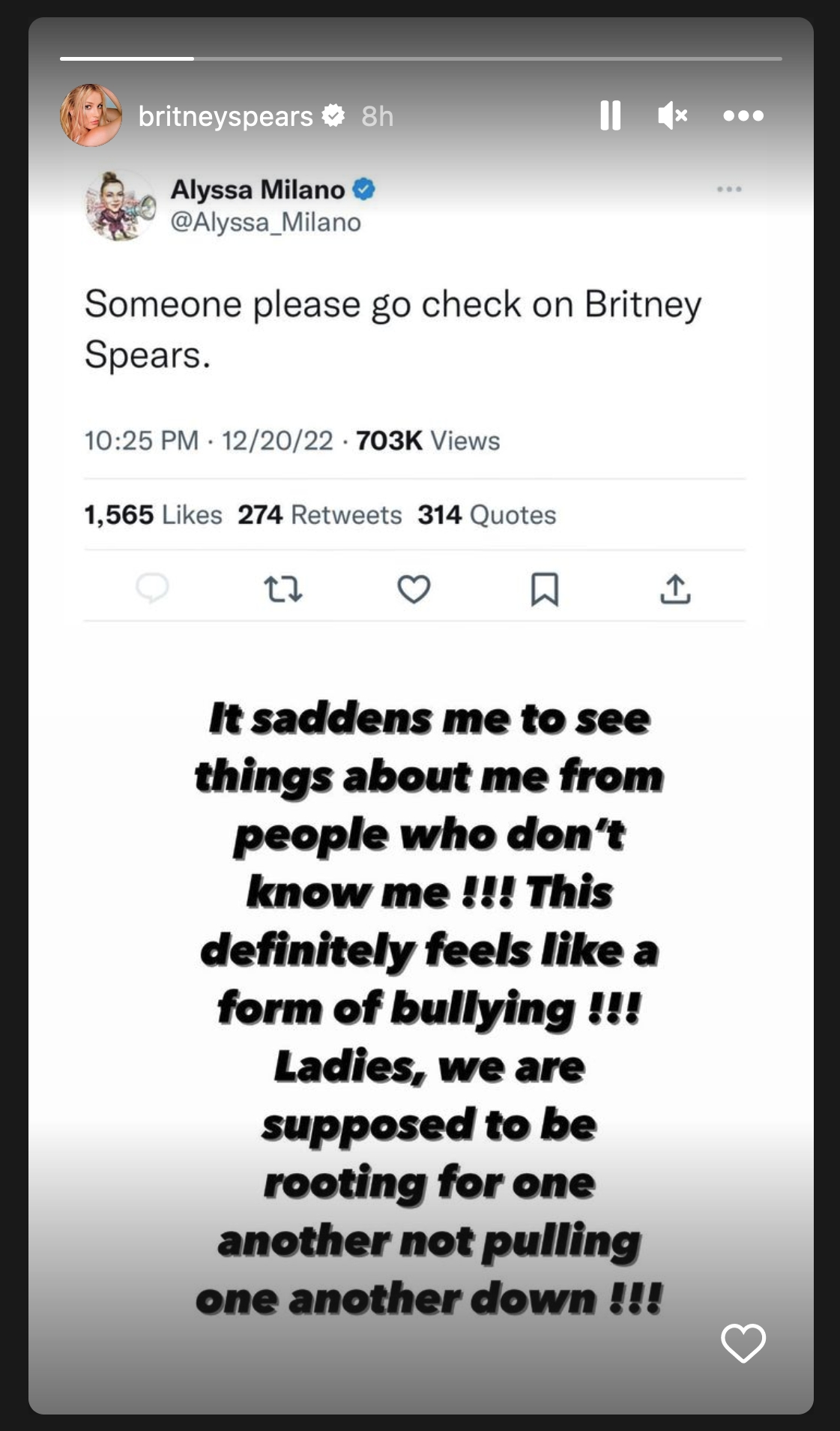 The irony in Milano's concern is during the height of Spears' conservatorship trial to get the ruling reversed, Milano remained eerily quiet. Milano only made one surface-level post using the #FreeBritney in June of 2021 in response to a New York Times opinion piece about the ongoing legal proceedings.
On the contrary, after its reversal, Milano issued several posts on social media as well as in the press.
Supporters of Spears immediately called out the hypocrisy.
Britney Spears may regret some tattoo choices, but she isn't ashamed of her revealing Instagram posts or expressing how she feels. So, for those that have some negative to say, do her a favor and don't.