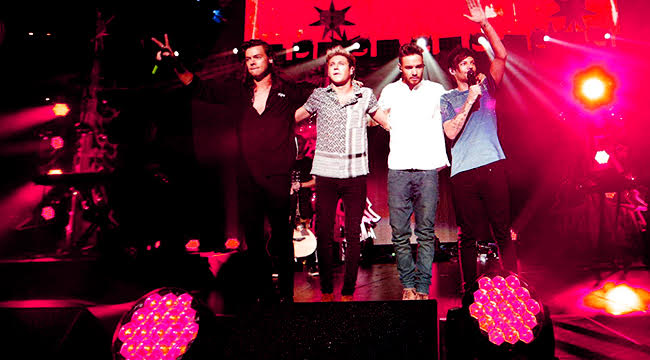 In July 2010, Simon Cowell waved his wand, and five teenage boys from England and Ireland became some of the biggest pop stars on the planet. From their first performance on The X Factor to their last sold-out stadium show, One Direction were omnipresent. Their music played at college bars and high school proms, on the radio, in every CVS Pharmacy. They sold out shows from San Antonio to Sao Paolo. They churned out one album a year, their music transforming over five albums from bubblegum Euro-pop to an eclectic pop-rock pastiche.
It'd be short-sighted to say that no boy band has reached that kind of omnipresence since One Direction announced their hiatus. For one, BTS have reached those heights (and arguably surpassed them), winning over audiences around the world with their impeccable choreography, boundless energy, and beautiful voices. He's not a boy band, but Ed Sheeran, who came up around the same time 1D did, has only gotten bigger in the English band's absence. Brockhampton called themselves "the best boy band since One Direction" and dared prejudiced critics to think twice about only labeling someone a "pop star" if they're white.
One Direction certainly isn't the only pop band to win over the hearts of millions of fans, tear up the charts, and make themselves part of history. But they did come up in a period of fascinating flux, and used the converging trends in pop music to really innovate. The boys are obvious admirers of classic rock, and borrowed equally from the sounds of Fleetwood Mac and more contemporary artists. Getting their start in the early 2010s amid the explosion of Twitter, Tumblr, and Instagram, they connected with their fanbase (and let them connect with one another) in new ways, making 1D some of the first truly social media accessible pop stars. Instead of running from the Beatlemaniacs like the beginning of A Hard Day's Night, 1D invited them in with video blogs, constant Twitter updates, and thousands of Instagram posts to decode.
Looking at male pop stars now — Charlie Puth's constant album recommendations or Shawn Mendes' Insta story gig recaps — you can see the legacy of 1D. Listening to the Jonas Brothers sing about trying to preserve their golden youth forever and BTS' thoughtful, introspective lyrics, you can hear the massive impact they had on what we think of as boy-band music. They changed what we expect from the genre, setting convention ablaze and melding a fascinating array of influences into each of their albums.
A band like One Direction, five strangers put together on a reality TV show and managed fastidiously for their whole career, often gets labeled "inauthentic" and "manufactured." However much they're assumed to be a product of the corporate guys who put them together, their music is a product of decades of rock and pop history. Here's a selection of boy bands, pop legends, and rock royalty that came before One Direction.
The Beatles
The Beatles were the original boy band. Paul, John, George, and Ringo began as four rebellious teens with goofy haircuts, but their thoughtful songwriting, musical adventurousness, and work ethic turned them into legends. Their massive commercial and artistic success marks the peak of what one band can achieve, both as a unit and as solo artists. To this day, One Direction and The Beatles are the only bands to have three of their members have No. 1 albums on the Billboard charts.
Before the rest of the world caught on, young women loved The Beatles. In the mid-'60s, "Beatlemania" was an affliction, and if you weren't part of the screaming stadium girl demographic, all the hype was incomprehensible. But time and time again, from The Beatles to BTS, dedicated fans are proven to be musical tastemakers. "Who's to say that young girls who like pop music — short for popular, right? — have worse musical taste than a 30-year-old hipster guy," Harry Styles once said in an interview with Rolling Stone. "That's not up to you to say. Music is something that's always changing. There's no goal posts. Young girls like The Beatles. You gonna tell me they're not serious?"
The Rolling Stones
Many of One Direction's biggest hits — the sanguine "What Makes You Beautiful," the weepy "Story Of My Life" — have the sappy heart of a Paul McCartney writing credit. Although they're best known for their tender ballads about not knowing how physically attractive you are, 1D's catalog is more diverse than their biggest singles would suggest. Their third studio album, Midnight Memories, is punctuated with Styles' screams and snarls as he perfects his best Jagger swagger. If you've never seen footage of One Direction onstage, imagine five Mick Jaggers barreling around the stage and soaking up the audience's attention like they're vampires feasting. Or, I mean, look it up on Youtube and see for yourself.
Elton John
Harry Styles is a student of Elton John. Styles' bold, elaborate stage outfits — think pink satin bell-bottoms and blue Princess Elsa sequins — are the kind of getups that would make the legendary English singer-songwriter proud. Styles wasn't always such a flamboyant dresser. For most of the One Direction years, the boys would wear coordinating skinny jeans and low-key t-shirts, until each started experimenting with his original style on the band's last tour. But Elton John's untouchable stage presence paved the way for these boys' confidence, both as a group and in their solo careers.
Some of Elton John's best lyrics (mostly written by his creative partner Bernie Taupin) sound like they were written and set to music in ten seconds. They're beautiful and devastating because of how natural they seem to be, like a passing thought set to music. This line from "Your Song" kills me every time: "Excuse me forgetting / But these things I do / You see, I've forgotten / If they're green or they're blue." At their best, One Direction could capture the same kind of fleeting tenderness in their own lyrics.
Fleetwood Mac
Whenever the One Direction members are asked about their influences, Fleetwood Mac inevitably comes up as a major one. Rolling Stone once called 1D's song "Fireproof" one of the "best Fleetwood Mac songs that aren't by Fleetwood Mac," and Louis Tomlinson said their song "What A Feeling" "has kind of got a little Fleetwood influence in there." The songs are smooth, groovy, and hypnotic — "What A Feeling" is the love child of Fleetwood Mac's "Dreams" and "Little Lies." And even after the hiatus, Fleetwood Mac remains a major influence on the band's solo careers. Styles and Niall Horan's debut records have a retro, soft rock sound. Styles and Horan even tipped their hat to FM with covers of "The Chain" and "Go Your Own Way" on their first solo tours.
Fleetwood Mac themselves enjoy the 1D comparison, too. Stevie Nicks has called Harry Styles her "love child" and "the son [she] never had," and the two have sung together on multiple occasions.
Stevie Wonder
Stevie Wonder is one of the most influential pop singers of all time. With over 30 top 10 hits and 25 Grammys, Wonder earned the kind of commercial success most pop artists can only dream of. The funky piano technique he utilized his '70s "classical period" songs shaped the sound of pop music for the whole decade — and decades after that.
Harry Styles auditioned for The X Factor singing "Isn't She Lovely" — a brave choice for a novice singer, but his ambition was admirable.
Bruce Springsteen
I have a tattoo across my ankles that reads "hope you'll remember / how we danced." It's a lyric from One Direction's "Best Song Ever," but thematically, it could be a song from any 1D song. Never before has there been a band of college-aged boys so obsessed with theorizing their own legacy. They sing about running wild, feeling free, and hoping to preserve that feeling in amber forever. They'll live while they're young. They won't act their age. They hope we'll remember how they danced.
A lot of the time, my tattoo gets puzzled looks from strangers who squint down at my ankles and try to read the handwriting from far away. Once, a man on the bus looked down at my legs and said "I love Springsteen." I don't know what Springsteen song he mistook "Best Song Ever" for, but the comparison isn't all that far off. He made a career of singing about wild boys and hard-to-catch girls, friendships that seem unbreakable until they're broken, all memorialized in a song so they'd live forever. I live for the look on that guy's face when I told him that lyric was actually sung by Zayn Malik.
Paul Simon
Harry Styles loves Paul Simon. "Walking In The Wind," off 1D's last album Made In The A.M., has serious Graceland vibes. The song is sweet and nostalgic, with conversational, tossed-off verses that let the lyrics' sentiment lie bare. The lyrics of the song are vague enough that you can listen to its well-wishes and interpret them any way you want. But in the context of the band's only album without Zayn Malik and following half an album's worth of songs about friendship, growing up, and moving on, "Walking In The Wind" sounds like a sweet goodbye to a friend. The first time I heard it, I thought of the Simon-written "The Only Living Boy In New York."
"I love that album," Styles said of Graceland. "And it's cool to be able to, obviously not copy, but it's cool to be able to have influences you've loved for so long."
Prince
On their song "Alive," One Direction sing about being so horny that they can barely function. Every girl at every party sends them on a tailspin. "My mother told me I should go and get some therapy," they sing, in the first line of the song. By the chorus, though, they come to the conclusion that desire is nothing to be afraid of. "She said hey, it's alright, does it make you feel alive?"
The first time I'd heard of Prince was from a youth pastor who called him "the king of rock 'n' roll pornography." Of course, I had to look him up. His music was electric, alive with desire and completely unafraid. He was a warlock with a guitar, encouraging all who'd listen to live and love fearlessly. Honestly, One Direction's music sounds nothing like Prince's. But his shameless, wild confidence changed the face of pop as we know it.
Oasis
Ahead of the release of Made In The A.M., Liam Payne told Capital FM that the album would sound "a bit Oasis-y." He's not wrong — listening to the album, you can hear the members' admiration for Britpop.
Throughout One Direction, the members of the band had different ideas of what they wanted the band to be. Before the band started writing their own songs, the songwriting teams that worked with the label wanted them to be fun and youthful, and to chase the success of "What Makes You Beautiful" with more trendy Euro-pop. Styles loved a big chorus. Horan brought his guitar on stage from minute one. Zayn didn't write much with the band, obviously saving his smooth R&B-pop for himself a little bit later. Payne and Louis Tomlinson, who often wrote together on the band's later albums, created a fascinatingly diverse catalog of pop-rock. You'd think that many voices and that many divergent tastes would make for a mess. But as Oasis proved, a little friction can make for some brilliant music.
Hanson
One Direction's first big single, "What Makes You Beautiful," is honest-to-god witchcraft. The song is impossibly catchy, sure, but the thing that really makes it magical is its endless capacity for joy. The synths are bright as the sun itself, and all five voices blend together to sound truly massive in the chorus. The first time I heard "What Makes You Beautiful," I turned the volume of my headphones all the way up, willing my brain to soak up that feeling and save it forever.
Hanson is a band of three brothers from Oklahoma. Although "MMMBop" is their best-known single, the band has been together since the mid-'90s, and they seem to go on an anniversary tour at least once every year. Like "What Makes You Beautiful," "MMMBop" is a freight train of pure joy. It still ignites every crowd they play it for, and a song like that never stops being magic.
John Mayer
Justin Timberlake gets a lot of credit for breaking ground as a boy bander gone solo, but if we're tracking the musical influences of One Direction, there was another early '00s pop star whose music was a more obvious predecessor. John Mayer burst onto the scene in 2002 with a major label deal and a killer lead single ("No Such Thing"), and he quickly attained wild commercial success.
Mayer is the rare pop star that's beloved for his musicianship and his hit-making sensibilities. He has collaborated with Eric Clapton, toured with members of The Grateful Dead, and won seven Grammys. In the same way The Beatles represent the heights of what a band can reach, Mayer represents the acclaim that a pop star can get in the 21st century. He's a respected rock star and pop hitmaker, and he's still playing massive arenas nearly two decades later.
Maroon 5
Like John Mayer, Maroon 5 made themselves pop icons with their disarming consistency. Their sound has changed a lot since their first album, but the draw remains the same. Adam Levine is a handsome, sensitive dude. His songs show his thoughtfulness, and his music videos (and constant presence on every NBC singing competition show) remind us of his good looks.
With smooth, confident lyrics and a fresh funk-pop-rock sound, Maroon 5 were a rom-com fantasy. They could switch from the sexiness of "Harder To Breathe" to the sappiness of "She Will Be Loved" with ease. Nearly two decades later, Levine still has it — his feminist anthem and Cardi B feature "Girls Like You" was a No. 1 hit last year. Adam Levine represented the kind of 21st-century sex symbols the One Direction boys had as predecessors — equal parts bad boy and heart-of-gold leading man.
Jonas Brothers
The Jonas Brothers are often mistaken as squeaky-clean, purity-ring-wearing Disney Channel boys. At the height of their mid-'00s popularity, they did have a movie deal with Disney Channel and they did wear rings pledging their chastity, but the Jonas Brothers were also a little bit punk rock.
Compared with Hanson's bubblegum joy or *NSYNC and the Backstreet Boys' glossy millennium pop, the Jonas Brothers had more of a rock-influenced sound. Listening to them as a young teen, their slight edge and rebelliousness were thrilling. The wild guitars of "Mandy" gave way to the steamy (well, Disney Channel steamy) attitude of "Burnin Up." Like the Beatles and dozens of other boy bands before them, the JoBros demonstrated just the right amount of rebellion to connect with their legions of fans. One Direction would have mermaid tattoos and candy thongs instead of purity rings, but the connection still stands. They were down-to-earth enough to seem like real boys, but cool and wild enough to inspire admiration.
Arctic Monkeys
Half of the One Direction boys were teenagers in northern England in the early 2010s, so it only makes sense that the Arctic Monkeys were a formative influence. Even at its Midnight Memories hardest, 1D's music was still a lot poppier than Alex Turner and his band ever got, but in their solo careers, a few of the boys have been embracing more AM-type sounds. Louis Tomlinson's "Miss You" has some punky driving guitar, and Harry Styles' "Kiwi" sounds like a missing track from Whatever People Say I Am, That's What I'm Not.
"I grew up loving bands, so I like really organic instruments — I like a lot of guitar," Tomlinson once said when asked about his musical influences. "Because I'm from the north of England, naturally everyone's kind of obsessed with Oasis, you know, and also, you know, Arctic Monkeys."
Justin Bieber
Though they were coming up around the same time, Justin Bieber comes from a much different pop lineage than One Direction. Where 1D covered Elton John and Bonnie Raitt songs on The X Factor, Bieber won fame with his sweet-voiced R&B-pop on Youtube. Bieber mixed the smooth charm of Usher and Justin Timberlake with the puppy dog eyes of Zac Efron in High School Musical. In the year or two before One Direction got huge, Bieber's face was postered up on every childhood bedroom.
Bieber remains one of the most-talked-about pop stars on the planet today. Before his X Factor audition, Niall Horan told the camera that he admired the other singer's music a lot, and counted himself a Belieber. One Direction worked with different musical toolkits than their Canadian peer, but Bieber is still one of the most influential musicians of the 2010s.
Ed Sheeran
Counting Ed Sheeran as an influence for 1D is cheating a little, since he was definitely more of a peer than a predecessor. Around the time his own career began to blow up in earnest, Sheeran contributed a couple songs to One Direction's first few albums. Sheeran's humble, jeans-and-t-shirt persona sets him apart from many of the other pop stars in his peer group, and he doesn't seem concerned with trying to build heartthrob status or be anything other than himself. He knows his voice and affectionate songwriting are enough to make fans fall in love.
That persona works for Sheeran, and has made him one of the most successful pop stars today. Your mileage may vary on his One Direction songwriting contributions. "Little Things" and "Over Again" sound like Plus-era castoffs, and it's kind of uncanny how much the 1D boys adopt Sheeran's vocal affectations when they're singing his songs. But when they're great — like "18" — they're really, really great.
Mumford And Sons
Mumford And Sons are quietly one of the most influential bands of the 2010s. A bunch of English guys with banjos inspired a whole wave of pop music — the Lumineers-core "hey! whoa!" folksy trend that permeated so much pop music a few years ago. Mumford And Sons never sold out stadiums like One Direction, but their nostalgic, sonorous rock had an "authentic" sound that lots of other bands courted. Starting with Midnight Memories and continuing through the rest of their albums as a band, One Direction always had a couple stomp-and-clap anthems on the tracklist.
Some of these stomp-and-clap anthems are 1D's best songs. "Happily," a cheerful, give-no-f*cks song about loving who you love without abandon, is a fan favorite. And "Ready To Run" blends Mumford-esque folk-pop riffs with Springsteen's rebellious spirit.
Fun
Fun's sophomore album Some Nights was released in spring of 2012, the spring of my senior year of high school. Fun wasn't a boy band, but singer Nate Ruess' voice somehow always sounded like a chorus. The album's title track was absolutely massive, with a chorus that was made to yell out of open windows driving through the suburbs in May.
"What Makes You Beautiful" hit big in the US that same spring. Those two songs together felt like a huge moment, like pop music was breaking open with explosive, unfettered joy. Like 1D, Fun was painfully earnest, probably grating to anyone wasn't 17 at the time but the voice of a generation to my ears.
Some Nights was actually Fun's last album as a band. Ruess broke off to release a solo album, and he had a song with Pink that was pretty big. Jack Antonoff, the band's lead guitarist, drummer, and all-around Renaissance man, started recording under a solo moniker called Bleachers. He took the big, loud earnestness of Fun and produced some of the best pop albums of the decade with it. Hell, he produced a whole album of songs about how Harry Styles is a bad driver.
Fun only existed as a band for a couple years. But in those two albums, they crafted some massive, iconic joy. To my knowledge, One Direction never mentioned them as an influence or said they dug "We Are Young" or anything, but their music felt like two sides of the same coin. There must've been some magic in the air in 2012 to let all that joy coalesce into something so, well, fun. If that's not legacy, I don't know what is.
Some artists covered here are Warner Music artists. Uproxx is an independent subsidiary of Warner Music Group.