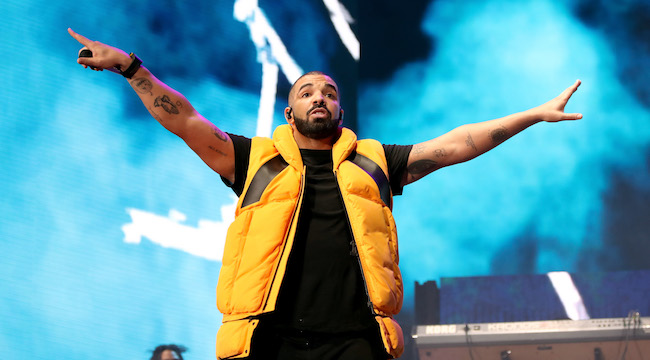 Last Updated: May 17
Playlists aren't just the wave of the future, they're what's happening right now. Maybe that's why hip-hop and playlists go together so well. Hip-hop has always been modern, young, of-the-moment, so it only makes sense that so many artists in hip-hop owe much of their success to playlists — but playlists are also successful because of the artists on them.
Placement on just the right playlist can now make or break a rapper or singer's career, but the right rapper or singer on a playlist can skyrocket that list's placement right to the forefront of its specific service. Now, while it's easy to simply grab the Rap Caviar playlist, one of Spotify's top lists and the launching pad for many a rapper's career, half the fun of hip-hop is in the discovery, digging into the genre to find new, exciting corners of the culture or an unfamiliar sound or artist to explore.
This list is a starting point for that discovery; by no means are these the only playlists worth checking out on Spotify, but they'll take you beyond the sounds of the moment or just the convenient, mass-marketed artists du jour into a real hip-hop history lesson that won't put you to sleep or yell at you to get off its lawn. It may not make you an expert overnight, but it will expand your palate, give you some food for thought, and maybe most importantly, make you nod your head and/or shake a tailfeather or two.
chillanimebeats by chillanimebeats
If you're wondering how anime ties into this list, just know that once upon a time, an enterprising Vine user did his or her best to perfectly sync 6-second loops of instrumental hip-hop to scenes from various anime with varying degrees of success. Here's a list for fans of jazzy, downtempo instrumental hip-hop, or as seemingly the entirety of the internet loves to refer to it, "beats to study to." It's been a while since I've had to do any studying so I'll take their word for it, but these low-key, stripped-down beats from the likes of Psalm Trees and Pete Rock present the essence of hip-hop at its most straightforward — simple drum patterns and easygoing loops evoke a relaxingly hypnotic atmosphere. These are great for setting the mood or unwinding after a long day at work, or for the amateur or aspiring rapper, fantastic backdrops for some lyrical batting practice to sharpen your skills.
COLORS by COLORS Studio
Based on one of my favorite Youtube channels, the COLORS show is centered on a simple idea: A genre-less vision of the future of music, rooted in plain, unadorned performances against brightly colored backdrops. Artists don't bring DJs or bands or props. It's just the artist, the background, and the beautiful, bold backdrop in a stunning array of Pantone hues. It's a fantastic discovery method for new artists, but it's also a great way for established ones to prove their well-honed chops can measure up without their usual onstage accoutrements. Prior guests have included Topaz Jones, Goldlink, Masego, Smino, Little Simz, J Dilla's little brother Illa J, Oddisee, and recent Coachella standout Aminé. COLORS Studio helpfully offers a color-coded listing of their guests by genre on Spotify, so enjoy the selection of "alternative" hip-hop artists on tap, but don't hesitate to check out their profile and the other eclectic sounds available from previous shows.

DJ Mustard & The One-Beats by Jeff Rosenthal
Jeff Rosenthal from ItTheReal had a simple idea: What if someone compiled every hit record Long Beach ratchet rap producer DJ Mustard ever made into one comprehensive list? The answer is an absolutely monstrous, 86-song playlist that belies the stereotype of DJ Mustard as a one-trick pony of a producer while providing a daunting 5-hour backing track for what may end up feeling like a truly endless turn-up. This was cooked up some years ago, and so lacks many of Mustard's more-recent productions, but the fact that you can basically almost pack a full work day of just songs DJ Mustard produced in a maybe four or five year window — and identify nearly every song as an obnoxiously ubiquitous hit — is not just astonishing, it's inspiring. DJ Mustard's done more with that one-beat drop and a few handclaps than many producers have been able to accomplish in twice the time and an array of sounds. All hail the "Mustard on the beat, hoe" ad-lib — may it reign for another 10 summers.
Mind Right by Spotify
"Nobody in hip-hop just raps anymore," say a frankly frustrating number of so-called real hip-hop heads who claim to enjoy rap with an emphasis on lyricism and harder-edged bangers with more boom bap than 808 trap. This is the list to whip out to not only prove those new school haters incorrect but hopefully convert them into believers in the continued relevance of multisyllabic rhyme schemes and coolly worded punchlines. There are plenty of well-known names here, like Nipsey Hussle and ASAP Rocky, two deft rhymers whose skills may be overlooked by fans who incorrectly assume that their modern beats prelude an old-school, bars-first mentality, but there are also plenty of sneaky, under-the-radar inclusions like Nick Grant, Lute, and Rapper Big Pooh (formerly of Little Brother). It's worth checking out, if only to prove that plenty of modern rappers are proudly bearing the torch for lyricism in hip-hop.
The Prose Of Rhyming In Rap by Estelle Caswell
While chillanimebeats above is perfect for practicing your raps, this list works even better as a measuring stick to see where you stack up among the absolute best in the craft. Of course, it may also make you want to quit when you realize how much further you'll have to go to match wits with MF DOOM, Earl Sweatshirt, Black Star, Open Mike Eagle, Busta Rhymes, Jean Grae, Busdriver, and Blu, to name a few. This playlist was originally curated as a companion to a Vox video deconstructing the lyrical elements of some of the best rhymes in hip-hop. As such, it includes traks that dazzle with displays of tongue-twisting sibilance, disorienting breath control, and dizzyingly dextrous diction. The is for the intellectuals, the rap nerds, the Genius annotators, and fans of liberal use of literary devices alongside experimental, versatile production spanning three decades of rap.
The Sound Of LA by Guardian Music
Created by The Guardian, this list highlights Los Angeles in a wholly different way than the aforemention DJ Mustard and Cali Fire mixes. Where both of those stick mostly to the accepted style of LA hip-hop — gangsta funk, ratchet anthems — this list takes a different tack, expanding its musical palette to encompass LA's rich history of jazz, soul, funk, rock, and pop — the very influences that led influential artists like Kendrick Lamar to collaborate with so many of the city's talented musicians on the ambitious To Pimp A Butterfly or YG to incorporate buzzy, brash funk into his own brand of bold, in-your-face G talk. Dam Funk keeps the spirit of Roger Troutman and Zapp alive as Kamasi Washington evokes those legendary Crenshaw jam sessions between jazz greats like Miles Davis, Charlie Parker, and Herbie Hancock. The sounds of LA are unexpected, but they're also familiar, endearing, and exciting in ways you may not have considered before hitting play.
This Is: J Dilla by Spotify
If you've ever wondered why so many longtime hip-hop fans vehemently hold to the declaration that the late Jay Dee, born James Yancy and also known as J Dilla, is one of the greatest hip-hop producers of all time, this list works as a great refresher. If you're one of those fans, this works as a magnificent collection of the many, many classic records Dilla had a hand in, for nostalgic purposes or just for great flashes of recognition from your background music. Or maybe you're somewhere in the middle; you have an idea of who J Dilla is and how important the late, great producer was, but you've only ever been aware of the surface hits and want to do a deep dive to be surprised at just how many of your favorite acts, from The Roots to A Tribe Called Quest to The Pharcyde to Erykah Badu, were blessed by his golden touch. Love live Jay Dee.
The Ultimate Drake Album by Shake Of 2DopeBoyz
Clocking in at 18 tracks and an hour and 28 minutes, not only is this playlist much shorter than most of those on the rest of this list, it's also shorter than many of Drake's actual albums. The concept behind it is rather straightforward but inspired. One of the primary complaints about Drake's music — specifically, his albums — is that all of his truly best songs are generally scattered among his catalog. Many don't even appear on any official collection of his tunes available for retail and many of his albums suffer from various issues from an excess of tracks to awkward sequencing, so what would a perfected Drake album sound like? I would hesitate to call this my personal ultimate Drake album since it is still missing loose tracks like "Club Paradise," "0-100" and "Dreams Money Can Buy," but for anyone who wished that Drake would just rap for 17 tracks in a row, this compilation might be as good as it gets — at least until Drake puts out a greatest hits, trolling us all with a straight rap album that proves he's been rapping all along.