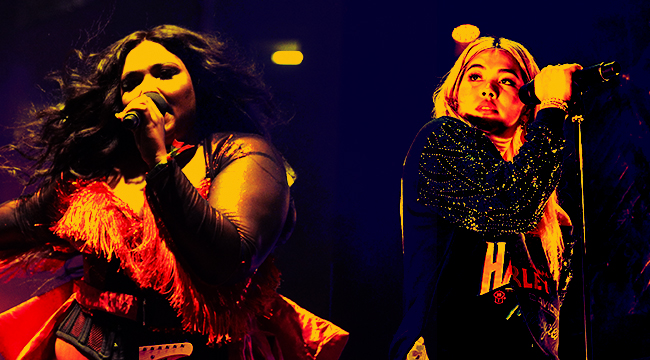 This was a great week for bold, unapologetic pop girls. Lizzo eviscerated skinny girls with the celebratory, body-positive, Missy Elliott-featuring "Tempo." Grimes is apparently getting ready to expand her musical personas into sub-genres, and "Pretty Dark" is a great introduction to parts of her mind we haven't gotten to know yet (even if the song is just a demo). Hayley Kiyoko teamed up with goth-pop princess Kailee Morgue to find the empowerment in mental health. And, Marina wrote a gorgeous song about the landscape of her home with "Orange Trees."
Every week, Uproxx will round out the best new pop releases of the last seven days. Listen up.
Lizzo, Feat. Missy Elliott, "Tempo"
"Slow songs are for skinny hoes / Can't move all of this here to one of those," Lizzo raps over a frenetic beat. The Midwestern rapper-singer-songwriter eschews flat, boring rhythms and celebrates everything big, bold, loud — arrangements, personalities, and most of all, bodies. "Tempo" is unapologetically sexual (and damn sexy), as Lizzo celebrates herself and bodies that look like hers. This song makes you want to dance forever, and Lizzo on a track with Missy Elliott is truly everything we needed but don't deserve.
Kelsy Karter, "What U"
Kelsy Karter doesn't prefer "pop" as a genre designation for her music. She calls herself "blue-eyed rock and roll," more Mick Jagger meets Amy Winehouse than Taylor Swift. Though she made headlines for getting a tattoo of Harry Styles' face on her cheek, Karter is more than just a publicity stunt. "What U" is a rollicking, bold dare of a song, where the singer eggs on a lover who seems to be hesitating on next steps. She's fun, taunting, and smart about playing with gender (and genre) stereotypes. It's smart to follow up a publicity stunt like that with a solid single — maybe that viral fame was onto something.
Pronoun, "Temporary Tantrum"
Pronoun (real name Alyse Vellturo) is gearing up to release her debut studio album later this spring, and "Temporary Tantrum" is her latest offer of emotionally vibrant, beautifully detailed pop. "Temporary Tantrum" is about a relationship gone wrong, but Vellturo keeps a positive attitude. After all, the things that hurt you are learning experiences, and everything that's painful now primes you to embrace that great thing when it comes. The guitars and synths are bright and optimistic to match Vellturo's voice and lyrics.
Maggie Lindemann, "Friends Go"
"Friends Go" brilliantly pairs singer-songwriter Lindemann's sweet voice with dramatic ska-influenced instrumentals. The result is a wildly unique, endlessly fun pop song — like No Doubt re-imagined for 2019, or if Ariana Grande fronted Sublime. The ebullient instrumentals belie pretty serious, contemplative lyrics, though. Lindemann reflects on how much time she's spending alone and doubts past friendships, wondering where all her friends went (if they were even friends at all). With a bassline like this, though, who needs friends?
Marina, "Orange Trees"
Marina's latest single, "Orange Trees," is breezy and languid. Over a relaxed, snappy, synth-y beat, the singer paints a picture of a relaxing coastal town. She makes you fall in love with her home, too, or at least desperately want to take a vacation there. The song shines in its details, the bright melody and nostalgic lyrics. "Orange Trees" is the best of the four singles Marina has shared from her upcoming album Love And Fear, which is due out next month.
Kailee Morgue, Feat. Hayley Kiyoko, "Headcase"
Kailee Morgue and Hayley Kiyoko are the kind of collaboration dreams are made of. Morgue, a relative newcomer, is an astute songwriter with a bold voice, and Kiyoko's honest pop has earned her legions of fans who have crowned her "Lesbian Jesus." Morgue and Kiyoko's first song together, "Headcase," makes you hope for a dozen more. Morgue and Kiyoko riff on mental health and being in love, knowing dependence is unhealthy but craving it nonetheless.
Grimes, "Pretty Dark (Demo)"
Even though Grimes apparently wrote and recorded "Pretty Dark" in a couple hours, the song is still pretty great. It's more sugary than we're used to from Grimes, and for good reason — the singer recorded "Pretty Dark" as part of a non-Grimes project, toying with the idea of a k-pop-esque band of new characters. Claire Boucher is a brilliant mind beyond what we've seen from her as Grimes, and "Pretty Dark" is an exciting taste of what's to come as she explores new sounds, textures, and personas. Grimes shared the song on March 14, but it was added to streaming platforms last week.
Aaron Carpenter, "Attitude"
We'll get the comparisons out of the way. A former MAGCon guy and Vine star, 20-year-old Aaron Carpenter shares a similar background to pop singer Shawn Mendes. With playful, hooky music that blurs the lines between R&B and bubblegum pop, he makes music like an early Justin Timberlake. On "Attitude," his first single, Carpenter's voice sounds a little like Justin Bieber, and his confidence has shades of Charlie Puth. But all these things work in Carpenter's favor. "Attitude" is immensely fun, and Carpenter can croon and brood with the best of them.
Some artists covered here are Warner Music artists. Uproxx is an independent subsidiary of Warner Music Group.