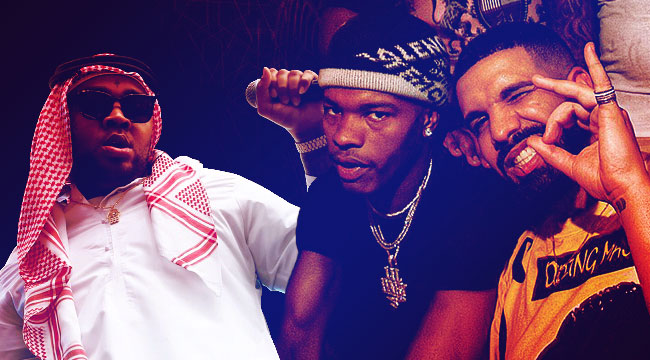 This week didn't have as many releases as last week, but there are more than enough standout songs. Lil Baby dropped the biggest single from his upcoming Harder Than Ever project, Jay Rock and Kendrick dropped a coronation of a single in the midst of their Championship Tour, and we also got a long-awaited posthumous track from Lil Peep — produced by Clams Casino. One of the most impressive tracks is from YBN Cordae, who offered a strong response to J. Cole's "1985" with "Old N—-s."
Lil Baby ft Drake, "Yes Indeed"
Another week, another Lil Baby banger. The young ATLien is set to feed the streets his Harder Than Ever mixtape tonight, and decided to follow up on "Southside" with his hardest feature ever: None other than Drake on "Yes Indeed." The track was originally called "Pikachu," but Nintendo put a stop to that. What they won't be able to stop is this track's effortless bounce, as Lil Baby and Drake trade braggadocious rhymes over an 808 that could blow a window out at the right levels. Speaking of the right level, more appearances like "Yes Indeed" will have Lil Baby up there with the hottest young rappers in the game sooner than later.
Jay Rock ft. Kendrick Lamar, "Win"
Hip-hop editor Aaron Williams recently got a chance to check out the TDE Champions Tour, which paid homage to the grind that the LA-based label has been putting in for almost a decade. Following on the heels of February's, "Nobody Knows" track, Jay Rock's latest single "Win" — alongside current hip-hop King Kendrick Lamar — is an appropriately titled (and scored) coronation of a track. Over a regal horn sample and thumping 808s, Kendrick and Jay Rock swag through bars about their superiority over the rap game. TDE is known as one of the most risk-taking, introspective brands in mainstream hip-hop, but they also know how to keep the party going with fun songs like this. TDE boss Punch has a crew that can do both.
Kevin Gates, "Change Lanes"
At this point, the #Free(Insert Artist) campaign may have to be amended to include some kind of advocacy for artists dealing with overly restrictive probation and bail conditions. Meek Mill has noted he hasn't truly felt free for the duration of his probation sentence — that may finally be coming to an end soon. Kevin Gates is dealing with similar issues, as the Baton Rouge native hasn't even been allowed to go home — or anywhere else — because of bail conditions after his release on a felony gun charge.
Gates delved into his probation issues and more on Chained To The City, a three-song EP he dropped yesterday. "Change Lanes" is a standout track from the triplet, as he displays just about everything that had fans clamoring for his release in the first place. He explores his legal woes, calling his presiding judge a "racist" and rhyming, "I ain't never been a gang member, Illinois labeled me a gang chief." He also showed that his melodic gifts have gone nowhere. The track is a long-awaited slapper, but also another eye-opening example of how the legal system targets rappers and uses their image against them.
Rich The Kid ft. Jay Critch, "Near You"
Rich The Kid is building a movement with his Rich Forever label. Not only did his The World Is Yours project do well with two platinum singles in "New Freezer" and "Plug Walk," he has two artists making waves. Famous Dex is a controversial artist, but that hasn't stopped his fanbase from supporting him — and Brooklyn's Jay Critch is the next artist up on the label. Rich and Critch teamed up for "Near You," in which they rhyme over a gleaming soul sample fitted with thumping percussion. The track is from Rich Forever 4, the upcoming compilation for the label.
Lil Peep, "4 Gold Chains"
Lil Peep was taken from the music world way too soon, but a sliver of a silver lining is that the prolific artist left a little bit of unreleased music to remember him by. Come Over When You're Sober Pt. 2 hasn't been released yet, but "4 Gold Chains" is one of the first full-length tracks released since his death last November. The gloomy, Clams Casino-produced track is another opportunity to peer into the sadness that Peep's brother claimed was part of an aesthetic, but radiates authentically in lines like, "fame bring pain, but the pain make money." The track follows up his "Save That Sh*t" video that as another eerie glimpse into Peep's psyche, which Lil Uzi noted that he understood fully upon the young artist's passing.
YBN Cordae, "Old N—-s"
There has been much fuss made over J. Cole's "1985" track, which was perceived by many to be a diss track to the young generation despite J. Cole's contention that the track was only meant for a select few artists — like Lil Pump. While many youngins have decided to retort with "F*ck J.Cole" chants at shows, an unsung member of the YBN camp may have provided the most measured response. Based on the incendiary title, you might think that the song would have been full of childish insults, but YBN Cordae actually dropped an incisive response with bars bemoaning the hypocrisy of the older generation, their lack of solutions and the need for hip-hop to unite generationally:
"We see you old n—-s as a lot of clowns
Not to mention our father figures was not around
So we all on tours and we hoppin' towns
We just need to sit down and find common ground
And it's soon to come, soon to come
Hip-hop need balance like the moon and sun
It feel good when I wear Christian Louboutins
So I gotta drop music to accrue some funds
And I get it, that's the mindset that's killin' the rhyme-fest
But feedin' our families, lowering the crime yet"