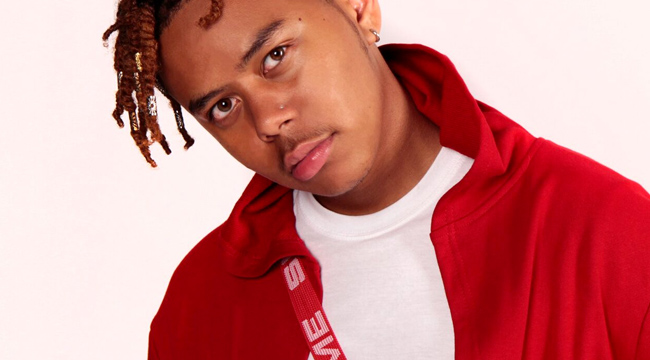 You'd be forgiven for thinking YBN Cordae is just another Soundcloud rapper, but despite his dyed dreads and proximity to a crew of raucous rabble rousers, YBN isn't a typical member of the next generation. Besides, it's 2018 and the time when rappers could be expected to only move in one lane has long passed. Epithets like "lyrical" or "party" no longer apply to today's young rappers, who've outgrown broad but shallow categorizations like "underground" or "mainstream" for their diverse, all-inclusive musical styles and tastes. Cordae isn't just a member of the burgeoning YBN collective which has broken out in the wake of YBN Nahmir's explosively viral "Rubbin' Off The Paint." He's an exemplar of the new wave in hip-hop in which fun, buoyant, radio-friendly rap and intellectual, complex lyricism are no longer mutually exclusive. He is, in short, the future of the genre, sure to be every generation's favorite new rapper, so get familiar now.
YBN Cordae — born Cordae Amari Dunston and raised in Raleigh, North Carolina — started to blow up when his single "Old N—-s" became a Youtube sensation. The three fateful words that followed in its title, "J. Cole '1985' Response," undoubtedly enticed many to click, possibly skeptical about another potential diss track in a year that's seen plenty of high-profile rap beef. What they heard transformed him almost overnight from background sidekick in YBN Nahmir's rowdy crew into a formidable rising star in his own right to the tune of 9.1 million views.
The song disproved the idea that young rappers no longer care about lyrics; Cordae told XXL earlier this year that his early influences were Nas, Rakim, Jay-Z, and Big L, yet his other songs that have since cropped up, including the Cole Bennett-shot video for "Scotty Pippen," have also become huge hits among the younger crowd — "Scotty" has 5 million views as of this writing and the song only dropped two weeks ago. Cordae is quickly proving that it's possible to appeal to everybody.
It wasn't always like this; for a generation of rap fans, it was either Jay-Z or Talib Kweli, with a hard line down the middle like the Berlin Wall. Rap was separated into factions that either staunchly fought for ideals like artistic integrity or chased dollars with blatant, atheistic commercialism. Then, as the delineation between the sides eroded — in part due to the efforts of Kweli and Jay showing each other mutual respect throughout the aughts — the battle lines shifted, becoming generational.
Although once-in-a-lifetime talents like Kendrick Lamar and J. Cole could stand with a foot on either side, their fans have trended for the most part toward the more academic, grown-up end of the spectrum, often ending up looking down at the up-and-coming newbies as unlearned hooligans, lacking a "certain level of intelligence" to enjoy the wordier, more reflective rap music conveyed by rappers like Kendrick and Cole.
The old heads who grew up on Rawkus Records and Roc-A-Fella would sneer down their noses at internet-bred rappers who eschewed lyrical formalism for sheer showmanship, wagging their multicolored dreads as they crooned and ad-libbed along to beats that were more pummeling 808 than "Funky Drummer" samples. "Mumble rappers," they called them, despite the fact that very few of these new-wave hip-hop artists did anything of the sort.
If they weren't jabbing and jeering and outright mocking the newcomers, the veterans were paternalistically lecturing them, as if they themselves hadn't spent their early twenties wilding out and making critical, commercial missteps. Take J. Cole, for instance. His latest album, KOD, despite being everything a hip-hop head could want from a straightforward, beats-and-bars standpoint, spent 40 or so minutes sternly wagging its finger at J. Cole's social media-obsessed successors, capped by "1985," a patronizing reproach of "Gucci Gang" rapper Lil Pump, that decried everything that had made the younger rapper a star. The song notoriously ended on the warning that "when your sh*t flop / In five years you gonna be on Love & Hip-Hop." This is from the same rapper who "Let Nas Down," in pursuit of a hit, but now he wanted to tamp down on the creative expression of someone who was able to naturally craft one.
It was this song that piqued YBN Cordae, firmly a member of the Soundcloud cohort by both age and association, driving him to record his own, deftly-worded response, "Old N—-s." Borrowing the same beat and even a derivative flow that belied his own cadence-conscious versatility, Cordae didn't so much clap back as he provided a clear-eyed, focused rebuttal of the charges against his contemporary, pointing out the hypocrisy of predecessors who disdained the cloud rap kids.
"Let's take it back when hip-hop originated / And old niggas said it was wack, they couldn't take it," he rejoins. "Lately all my idols they been failing me / Catching sexual assaults and some felonies / Then you want me to listen what you telling me / And wanna hate when we sing our little melodies." His final line is a biting one-up of Cole's, reminding the elder rapper that "Cardi B got rich from Love & Hip-Hop." It's a new world, according to Cordae; instead of dissing the young generation like their elders did, rap vets like J. Cole should be supportive, as well as acknowledging that the rules of success are different. It worked too; J. Cole signed on Cordae to perform at his inaugural Dreamville Festival in North Carolina, which was unfortunately postponed due to hurricane Florence.
However, unlike some of his disapproving forebears, Cordae isn't just out to tell them he deserves respect. He's showing and proving, to use a longtime hip-hop coinage that '80s babies would surely appreciate. On his previous solo mixtapes, I'm So Anonymous and I'm So Anxious, he wields his influences proud, jauntily stacking syllables like a holdover from '90s New York. Songs like "All That Glitters" and "Pressure" wouldn't sound out of place on a Lyricist Lounge compilation, yet on the YBN group project that just dropped, YBN: The Mixtape, he blends right in, where some of those former open mic champions would (and did) feel out of place on radio-friendly, ratchet-ass bangers.
YBNs Nahmir and Almighty Jay bring the fun, but Cordae brings the balance; his razor-sharp, intelligent flow morphs from a facsimile of a Source five-mic winner to the staccato submachine stutter of contemporary hitmakers like Migos in the blink of an eye as Cordae adjusts his content to match. As he told Pigeons And Planes: "We're all in our own lane. It's such a perfect fit that we're not stepping on each other's toes at all."
He's a kid who can match wits with the ghost of early Slim Shady on his cover of Eminem's "My Name Is," then shift gears to expertly imitate the best of booty-clapping, hyphy-hybrid trap on "Scotty Pippen" and "Kung Fu." When he wants to get deep, there's "Fighting Temptations" and "Target," subtly socially conscious slices of soulful observation of the everyday struggle. When it's time to turn up alongside his YBN brothers, he's equally adept on Nahmir's "Pain Away" or "Make Me Feel" with Almighty Jay. He's a do-it-all Swiss army knife of lyrical inspiration and witty punchlines that differentiates him from the squalid stereotype of the lazy, un-lyrical "mumble" rapper. He stands out and fits in at the same time, exemplifying his generation's willingness and ability to shift lanes at will, unfettered by stodgy insistence on sticking to traditional subgenres of the art form.
Just watch as he and fellow genre-bending rule breaker Juice Wrld freestyle on Juice's tour bus. Old heads' insistence that this sort of improvisational skill and technique is a lost art is based on ignorance, but Cordae is dialing in their wake-up call, one deliciously diverse single at a time. Perhaps the best thing about him is what he represents; while he is a one-of-a-kind talent, he's far from the only young rapper proving that he can inhabit multiple spaces; Wifisfuneral, Lil Skies, Juice WRLD, and even the other YBNs are all examples of modern hip-hop's versatility and skillset. After the response to his retrospective remixes, though, he may be the bridge that exposes "Old N—-s" and Eminem Stans to the world where you don't have to make the choice between intelligence and ignorance or fun and function. Like YBN Cordae, you can do it all and tear down that wall.
YBN: The Mixtape is out now. Get it here.