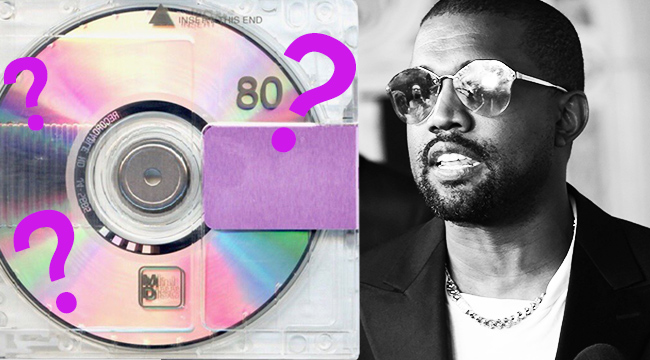 After taking a year off, Kanye West has been back in force in 2018, working like a maniac on a plethora of projects that included a run of ultra-short, collaborative albums with his GOOD Music starters as well as his own long-awaited return. Clearly, though, that wasn't enough to satisfy his creative urges, as he's been announcing even more projects left and right.
After promising upcoming work with controversial Soundcloud prodigies Lil Pump and Tekashi 69, Kanye then announced a return home to his native Chicago, the completion of his promised Good Ass Job album, now bequeathed to his Chi-town heir apparent, Chance the Rapper, and a mysterious project releasing on the night of his next Saturday Night Live appearance, Yandhi.
However, true to cagey Kanye form, he hasn't detailed just what Yandhi is supposed to be. Is it a song? Is it an album? Why would he release a whole new album just three months after his Ye received a middling response due to the "Kanye fatigue" that overtook the industry after his disastrous month-long press run/Twitter spree that resulted in bizarre claims like "slavery sounds like a choice?"
Assuming that the enigmatic photo of a blank CD-R he posted to Twitter last night is an indication that Yandhi is the official title of his rumored Yeezus 2, all signs point to Yandhi being an album aimed at making up for Kanye's springtime shenanigans with a project that he'll perhaps take more seriously than the rushed, slapped-together Ye. Looking at a rough timeline of what he's been up to since June, it appears that Kanye acknowledged that Ye wasn't exactly what the people wanted and that he has plenty of damage control to do before following up with an attempt at redemption.
Kanye Concludes His Wyoming Project, But Promises More Music Is On The Way
After the release of Teyana Taylor's KTSE, it was clear that the rollout for his five-project, 35-song GOOD Music experiment was terminally botched by its overly ambitious release schedule. With Kanye's perfectionist tendencies in play, each progressive project overshot its midnight release by longer and longer intervals. Cramming them together prevented them from gaining any traction before the next stole the spotlight, and releasing each without a single gave fans little to hang onto from each release.
However, that didn't stop Kanye from claiming he'd be willing to make the attempt to keep such a run going for a full year in a profile with the New York Times. Thankfully, he clearly backed down from that challenge before the interview went to print, giving him more time to focus on making the best projects he can rather than forcing himself to stick to an arbitrary — and unrealistic — schedule.
Kanye Acknowledges His Donald Trump-Related Missteps
During the same profile, Kanye admitted that he thought the reason that fans turned against him was his willingness to openly acknowledge his admiration for Donald Trump. While the interview did little to endear him to his fans again, he was confronted with a moment of clarity when he went on Jimmy Kimmel Live! to discuss the criticism he'd received over the course of his career and was left speechless by one of Kimmel's questions that challenged Kanye's entire pro-Trump platform with his own words from 2005: "What makes you think that Donald Trump does [care about Black people]?"
The question apparently prompted some deep thought from Kanye, who went on to make his mea culpas for his earlier slavery comments in another interview, along with an explanation for the reasoning he failed to give Jimmy Kimmel. While the answer he gave seemed frustratingly naive in light of the evidence, he did seem to acknowledge that his trolling with the MAGA hat went too far.
Kanye Gets Back To Producing For Up-And-Coming Rappers
Although some of Kanye's Wyoming projects received lukewarm critiques for their content, many praised the production, which was one of the strongest points of the whole experiment. It was clear that Kanye's focus had shifted back to making beats, so while his jokey "XTCY" landed with a dull thud, his work with Lil Pump — oddly debuted at the inaugural Pornhub Awards, of which Kanye was a creative director — became a bonafide hit.
Kanye also teased new music via his revived Instagram, including footage calculated to excite his original, Chicago-based fans that suggested he was back working with longtime collaborator Bump J. Finally, he announced that he and Chance The Rapper would be completing his long-promised album, Good Ass Job, while Kanye himself would be returning to Chicago for good, which seems to suggest at least a partial return of "the Old Kanye."
Kanye Apologizes To Drake And Teases His New Project
One of the biggest drawbacks of the Wyoming releases for Kanye was the alienation of longtime working partner Drake thanks to the shots Pusha T took on "Infrared" which prompted the drawn-out battle between the two that found Kanye caught in the crossfire. Making overtures to his friend and collaborator via both Twitter and Instagram, Kanye made inroads toward reestablishing his working status quo and righting his badly listing ship.
Finally, with the CD-R artwork tease, he effectively rebooted his early 2018 hype cycle. While it's unlikely anyone's forgotten about his controversial springtime shenanigans, by spending the months since Ye releases making his apologies, patching up his relationships, and getting back to his roots, he's repaired at least some of the damage he did to the Kanye West brand and sparked the public's curiosity about his latest work. At the very least, some of the fans who "canceled" him over his hurtful comments will be willing to give his new project a chance, which is all he could ask for or expect at this point. While he's long past the time when an excellent album was all he needed to earn his audience's forgiveness, if Yandhi (or Yeezus 2) is good enough, it will at least begin to make up for Ye and show his fans he's willing to work for it.
All Signs Point To…
Yandhi is probably an album. Kanye's history shows that when he's in doubt — or hot water — his go-to move is usually to abscond to some far-off location and return with a mind-boggling body of work, as he did when he interrupted Taylor Swift's 2009 VMA moment and popped back up from his Hawaii exile with his Beatiful, Dark, Twisted Fantasy. Yeezus was another groundbreaking, genre-shifting collection, with a cover reminiscent of the mysterious CD-R photo that presaged the announcement of Yandhi.
Meanwhile, the monumental disaster that likely prompted all this harrumphing from Kanye and his detractors was itself a response to his much-publicized breakdown during his Life Of Pablo tour. While Ye and its wayward cousins were unable to redeem him from his onstage rant and subsequent disappearance, it's likely Kanye is hoping that a new album, Yandhi can wash away the aftertaste of Wyoming and give him a much-needed win in 2018.