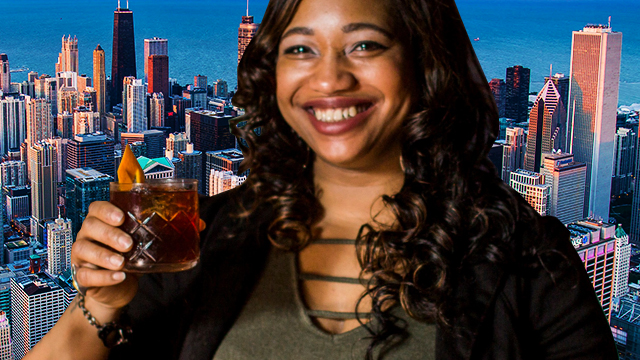 You know how to EAT THIS CITY. But where do you wash all those spectacular meals down? Do you know how to find the best brewpub? Uncover who makes the meanest bloody marys and the most sparkling mimosas?
This week we're showing the Windy City some love once more! Hit hard by apocalyptic weather, this booming metropolis has spirit above and beyond what's poured in its cocktails. The creativity, camaraderie, and extraordinary hospitality keep us coming back to the Chi for more. But be warned: It's impossible to visit all of the world-class bars on offer within a weekend (we've tried). This is a destination for aficionados.
Our guide to the best bars in the city is Jarmel Doss, Assistant Bar Director of the world-renowned The Aviary. Under Doss's leadership, the bar program has been recognized for its groundbreaking originality, storytelling techniques, and service. Note their 2013 James Beard Award for Outstanding Bar Program, their 2014 Tales of the Cocktail World's Best Cocktail Menu, and their inclusion on countless Best Bars in the Nation list. Drinking at The Aviary isn't simply drinking, it's an experience.
Those who can't get enough of the bar after that first taste ought to try the in-house speakeasy, The Office. And if you're not in Chi-range this year, check The Aviary Cocktail Book.
Like the bar itself, Jarmel is an award-winner in a highly competitive industry. May of 2018 saw her win the Chicago STARS Mixology competition. She was also one of four women to present for Raising the Bar — The James Beard Foundation Celebrates Women Shaking up Chicago's Beverage Scene (which also featured Drink This City alum Julia Momose). Additionally, Jarmel holds a degree in biochemistry; when you see the cocktails produced by The Aviary, it's hard to imagine that scientific literacy isn't a huge help behind the bar. The drinks are at once works of science and art.
Needless to say, we're thrilled to have Jarmel as our expert guide to the best cocktails in Chicago. She had this to say about touring the scene:
"In working to create this list, I felt like the only way to truly be accurate was to ask friends their thoughts as well. Our industry is so collaborative and social and the majority of the time we are enjoying drinks with others."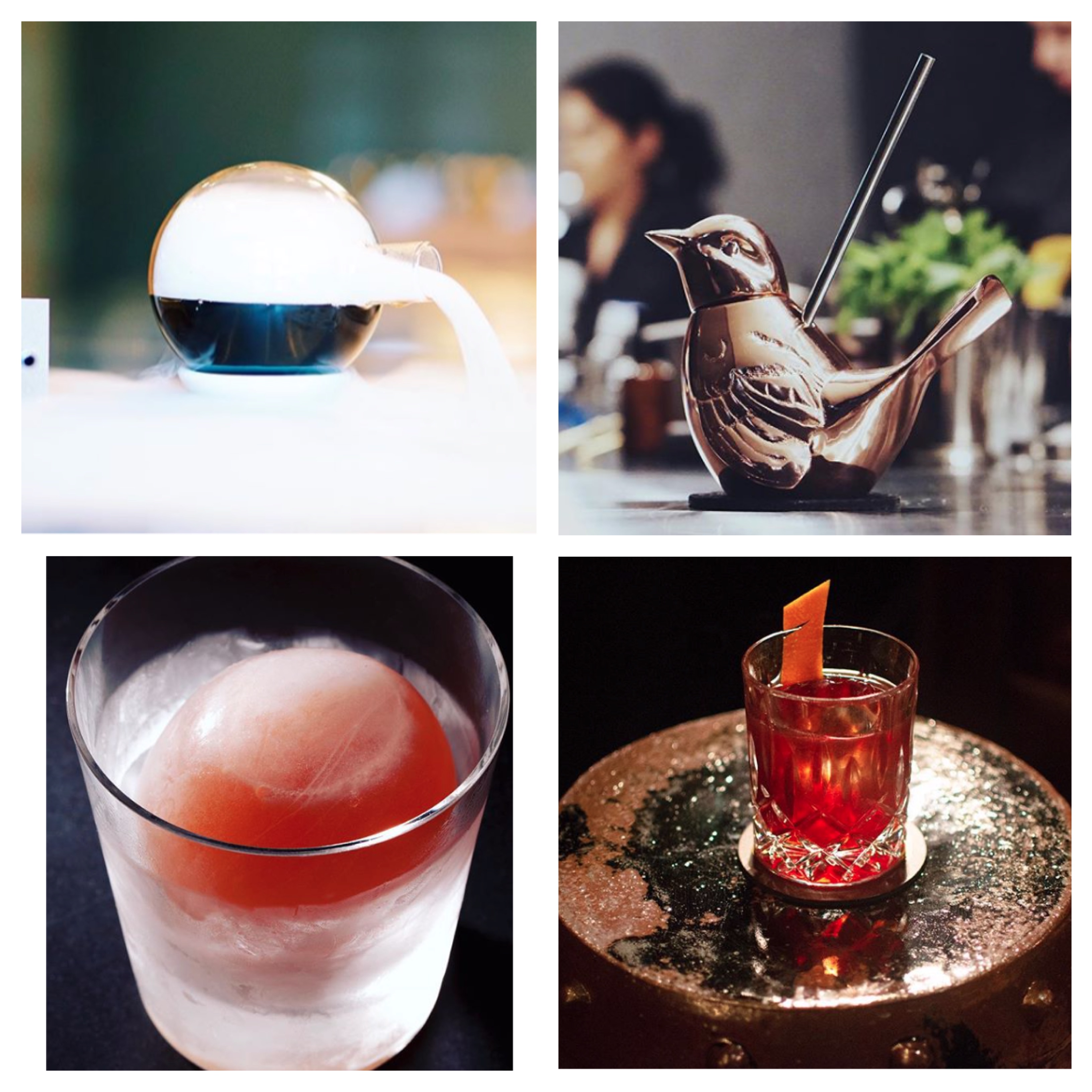 Cheers to that! Now let's go Drink This City!
BRUNCH COCKTAIL OR HAIR OF THE DOG
Red Snapper at Scofflaw. This gin-based bloody is zippy from horseradish and surprisingly refreshing served on crushed ice. The garnish is also meaty and cheesy, so yeah!
MARGARITA
Korean-spiced margarita at The Office. This cocktail is so much fun because while it is recognizably a margarita, the flavor combinations are unusual and complex. It inspires nostalgic reminiscing of favorite Asian meals and keeps you wanting to come back for more.
CLASSIC COCKTAIL
The Violet Hour. The Violet Hour doesn't put many classics on their menu but their foundation in classics is firm. Any classic that you order will be fantastic and the dark, brooding atmosphere practically screams for you to order one.
CRAFT COCKTAIL
Astronomer Royale at Apogee Lounge. The coconut paired with scotch in this cocktail is fun, delicious, and allows the bartenders to introduce their guests who may not typically drink whiskeys to scotch. Its simplicity is revitalizing and proves that craft cocktails don't need a ton of ingredients to be delicious. The amazing view from this rooftop lounge makes any drink enjoyable.
PUNCH
The Beachcomber's Rule No.2: Never Bet On Another Man's Game at Lost Lake. Lost Lake offers several shareable cocktails and each is done exceptionally well. I'm a sucker for the tropical fruit in this cocktail, the passionfruit and pineapple hitting you right away on the nose before you even take a sip.
I've never had a bad night here hanging out with friends and sharing the world of tiki that is Lost Lake.
DIVE BAR
Mai Tai at Aberdeen Tap — Housemade orgeat made specifically for "Mai Tai Mondays" and you can't go wrong. It's so comforting to walk into a bar that feels like home and be treated like an old friend. Shouts out to Aiden!
PUB, TAVERN, OR BREWERY
Negroni – Clark Street Ale House. This bar is always busy when I've been there and yet their negroni is amazing and balanced each and every time, which is not an easy feat.
HOTEL BAR
Frozen Junglebird — Ace Hotel, Waydown. I'm not sure if this really needs explanation. It's a Jungle bird cocktail, frozen. I mean Jungle birds are delectable served on crushed ice anyway so to just go a step further and make it a frozen drink couldn't have been a better idea. Plus it's served at a rooftop bar with amazing downtown Chicago views — a pretty perfect recipe for a great night out.
HOT DRINK
Tom and Jerry — Miller's Pub. Classic and delicious. They put it on the menu every year when it's cold. Miller's Pub has been putting out drinks since 1935 so I guess they've nailed some things down pretty well.
THEMED COCKTAIL at IMMERSIVE EXPERIENCE BAR
Wizard Staff — The Aviary. The aroma is the first thing you notice about this set of cocktails immediately followed by the bright colors of the stacked tiki mugs. It's bright, diverse, and eye-catching.
SPARKLING COCKTAIL
Fiddler and the Flute — Wood. There's something about the combination of pear, vanilla, and bubbles in this cocktail that makes me order it every time I go to Wood. It's easy drinking, refreshing, and just a little sweet.
APERITIVO
Italian Tale — Pops for Champagne. Lucious, complex, slightly bitter, and yet still easy-drinking. I would be happy with a couple of these before dinner.
LOW-PROOF COCKTAIL
Mermaid Water — Bad Hunter. This cocktail is completely crushable. It's acidic yet balanced and its proof allows you to keep ordering them over and over.
UNUSUAL COCKTAIL or COCKTAIL WITH SURPRISING INGREDIENTS
Eats by J — The Aviary. What can I say, it's savory from spicy greens and garlic, bright and then changes to fruity over time. I think it's balanced, complex, and fun.
COCKTAIL MADE BY A FRIEND
and…
Boleo or Vol. 39. I've never had a bad drink at these bars in the Kimpton Gray Hotel. They have a strong bar program already and Josh Relkin just took over as Beverage Director so I'm excited to see what's coming.
Thank you, Jarmel, for taking us on a tour of Chicago's Best Bars!
Like what you read? Check out Drink This City: Asheville, Drink This City: We Love Chicago, Drink This City: Seattle, Drink This City: Return To Downtown LA, Drink This City: Boston, Drink This City: Return to Chicago Downtown LA, Drink This City: Return To ManhattanDrink This City: San Francisco, Drink This City: New Orleans Drink This City: Miami, Drink This City: Honolulu, Drink This City: Detroit, Drink This City: Chicago, Drink This City: New York, Drink This City: Nashville and more!
Join us next week for more DRINK THIS CITY! Meanwhile, hit us in the comments — where should we travel next?