Human matryoshka doll of bullsh*t Shia LaBeouf granted a long interview to Variety in the lead up to the release of American Honey, a low-budget indie movie during the filming of which LaBeouf got twelve tattoos, two of which were the same portrait of Missy Elliott. So that happened. We spoke about the interview yesterday to mention the advice actual cannibal Shia LaBeouf offered to Michael Bay, but we neglected to mention that LaBeouf almost reteamed with Fury director David Ayer for Suicide Squad:
LaBeouf […] admits that he's no longer on Hollywood's wish list for major blockbusters. After Fury in 2014, director David Ayer approached him for Suicide Squad, for a role that eventually went to Scott Eastwood. "The character was different initially," LaBeouf says. "Then Will [Smith] came in, and the script changed a bit. That character and Tom [Hardy's] character [later played by Joel Kinnaman] got written down to build Will up." LaBeouf says the studio vetoed his casting. "I don't think Warner Bros. wanted me. I went in to meet, and they were like, 'Nah, you're crazy. You're a good actor, but not this one.' It was a big investment for them."
I just don't know why Warner would think he's crazy. I mean, sure he was fired from Broadway play "Orphans" in 2013 and plagiarized an apology to Alec Baldwin about it, and he plagiarized Daniel Clowes then plagiarized an apology for his plagiarism (which he told Variety was Ayer's idea), and he was arrested at a 2014 showing of "Cabaret" and walked the red carpet at the 2014 Berlin Film Festival with a paper bag over his head that said "I am not famous anymore":
And sure, he also did that weird #IAmSorry performance art and told us all to "do it" and did a probably-stolen rap freestyle and got arrested again while claiming to be in the National Guard, and then he weirded people out at Mount Rushmore and he live-streamed himself watching all of his movies for three days and he hung out in an elevator and went hitchhiking. And sure, he pulled out one of his own teeth and cut up his face while method acting for Fury, leaving permanent scars on his cheek: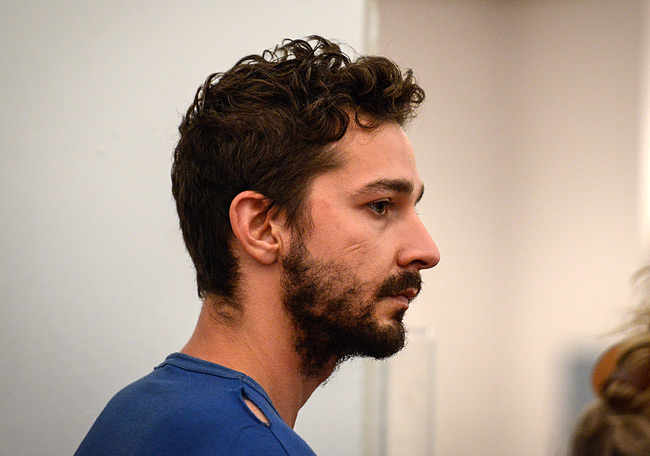 Fair enough. He did all of that. But he's still not Jared Leto. That's something, right? Oh man, can you imagine the hijinks on set if both of them had been cast in Suicide Squad, rushing around one-upping each other on stupid method sh*t, just pulling out teeth and permanently scarring themselves? Don't let your dreams be dreams, you hilarious dorks.
(Via Variety)