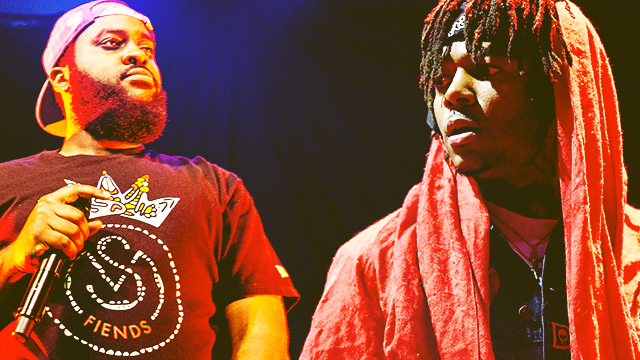 In the last few years, dozens of parallels have been drawn between two of hip-hop's more high-profile camps. J. Cole's Dreamville Records and Top Dawg Entertainment — home of Kendrick Lamar, Schoolboy Q, and SZA — have had a similar trajectory rising alongside each other, and even market their music to similar demographics. They are both largely vend lyrically focused, socially conscious music that appeals to traditionalist sensibilities while embracing modern styles that appeal to more youthful fans.
However, there are some differences as well. Of course, TDE's had a head start in both sales and notoriety. For instance, Kendrick Lamar is a huge presence in mainstream pop culture and TDE's other signees have received some of the benefits of association when it comes to their own commercial prospects. As a result, when the entire crew departed on their 30-city Championship Tour in 2018, they smashed shows in arenas across North America for fans who were willing to show up early to catch even newer artists like Reason and Zacari, to say nothing of Ab-Soul, Isaiah Rashad, and Jay Rock, who have all been fixtures of the label's roster for years.
Dreamville may not be there yet, but this past weekend, I had the opportunity to check out two of the label's staple artists — one old and one new — in back-to-back nights at the same Southern California venue — and left more convinced than ever that 2019 is Dreamville's year. While it may have been more coincidence than anything else that found Bas' Milky Way tour and JID's Catch Me If You Can tour crossing paths at Orange County's Observatory in Santa Ana on consecutive nights, that coincidence proved that Dreamville's artists have all the makings of their own superstar tour, should they ever make the attempt.
The first night, Sunday, belonged to Bas. I mean that in every sense. He owned the stage every second he was on it. His album, Milky Way, was one of the underrated gems of 2018. It flew way under many folks' radars, but when he dropped the beats to songs like "Boca Raton," "Barack Obama Special," and especially "Tribe," which originally features label boss J. Cole, the assembled Dreamville superfans rapped along to every word like they were Top 40 radio hits. Bas' stage presence is simultaneously outsized and down-to-earth and he knows all the tricks and hacks to making a small stage seem huge.
For example, of the three opening acts who performed before his headlining set, which included South Central local Correy C, who appears twice on Milky Way, and Rexx Life Raj, whose 6'3, 300-pound, football player's frame will always appear intimidatingly massive onstage, and only Raj seemed to have mastered the art of motion anywhere near as well as Bas. Many young rappers will do what I like to call the "caged tiger prowl" as they rap, feeling the need to convey the sense that something is actually happening on stage. Veterans like Bas (and Raj) understand that they are already happening. When Bas stood still with his chest puffed out, he created his own gravity well and no one's eyes could escape it.
JID, who took over on Monday night, has mastered the same skill, but where Bas' emphasis is on smooth grooves and barrel-chested boasts, the Atlantan Dreamville neophyte is more frenetic and electric onstage. If Bas is a buoy, rocking on the waves of his tropical-flavored jazz beats, JID is a live wire, sparking and hissing on wet concrete for his trap-tinged bangers. The Catch Me If You Can Tour is aptly named, borrowing the title of one of Leonardo DiCaprio's many films that just barely missed out on recognition by the Oscars. DiCaprio 2 is the title of the explosive 2018 album that brought JID into the mainstream with all the fanfare of a firecracker. His tour and stage reflected both the staccato energy of the film it borrowed from and the album's metanarrative of the actor's underdog status as it relates to JID's view of himself in hip-hop.
One of the clever things that he did was use life-sized, cardboard standups of various celebrities — Oprah, Denzel Washington, Barack Obama, and yes, Leo DiCaprio — standing behind velvet ropes positioned to either side of his DJ's table. It played into the theme well, and was apparently a first time flourish. As for JID's performance itself, he naturally roiled through DiCaprio 2 standouts "Skrawberries," "Off Deez," and "Westbrook" (one of my few regrets of the back-to-back visits to the Observatory was that ASAP Ferg was unavailable to perform alongside on either night, as he has songs with both rappers). And while JID made excellent use of the "stand and deliver" method, his movements from each position were quick and sudden where Bas' had been calm and deliberate, creating a yin-and-yang vibe that would have been amazing to see on the same billing.
Ironically, JID's biggest name opener was himself a newcomer to TDE's roster. Reason, like the vets around him, knew how to work the crowd without moving around much, a skill likely honed on last year's Championship Tour. The Dreamville/TDE connections continue to abound in 2019, from their shared performance dates to invitations to Dreamville's trumpeted Revenge Of The Dreamers III sessions. It only makes sense that at some point, the Dreamville roster should try something like what their West Coast compatriots proved works so well, especially as their label's profile has never been higher. J. Cole is big enough to warrant the arena bookings, and fans will certainly show up to see Ari Lennox, Cozz, Earthgang, and the rest tear down the stage ahead of Cole as a headliner. We'll already be getting a preview this spring at the Dreamville Festival, but a full tour announcement should follow it.
Bas and JID's shows proved that Dreamville's roster, contrary to popular belief, is diverse enough to be complementary, yet so full of great entertainers whose styles mesh well that a full Dreamville tour would hold great appeal for many more than just hardcore Dreamville fans. Anyone who attended would likely leave with an appreciation for each performer, from little-recognized Lute to fellow Dreamville veterans Elite and Omen. The only downside to a combined Dreamville tour is that someone would have to open for someone and that means you'd run the risk of missing at least one act. If they do announce a tour, you'd better set your alarm extra early.