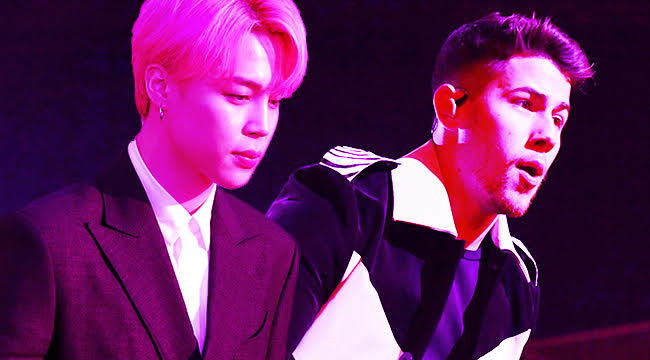 This week saw not one but two god-tier boy band comebacks. Since their hiatus, the Jonas Brothers' sound has evolved past their Disney Channel days. Their new record, Happiness Begins, is a showcase of how much they've grown as singers and songwriters (although their music is just as joyful as ever). BTS released their first new single since Map Of The Soul: Persona, the Charli XCX-featuring "Dream Glow."
We also have some great new releases from queer artists just in time for your Pride party playlists. Kim Petras continued her relentless reign with another new single. The Harry Styles-approved pop-rock band MUNA is back with their first new music of 2019, the confident "Number One Fan." Carlie Hanson's angsty pop has been a staple in this column for weeks, and her debut EP Junk does not disappoint.
Every week, Uproxx will round out the best new pop releases of the last seven days. Listen up.
Kim Petras, "Clarity"
Since the release of her single "Broken" in April, Kim Petras has been unstoppable. The German pop singer has defied the laws of science (and PR) by releasing one fantastic new single after another. "Clarity," her latest one, is the shortest of the bunch so far, but with a twinkling beat and clever lyrics, it's definitely memorable. Petras hasn't officially announced a new album coming soon, but with this many singles, she's practically got one already.
Jonas Brothers, "Only Human"
The Jonas Brothers' recent singles, "Sucker" and "Cool," were pretty good, but the rest of their new record Happiness Begins is damn great. It's a breezy, endlessly joyful collection of summer-ready pop. "Only Human," the best song on the album, is a groovy call to the dance floor. Over twinkling keys and pounding bass, Joe and Nick trade verses imploring the listener to leave behind their inhibitions and "stop pretending you're shy, just come on and dance." It's the kind of song that will be stuck in your head for weeks, but trust me, that's not a bad thing.
Mabel, "Mad Love"
After opening for Harry Styles on tour in Europe last spring, English pop singer Mabel's star has been steadily on the rise, and her new single "Mad Love" is sure to continue that ascent. Over a summery, tropical beat, Mabel demands some "mad love" that won't let her down. Mabel's debut album, the aptly titled High Expectations, is due out in August.
Carlie Hanson, "Hazel"
Carlie Hanson's debut EP, Junk, is solid top to bottom, but "Hazel" is the EP's standout. It's a gorgeous, fascinating blend of emo guitar riffs, EDM beats, and a tender, softly strummed chorus. Hanson challenges Halsey as the queen of singing through emotional pain, as she begs the titular Hazel to pick up her phone and stay on the grid. You can hear the turmoil in Hanson's voice as she nails every high note. Junk is an impressive debut — you'll be hearing a lot more from Hanson soon.
Sabrina Carpenter, "In My Bed"
You might know Sabrina Carpenter from her acting on Girl Meets World, but she's not just an actress on a kids' TV show. (Not that that stopped Demi, Ariana, Miley, and Selena.) Carpenter has a breathy voice and great pop sensibility, and "In My Bed" might be the best single of her career so far. "In My Bed" sparkles with its attention to detail, from the exhaling synths to the "woo!"s of the chorus. Her new EP, Singular Act II, is due out in July.
Madonna, "Dark Ballet"
Madonna's latest musical era has been defined by fascinatingly unexpected choices. Her song with Maluma, "Medellín," was a Latin pop banger, and "Future," her song with Quavo, was a politically charged entreaty to leave hate behind. "Dark Ballet," though, might be her wildest new release so far. "Dark Ballet" is a piano ballad about Joan Of Arc, featuring an extended EDM Nutcracker interlude and a Supreme name-check. For any other pop star, it'd be too much to handle. Madonna has been doing Too Much for decades, though, and doing it better than anybody else.
Muna, "Number One Fan"
Stans, rejoice. Muna, the girl band that won over legions of fans opening for Harry Styles' first solo tour and crafting fuzzed-out, progressive pop, has returned with their first new music of 2019. If you're not already on board, "Number One Fan" will make you MUNA's, well, number one fan. Over a synth and bass-heavy, '80s-inspired beat, Muna are their own most enthusiastic hype women. "It's a joyful and surprising experience to recognize that, just as we can all be our own biggest haters, we can also decide to be our own biggest fans," the band wrote in a press release. I mean, I'll challenge them for that title, but the message still holds.
BTS, Feat. Charli XCX, "Dream Glow"
"Dream Glow" is the kind of collaboration dreams are made of. Charli XCX and BTS are some of the biggest innovators in pop music right now so they make a natural pair. The song features only half of BTS — singers Jin, Jungkook, and Jimin are the only members with solos — but Charli is a fine understudy for the rest of the band. "Dream Glow" is a bilingual lullaby, with steady, relaxed synths and breathy vocals from all four soloists. It's more straightforward than a lot of Charli tracks and less theatrical than a lot of BTS tracks, but "Dream Glow" shines in its mellow vibe.
Some artists covered here are Warner Music artists. Uproxx is an independent subsidiary of Warner Music Group.