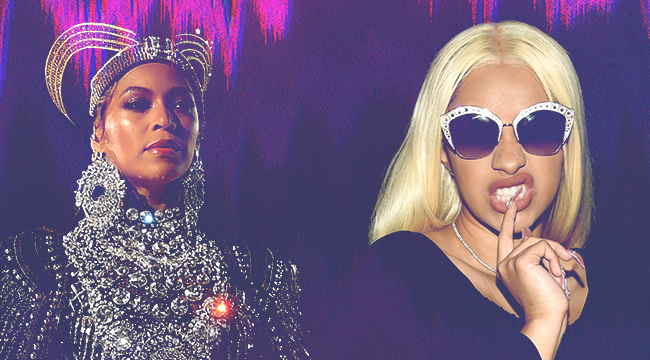 Cardi B and Beyonce are the two most-nominated hip-hop artists for the 2018 MTV VMAs. It shouldn't need to be said, but it probably still does: The implications are huge, both for hip-hop and for hip-hop artists who also happen to be women.
It's been said before — often and loudly — that hip-hop isn't exactly the friendliest genre toward women, whichever direction you approach from. On the content side, rappers may not have single-handedly popularized the terms "bitch" and "ho," but they made it more consistently catchy than any other iteration. From the creative side, well, the dearth of female talent at the genre's upper echelon has been well-documented, time and time again, and punctuated by the twenty year gap between Lauryn Hill's solo no. 1 for "Doo Wop (That Thing)" and Cardi B's "Bodak Yellow."
Even women in the business side are often overlooked or outright ignored for the frankly ridiculous workload they often shoulder in comparison to many of their glamorized, permanently-adolescent, and sometimes creepy or downright dangerous male counterparts. Hell, recorded hip-hop wouldn't even exist without the efforts of Sylvia Rhone, but you almost never see her name mentioned amongst the vaunted trifecta of Russell Simmons, Puff Daddy, and Jay-Z.
So for an institution that has functioned as a principal purveyor of pop culture to acknowledge not just one, but two women at the height of their craft as the height of the music, the moment may be more monumental than it feels. We've almost become inured to Beyonce's dominance of the public consciousness. When Bey commanded the world to stop on her 2014 collaboration with Nicki Minaj, "Feeling Myself," not only did the majority of music listeners comply, many pledged their undying fealty to The Hive and never looked back.
Likewise, Cardi B went from reality television revelation to nascent wordsmith, propelled on the personality and charisma of her snarky, loudmouthed Instagram video persona to a full-fledged, capital R rapper with the success of "Bodak Yellow" and her subsequent reign over all things music and media over the next twelve months. She's practically a ratchet fairytale princess at this point; the happily-ever-after is a foregone conclusion that we're all just living in in real time.
However, the gravity and reality of such moments almost never seem to register with the powers-that-be; women can dominate pop radio for twelve solid months and receive barely so much as a passing glance from the men tweaking the levers of power. After a disastrous post-Grammys in which the Recording Academy basically had to take out ads for a new president due to the backlash against his clueless, regressive, and frankly antiquated comments about female artists, music fans who've hoped that the zeitgeist was approaching some semblance of true equity received a loud, brash, and wholly unwelcome wake-up call that doubled as a reminder that progress has been made — just not nearly enough.
That's why, as dozens of talented women are cropping up in hip-hop, from ferociously innovative rappers like Tierra Whack and Rico Nasty, to speaker-shattering producers like Wondagurl, it means so much to finally see women receiving not just acknowledgement of their gifts, hard work, and success, but receiving so damn much of it at once. Cardi B is nominated for no less than ten VMAs, mostly for the remix of Bruno Mars' "Finesse" she hopped on, while Beyonce has eight, all for her Migos-penned, Jay-Z-hype-manned Everything Is Love single "Apesh*t."
And while men were certainly involved in the creative processes of the works for which these women were so heavily nominated, it's Beyonce and Cardi who stand center stage of their respective hits, soaking up limelight and fueling the unreal success behind tracks like Mars' remix, which by all rights should've been nearing the end of its sensation cycle by the time Belcalis blessed it with her signature "Ooowww." She revitalized a single nearly a year after its release, prompting a music video, a plethora of televised performances, and an effective epidemic of In Living Color nostalgia pieces.
At the same time, Beyonce, with husband Jay-Z in tow, sold out a joint tour in seconds, propelled their joint album to eclipse sales of his onetime rival's much-more hyped release in no time flat, and so effectively owned a song penned by the trap rap trio du jour Migos that the release of the reference track became barely a blip on the "Apesh*t" world takeover tour. World stop, indeed.
With both Beyonce and Cardi lavished with nominations the old guard has been served notice. Women in hip-hop refuse to be marginalized, sidelined, demeaned, denigrated, overlooked, under-supported, or even outperformed in 2018. Their fans will no longer allow it. Outlets that follow and document their work will not allow it. The labels that back them, who once complained that women cost more to invest in than men, have changed their tune, signing more women hip-hop artists than ever before.
As hip-hop has such an outsized influence on the world at large, hopefully it's only a matter of time before that egalitarian sensibility begins to effect real change on the global stage. A generation raised on hip-hop, with all its sexism and misogyny, has begun to reject those qualities and accept women as equals and as power players in a culture they can see transforming right before their eyes. How's that for finesse?