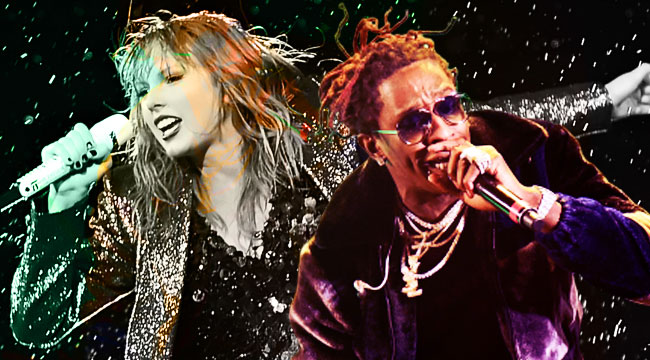 Keeping up with new music can be exhausting, even impossible. From the weekly album releases to standalone singles dropping on a daily basis, the amount of music is so vast it's easy for something to slip through the cracks. Even following along with the Uproxx recommendations on a daily basis can be a lot to ask, so every Monday we're offering up this rundown of the best music released in the last week.
This week saw a huge new project from Quality Control, as well as the latest Taylor Swift single, which is a bit of a departure for her (or perhaps a return to form, depending on your perspective). Yeah, it was a great week for new music. Check out the highlights below.
Quality Control — Control The Streets, Volume 2
There has been a wave of high-profile hip-hop collaborations coming out over the past few weeks, and the majority of them are part of the new Quality Control compilation album. It's a huge record: There are 36 tracks, and aside from the Quality Control artists — Migos, Lil Yachty, Lil Baby, Marlo, Stefflon Don, and City Girls — it also features Gucci Mane, Meek Mill, Travis Scott, Young Thug, Mustard, Tee Grizzley, DaBaby, Megan Thee Stallion, Gunna, Playboi Carti, French Montana, and others.
Taylor Swift — "Lover"
In the lead-up to Lover, Taylor Swift has done an exemplary job at showing off her versatility. While "Me!" and "You Need To Calm Down" are catchy pop numbers, "The Archer" is a slow-building and sometimes even ambient tune, and Swift makes yet another turn on the album's title track. "Lover" is a bit of a throwback to Swift's pre-pop material, as it's a heartfelt ballad with organic instrumentation that's different from most of her output in recent years.
Sleater-Kinney — The Center Won't Hold
Sleater-Kinney faced an unexpected hurdle recently: While right in the middle of promoting their new album The Center Won't Hold, Janet Weiss, who had been the group's drummer since the '90s, decided to leave the band due to its "new direction." Carrie Brownstein and Corin Tucker pressed on, and indeed, they revealed that there are some definite new directions in which this album goes. The title track, for example, spends the first half-plus of its runtime indulging in experimental, industrial sounds before erupting into an in-your-face rock conclusion.
Young Thug — So Much Fun
With all the hits that Young Thug has racked up over the past half-decade, it's funny to think that So Much Fun is his first "album" (not counting his handfuls of mixtapes). Regardless, it's a moment worth celebrating, and Thugger has done so with a bunch of great guests on the tracklist, including Future, Gunna, Lil Baby, Lil Uzi Vert, 21 Savage, Quavo, Juice Wrld, J. Cole, and Travis Scott.
Swae Lee — "Sextasy" and "Won't Be Late" Feat. Drake
Swae Lee has kept a relatively low profile for much of 2019, not having done much beyond his Madonna collaboration "Crave" while his 2018 collaboration with Post Malone performed well on the charts. That changed this past weekend, though, when he ushered into a world a two-song "vibes drop." He came through with the chill single "Sextasy," as well as "Won't Be Late," a similarly relaxed track (featuring Drake) that doesn't have much in the way of structure, and truly is a vibe.
Charli XCX — "Cross You Out" Feat. Sky Ferreira
Charli XCX has released a bop or two in her day, and now she has teamed up with Sky Ferreira for her latest one. The synthy single "Cross You Out" has a big chorus, and it's all about the satisfaction that can come from leaving a bad situation behind. Charli and Sky sing on the song, "I become someone better / Now I look in the mirror / Feels good to forget ya."
Brockhampton — "Boy Bye"
Brockhampton have released four albums since 2017 (there was also a solo Kevin Abstract effort this year), and they have a fifth, Ginger, on the way. The latest taste of the album is "Boy Bye," and there's a lot going on in the short track. It's largely about mental health, though, and Abstract sums up the theme, "15 million on the table, none of my n—-s are stable / Need a personal connection, I just wanna feel you, baby."
Big Thief — "Not"
Big Thief raised some eyebrows after they mailed mysterious vinyl records to fans, but they gave a more clear sign of what they're up to when they announced their second album of the year, Two Hands. Now the fan-favorite "Not" has been given the studio recording treatment for the record, and the six-minute epic is majestic in this setting.
Normani — "Motivation"
Ariana Grande knows what it takes to write a smash hit, and she usually harvests the fruit of her labor herself. This time, though, she penned a track for Normani, "Motivation" being the first time Grande has written something for somebody else that has ended up out in the world. It turns out Grande knows how to write well for a voice that's not her own: There are definite Grande vibes to the track, but Normani is a capable enough performer to make the track her own.
Oso Oso — Basking In The Glow
Oso Oso just dropped its first record to come via Triple Crown Records, and it's a delightful debut on the label. This record is guitar-driven music, with the added benefit of the catchy hooks inherent in emo. The result is one of the more compelling and endearing indie rock releases of 2019.
Some artists covered here are Warner Music artists. Uproxx is an independent subsidiary of Warner Music Group.