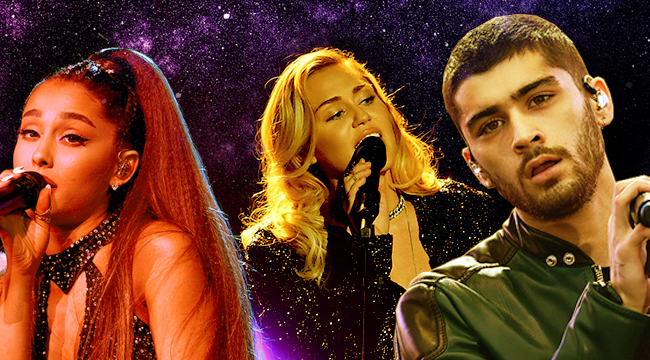 Keeping up with new music can be exhausting, even impossible. From the weekly album releases to standalone singles dropping on a daily basis, the amount of music is so vast it's easy for something to slip through the cracks. Even following along with the Uproxx recommendations on daily basis can be a lot to ask, so every Monday we're offering up this rundown of the best music released in the last week.
This week sees the long-awaited offering of Zayn's sophomore collection, the audio companion to Bruce Springsteen's Broadway show, and a hip-hop soundtrack to one of the best-reviewed films of the year. Yeah, it was still a pretty good week for music. Check out the highlights below.
Zayn — Icarus Falls
Harry Styles may be the breakout star of One Direction, but Zayn is the most enigmatic, and his latest offering has been long-delayed. "We were meant to be releasing around [last] February, March time, but a lot of it comes down to what promotion I'm willing to do," he said about the record, but now that it is out in the world, it is up to fans to judge if the wait was worth it.
Bruce Springsteen — Springsteen On Broadway
The hottest ticket on Broadway (at least this side of Hamilton) now will be available for all to listen to for everyone without a pricey ticket. This collection includes many Springsteen stories along with his classics, accompanying a visual release that will be offered on Netflix. Even if you're not in the seats, the magic is still palpable.
Vic Mensa — Hooligans EP
Vic Mensa has been making headlines of late for speaking out on a wealth of topics, from criticism of XXXtentacion to gun control to Israel. It's easy to forget about Vic the musician, but he aims to bring the focus back to that on this new EP.
Various Artists – Spider-Man: Into the Spider-Verse (Original Motion Picture Soundtrack)
One of the most anticipated movies of the moment has a soundtrack to match. Post Malone and Swae Lee's "Sunflower" was the initial offering, but now fans can hear tracks from the likes of Vince Staples, Juice Wrld, Amine, Nicki Minaj, and many more. With the movie supposed to be absolutely fantastic, the music has a lot to live up to.
Kodak Black — Dying To Live
It's impossible to separate the music of Kodak Black from the very serious allegations and charges currently hanging over his head. Still, he is managing a very buzzy hip-hop career, including his current hit that is featured on this collection, "Zeze" featuring Travis Scott and Offset. Lil Pump and Juice Wrld also pop up on this set.
Ariana Grande — "Imagine"
How do you follow up a single as world-changing as "Thank U, Next?" Well, you just keep your head down and keep doing the work. "Imagine" is another sturdy, strong tune from Grande that relies less on specific references than her last one (though the titular sentiment is thought to be a reference to a Mac Miller tattoo, and the song can certainly be heard as a tribute to him). Though Grande has never been this popular, the song is a reminder of the consistently high level that she operates as an artist.
Miley Cyrus and Mark Ronson — "Happy Xmas (War Is Over)" (John Lennon and Yoko Ono cover)
Miley Cyrus and Mark Ronson recently released a single that took its cues from '70s country radio, and they return to that decade for this one. This rendition removes the singalong element of the song, instead putting Miley's voice front and center, with some backing help from the child of the song's original artists, Sean Ono Lennon. The result is an updated version of a Christmas classic that holds a candle to the source material.
Matt Berninger, Julien Baker, and Stephen Altman — "All I Want"
Julien Baker has been killing the collaborations in 2018, with her incredible Boygenius project and now this single with The National's Matt Berninger. The two are masters of the melencholy in their own right, and together, they take this single for Planned Parenthood through the emotional roof.
Maggie Rogers — "Tim McGraw" (Taylor Swift cover)
With her debut album due out next month, Maggie Rogers has already conquered the big stages of Saturday Night Live and music festivals. But filling the shoes of Taylor Swift is something that seemed like a tall order, and she handles it with grace on this Spotify single. It's one of Swift's most iconic songs and Maggie gives it her own spin, showcasing the power of her voice along with her impecable taste.
Cass McCombs — "Estrella"
Cass McCombs is an indie lifer who still has a lot of new tricks up his sleeve. On his latest, "Estrella," the nomadic songwriter finds warmth and nuance in this tribute to Juan Gabriel. This, along with the previously released "Sleeping Volcanos," bode well for his upcoming album, Tip Of The Sphere.
Some artists covered here are Warner Music artists. Uproxx is an independent subsidiary of Warner Music Group.