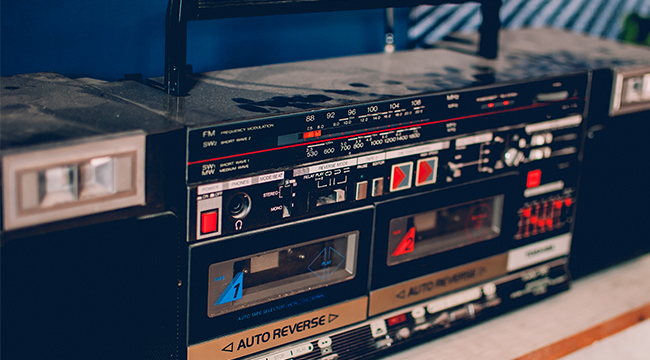 Last Updated: January 29th
More than possibly any other genre, hip-hop lends itself to the playlist format so naturally, it's almost like the two go hand-in-hand. The relationship is symbiotic.
With that in mind, these are just some of the best rap Spotify playlists right now, featuring not only the latest regional and digital hits before they enter rotation on pop radio, but also lessons in hip-hop history. The lists highlighted here represent the diversity of sounds, eras, and divergent sexuality of hip-hop's most prominent acts, labels, and regions. Enjoy!
Cali Fire by Spotify
This is an eclectic list, featuring artists from up and down the California coastline. Its 50 songs cover an expansive list of possibilities, from partying hard to kicking back, but the thing each has in common is they all sound best while indulging in the sunshine of this playlist's namesake state. It's a bit more Bay-heavy than some of the other, similar lists I've delved into, so your mileage may vary, depending on how you feel about G-Eazy and E-40. This is also a great list for getting into those artists and more from the northern corner of California, which is often overlooked by the outside world, allowing it to evolve into its own flourishing, carefree ecosystem of hyphy bops and underground jams.
Gold School by Spotify
Look, I'm not going to lie. It hurts a little to see songs from my high school years lumped in with songs from a decade before all under the banner of "Old School," but at the same time, this is probably your best bet for a formative, classic hip-hop education. A great many of the tracks here represent not only the backbone of hip-hop but its arms, legs, and head too. The Tupac tracks spun the socially-conscious, narrative thread that Kendrick Lamar eventually wove into his sonic tapestry, while joints from foundational Southern legends like T.I., Juvenile, and 8Ball & MJG created the 808 and snare roll trend that still forms the sonic framework of trap music to this day. And nobody would be rapping half as well as they do now without tongue-twisting lyricists like Naughty By Nature's Treach, Method Man, Redman, and Busta Rhymes.
Ill Lyricist by Spotify
As hip-hop continues to incorporate more and more melody in its modern hits, it's easy to forget that there's still plenty of bars-over-everything, wordy rap circulating out in the world. Well, here's your reminder. Those fans who prefer rhyme-a-minute, battle-ready rap can escape from the realm of syrupy crooners to rugged faw, punchlines-first hip-hop with this playlist thanks to the inclusion of older traditionalists Black Star, Nas, and Pusha T alongside slick spitters of the modern era like Chance The Rapper, Joey Badass, and Wale.
Jazz Rap by Spotify
[spofity="spotify:user:spotify:playlist:37i9dQZF1DX8Kgdykz6OKj"width="650″ height="307″ /]
Let's face it: Those "beats to study to" streams on Youtube are pretty cool, but they're utterly hellacious on those cell phone batteries and data plans. Since they come with a video component, they can eat a lot of bandwidth while keeping your phone's screen lit — in a bad way — along with the dubious legality of such streams likely keeping streaming income out of producers' pockets. With Jazz Rap, those worries are mostly out the window, along with the added benefit of being able to see song titles and artists' names, allowing you to pick out favorites like Loyle Carner and Rejjie Snow so you can really dig into their catalogs when you finish "studying."
Most Necessary by Spotify
[spofity="spotify:user:spotify:playlist:37i9dQZF1DX2RxBh64BHjQ"width="650″ height="307″ /]
Described by Spotify as "the official voice of generation next," Most Necessary fully embraces the future of hip-hop, highlighting rising stars like Blueface, Comethazine, Roddy Ricch, and YNW Melly. Putting streaming stars at the top of the list gives listeners a chance to dip their toes into the pool of burgeoning talent bubbling just under the surface of rap's biggest hits without having to go scuba diving for hours on Soundcloud. If you see a name on this list, you may want to get familiar with the artist because odds are they'll be dominating the blog scene for the next year or so as they climb out of the underground and into the spotlight, helped along by those fans who are tapped into the next wave before it breaks — which now, thanks to this playlist, includes you.
New York Hip Hop by Adam Howell
While this list is scarily '90s-centric, almost, but not quite confirming the stereotype about the hip-hop New York rap fans insistently pine for, it also contains nuggets from newer Gotham stalwarts like Smoke DZA, Bobby Shmurda, Joey Badass, and ASAP Mob. However, it still leans heavily into the boom-bap-and-hard-rhymes, hoodie-and-Timbs lyricism of the middle of that decade — not that that's a bad thing, by any means. The Beatnuts, The Lox, M.O.P., Wu-Tang Clan, and the classic Rawkus Records roster figure heavily into this list alongside The Diplomats and Fat Joe, running the gamut from park jams to basement parties, all with a menacing stare and a razor blade under a skullcap. This was the music that made hip-hop dangerous but also took the grimy bluster of post-crack New York to the penthouses of power and influence.
Rap Caviar by Spotify
You've probably seen this list. Depending on how you feel about face tattoos and purple dreads, you either love it or hate it. If you fall in the latter camp, I'll advise you listen with fresh ears and an open mind. Just because the kids that mostly populate this playlist of pop jams looks wildly different from the decidedly more muted and menacing MCs we came up with, doesn't mean there isn't plenty to love. This one also embraces straight spitters like Belly and Nicki Minaj alongside its colorful array of younger cloud rap all-stars like Smokepurpp, YBN Nahmir, and Blocboy JB. It's a prime example of the diversity and depth of modern hip-hop, fitting it all together in a patchwork, quilt-like configuration that paints the biggest picture of just what rap means in 2018.
The Realest Down South by Spotify
While Rap Caviar runs heavy on trap music, it also features some more traditionalist departures from the Southern formula. This list is for those fans who drink their lemonade out of mason jars and drive two miles an hour so everybody sees you. There's none of that finicky New York elitism here, just straight up Southern bangers. However, like the preceding list, this one contains a surprising breadth of styles and sounds, if you're willing to listen past the heavy accents and diamond grills, there's a lot of pathos amidst the stunting from Gunna, Lil Baby, Marlo, Migos, and Rich Homie Quan.
Signed XOXO by Spotify
With a tagline of "Crossing over like Allen I," this list contains mostly newer, bubbling hits. Not only can you stay current with the newest songs that are currently taking over the minds of the youth of America, but you can get a sense of just how broad hip-hop has become in recent years. It seems there's as much room for Buddy's "Trouble On Central" as there is for Post Malone's "Better Now" and J. Cole's "Kevin's Hart."
Who We Be by Spotify
Hip-hop continues its experimental crossovers with UK Grime and this mix is a prime representation of the best of that blend. Featuring American rap stars like ASAP Rocky rocking alongside British flame spitters like Skepta, this mix is the ultimate bridge over the big pond.
Women Of Hip-Hop by Spotify
While this list is far from a perfect cross section of female representation in hip-hop, it covers the bases pretty well. There are your '90s classics: Eve, and of course, Fox, Kim, Missy. There are plenty of newer rappers aside from just Nicki and Cardi as well. Kash Doll, Kodie Shane, Young M.A., Kamaiyah, and Dej Loaf all make appearances; it's nice to see them acknowledged rather than overlooked as they so usually are. Although I would have liked to see a few more names from the 2000s, like Rah Digga or Shawnna, or some from the '80s aside from the obvious Salt-N-Pepa and JJ Fad placements, it's a start, and really, the journey of 1,000 miles begins with one step. If this is the first one on the path toward discovering the wealth of female rappers who've always bubbled just under the radar of hip-hop, it's one I'll willingly take.