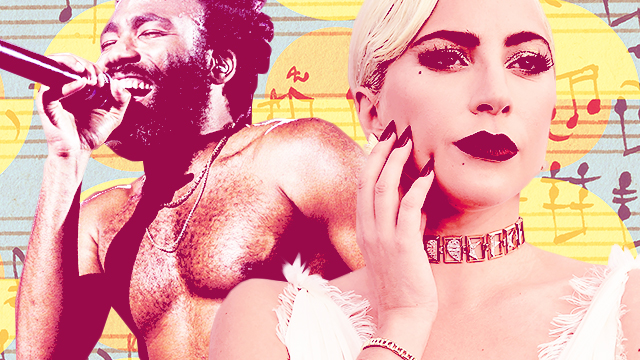 It's the most wonderful time of the music year. The Grammys, airing on Sunday on CBS, bring together music obsessives with even the most casual listener, where anyone who has ears has as valid of a take as the next person. And the nominees this year reflect that kind of thought, with populist artists like Post Malone, Drake, and Greta Van Fleet sitting comfortably next to critical darlings like Kacey Musgraves, Janelle Monae, and Brandi Carlile. Often in the past, the easiest way to predict the winners could just be to imagine the scenario that would upset the most amount of people. It worked for Macklemore, and it worked for Adele beating Beyonce, and it worked last year when Bruno Mars swept the major categories.
Is this the year that the Grammys finally get things right? Hopefully, yes. Looking through the nominations for the biggest categories, there are many ways that the Grammys could please the crowd and few ways that they could completely blow it again. Even if Post Malone somehow wins Album Of The Year, it wouldn't even be the worst tragedy to hit the event, as Posty's album has been an undeniable force this year, even if critics aren't on board. There might be some rooting against Lady Gaga and Bradley Cooper's massive "Shallow," but it's an undeniable tune that anchors a personal film about addiction, making it hardly a villain at the ceremony. And for once if Kendrick Lamar gets shut out of the major categories, it won't be through the narrative that he was the most deserving, as the his Black Panther collection isn't quite held in as high regard as his last three solo records.
So who is expected to have a big Grammy night? In the hip-hop world, Cardi B should be the pick for Best Rap Album for her star-making Invasion Of Privacy, while Drake should earn some hardware for "God's Plan" in the Best Rap Song or Performance categories (though Travis Scott could easily play spoiler both for his Astroworld album and for "Sicko Mode," though the latter is another shot at Drake winning). Despite not being nominated in the big categories, Ariana Grande is our pick for Best Pop Album for Sweetener (though Taylor Swift could always pull out a Grammy win, especially here) as well as Best Pop Song for "God Is A Woman." And in the rock world, look for St. Vincent to win her second Best Alternative Music Album, this time for Masseduction, and for Greta Van Fleet to get on the Grammy scoreboard in the Best Rock Album and Song categories.
And for the big four categories, check out the predictions below.
Best New Artist
Who Will Win: H.E.R.
This category would feel a lot more wide open if not for one fact: 21-year-old California R&B riser H.E.R. also has an Album Of The Year nomination. Does that key nod show that she has an edge on her competition in the Best New Artist category? Maybe not, but in this field where there isn't a clearcut favorite otherwise, this is just the clue that H.E.R. might be the artist to beat here.
Who Should Win: Dua Lipa
Looking at the nominees for this category, which also includes the likes of Margo Price, Luke Combs, Jorja Smith, and Chloe x Halle, pop star Dua Lipa has certainly had the most widespread success from among her peers. With three of the last four winners coming from the pop world (Meghan Trainor, Sam Smith, Alessia Cara), Dua Lipa would be a fine selection to add to this group, and the best bet among the field to have a long impact in her field.
Don't Count Out: Greta Van Fleet
The Grammys love giving us moments that seem to melt the very fabric of time and space in which we exist. Could you imagine a bigger Twitter uproar than if Greta Van Fleet took home the Best New Artist for sounding like a band, Led Zeppelin, that lost the award in 1970, and went on to never get nominated again during their actual existence as a band (they did win awards much later). Some awards shows just want to watch the world burn.
Song Of The Year
Who Will Win: Lady Gaga and Bradley Cooper, "Shallow"
This is a songwriters award, and was there a better songwriting moment last year than Lady Gaga going "AHHHHHAHHHHHAHHHHHH!?" Probably not. This award would go to Gaga and three of her co-writers, including Mark Ronson, for what is likely to most transportive and evocative tune in the running, hitting big emotional cues in a way that's not dissimilar to recent winning songs from Adele, Ed Sheeran, and Sam Smith. The Grammys love to have their heart tugged, and after previously losing this award in 2010, it might be Gaga's time to shine.
Who Should Win: Drake, "God's Plan" (or "Shallow" tbh)
It's hard to argue against "Shallow" here, but no one dominated the song charts in the last couple years like Drake, and awarding him a Song Of The Year would feel deserving of this accomplishment. Because really, this is an incredibly strong category where the majority of the tracks figured into Uproxx's Best Songs Of The Year (No. 48. "The Middle," No. 32. "Boo'd Up," No. 12 "All The Stars," No. 6 "Shallow," and No. 2 "This Is America). So, even if Childish Gambino or Kenoffick Lamar pull of the win here, it's hard to feel like there is really a bad choice among the field.
Don't Count Out: Childish Gambino, "This Is America"
It would be a little weird to give this a songwriting award, given that some of the songwriting for the tune has been put into the question, but the Grammys never shy away from controversial winners.
Record Of The Year
Who Will Win: Childish Gambino, "This Is America"
There's a sense following the success of "Redbone" that Childish Gambino has been working up to getting a big award like this, to join his Emmy and Golden Globe successes. And with the songwriting of this smash in a bit of a controversy, honoring the recording seems like the best bet. For an award show that is often criticized for its treatment of Black art, giving this key honor to a song with such a deep political and social message would feel like an important step forward.
Who Should Win: Childish Gambino, "This Is America"
For all the reasons stated above, and that this song seemed to have the biggest impact of any of the nominees. This kind of commercial and critical hit rarely overlaps so well into both categories, and feels genuinely deserving because of it.
Don't Count Out: Lady Gaga & Bradley Cooper, "Shallow"
30 songs in history have won both Record and Song Of The Year, so it wouldn't be too surprising to see "Shallow" (or "This Is America") win both. And this way, Bradley Cooper would be able to finally take home a major Grammy, too. Just what we always expected, to have to refer to Bradley Cooper as a "Grammy winner." If you're looking for a bigger surprise, "I Like It" from Cardi B and Bad Bunny also feels like it has a strong shot at an upset.
Album Of The Year
Who Will Win: Kacey Musgraves, Golden Hour
It's not just because she won the first-ever Uproxx Music Critics Poll. Musgraves has been putting together a winning resume for nearly an entire year, including winning the CMAs Album Of The Year despite not offering singles to country radio. This shows just how much support this record has, and her wide-ranging appearances on this year's festival circuit, including slots at Coachella and Bonnaroo, indicates massive non-country support as well. It just feels like Kacey's year, though it's easy to make the case for many of her competitors, including Black Panther's cultural omnipresence carrying over to the album, Post Malone's hit-filled collection that could prey on the Grammys traditional love of successful white rappers, and the cultural moments provided by Drake and Cardi B.
Who Should Win: Kacey Musgraves, Golden Hour
This is because she won the first-ever Uproxx Musgraves Critics Poll. Also, Musgraves feels like a crowd-pleasing choice, appealing across genres, checking off the critically-acclaimed box, and full transforming her into the colossal presence that she deserves to be. This would make her the first country winner since Taylor Swift took home Album Of The Year for Fearless in 2010.
Don't Count Out: Black Panther: The Album
A couple weeks back, Black Panther was the surprise winner at the Screen Actors Guild Awards, taking home their equivalent to Best Picture with a Best Ensemble win. Even with no individual actors nominated, this victory showed just how strong support of this film is, and that carrying over to the music isn't hard to imagine. Giving Black Panther the win would finally honor Kendrick Lamar after being snubbed for three worthy solo albums, and also would give the hip-hop world its first win since Outkast in 2004. That's a wildly long gap, and one that could easily be remedied this year, even if they opt for Drake, Cardi B. or (gasp) Post Malone instead. It's all paving the way for a memorable evening, that will surely leave the music world talking for the next 12 months.
Some artists covered here are Warner Music artists. Uproxx is an independent subsidiary of Warner Music Group.