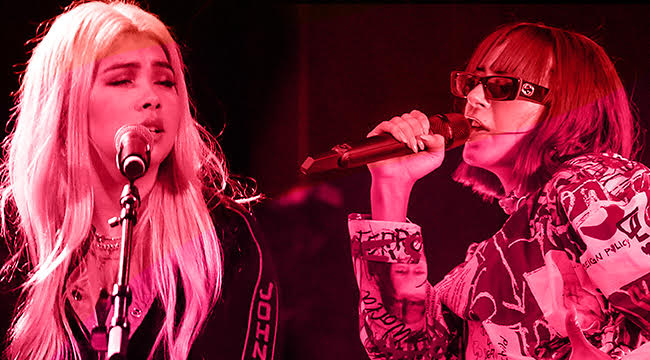 Yes, I know it's the end of July, but Pride Month isn't over until Charli XCX and Christine And The Queens say it's over.
This was a fantastic week for new pop music, and especially for new pop music by queer artists. Hayley Kiyoko is back with her first new single of 2019, the yearning "I Wish." King Princess announced that her debut album is officially (finally!) coming this fall. Sam Smith dropped a groovy, melancholy new single, "How Do You Sleep?" And, of course, Charli XCX and Christine And The Queens' collab is just as thrilling as you can imagine, and easily one of the best new songs of the year so far.
Every week, Uproxx will round out the best new pop releases of the last seven days. Listen up.
Alec Benjamin, "Jesus In LA"
Singer-songwriter Alec Benjamin's latest single, "Jesus In LA," is a plaintive search for meaning. In a sweet, soft-voiced tenor, Benjamin sings about arriving to Los Angeles bright-eyed and optimistic and quickly seeing all his dreams squashed. Over a simple acoustic melody, Benjamin sounds optimistic even as he's singing about losing hope. Benjamin's debut mixtape, Narrated For You, was released in 2018.
Charli XCX, "Gone" Feat. Christine And The Queens
Lately there have been a lot of pop songs about feeling anxious in social situations — Ed Sheeran and Justin Bieber's "I Don't Care," Billie Eilish's "Xanny," pretty much every Khalid song. But "Gone" isn't just a song about not fitting in. With every single one of its production choices, "Gone" delights in upturning pop music conventions. Charli XCX and Christine And The Queens don't sound like they're echoing each other, but separately suffering their own anxiety spirals. The dichotomy between Charli's synth-pop gloss and Chris' smooth, bass-driven funk-pop makes the song a prism, refracting different light and sound with each turn. If it wasn't already, Charli is officially one of the most anticipated albums of the fall.
Hayley Kiyoko, "I Wish"
Lesbian Jesus has returned to save pop music. It might sound like an overstatement, but Hayley Kiyoko's fans knew what they were talking about dubbing her pop's gay savior. "I Wish," her first new single of 2019, sparks that perfect balance between melancholy and optimism, as Kiyoko narrates a love that ended in betrayal and wishes for something better to come. The pitch-shifted chorus is hopeful and starry-eyed — and very reminiscent of Carly Rae Jepsen. Kiyoko is rumored to be a feature on Taylor Swift's upcoming album Lover, so listen now before she's all over pop radio next month.
Bazzi, "I.F.L.Y."
No, singer-songwriter Bazzi didn't just drop a song about being a bumblebee. "I.F.L.Y." is a smooth, blissed-out ode to the one who owns his whole heart. "I f*cking love you," he croons on the chorus, backed by lush guitar and synths. Bazzi's debut album, Cosmic, was released in 2018, but it sounds like he's got something else in the works. "I.F.L.Y." is his fifth new single of 2019, and each has been even better than the last.
Sam Smith, "How Do You Sleep?"
Sam Smith is done being heartbroken. With the massive success of melancholy ballads like "Stay With Me" and "I'm Not The Only One," Smith has made a career of being the voice you turn to in your weepiest moments. But Smith is also capable of delivering massive bangers — remember "Latch" and the criminally underrated "Promises"? Smith's latest, "How Do You Sleep," sees the singer transforming his broken heart into kinetic, danceable energy. He seems to gain power with each switch of the beat and pump of the bass, asking a lover how they sleep at night knowing they're so deceitful. "How Do You Sleep" is Smith's first new solo song of 2019, and hopefully the first of many.
Sabrina Carpenter, "I Can't Stop Me" Feat. Saweetie
Sabrina Carpenter and Saweetie are two of the most exciting young artists in pop and hip-hop right now, so it only makes sense that they'd collab. "I Can't Stop Me" is a pop anthem that delights in its badness — think a missing cut from Ariana Grande's Dangerous Woman, with the downbeat cynicism of Billie Eilish or Khalid. Carpenter's voice is gorgeous and the song is a banger, but the line of the century belongs to Saweetie: "P*ssy so aquatic, so I make that boy psychotic."
Charlotte Lawrence, "Why Do You Love Me"
Singer-songwriter Charlotte Lawrence's new single "Why Do You Love Me" is a thrilling sign of the times. Billie Eilish's soft vocals and monster-under-your-bed lyrics paved the way for a new generation of girls with knives for tongues. You can hear Eilish's influence in "Why Do You Love Me" 's tiptoeing beat and ASMR-lite beat. But "Why Do You Love Me" also has the gleam of a classic pop anthem. The multilayered vocals in the chorus are pure Puth Wave (Charlie Puth actually wrote the song with Lawrence and contributed some background vocals). "Why Do You Love Me" welcomes a new princess to pop royalty.
King Princess, "Prophet"
Speaking of pop royalty, King Princess' new single "Prophet" is her best to date. Singer Mikaela Straus has crushed every genre she's tried her hand at — nostalgic ballads, guitar-driven anthems, glossy synth-pop, and everything in between. "Prophet" is pure Fiona Apple '90s indie rock. Straus' vocals are alternately soft and fiery, and the guitars build to thrilling catharsis. KP's debut album has been one of my personal most anticipated since I heard "1950" back in spring 2018, and it looks like the wait won't be too much longer. Cheap Queen is finally due out this fall. If "Prophet" is any indication, we're in for something special.
Some artists covered here are Warner Music artists. Uproxx is an independent subsidiary of Warner Music Group.