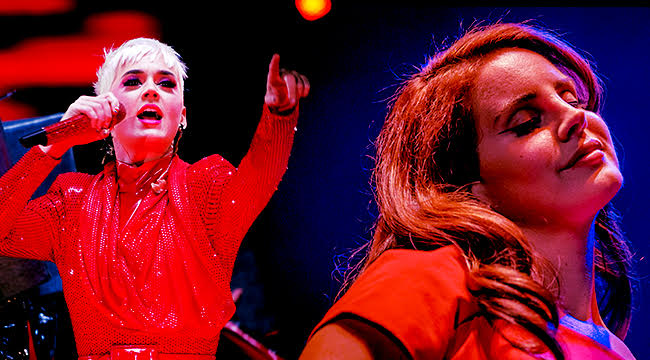 This was a great week for pop releases. Zendaya is one of Hollywood's buzziest film and television actresses right now, but she makes a case for her inclusion in the pop queen canon with her groovy Labrinth collab, "All For Us." Speaking of pop queens, Katy Perry proved the brilliance of "Never Really Over" isn't a fluke — "Small Talk" is a serious banger, and seriously fun. We've also got new music from Lana Del Rey, Alessia Cara, Yebba, and many others.
Every week, Uproxx will round out the best new pop releases of the last seven days. Listen up.
Labrinth — "All For Us" Feat. Zendaya
Put on your glitter eyeliner and get ready to dance. Labrinth and Zendaya's collaborative track "All For Us" caps off the stunning first season of HBO's Euphoria. Like the show, "All For Us" is all intrigue and grim sparkle. Labrinth and Zendaya's voices blend to airy, haunting perfection, and the glitchy, twitchy production is intoxicating. Zendaya has been getting some serious awards buzz for her performance on Euphoria, but "All For Us" proves that she's the ultimate multi-hyphenate. Spare some talent for the rest of us!
Katy Perry — "Small Talk"
Katy Perry is a world-class pop star. With an entire decade's worth of bops (we won't talk about Witness), she's pop's go-to girl for loud and proud feelings and bright, bubbly beats. In "Small Talk," she marvels at the fact that she's gone from "strangers to lovers to strangers" with an ex. Perry crafts a brilliant pop song out of something we've all experienced, familiar feeling but fresh and sparkling expression. Charlie Puth co-produced "Small Talk," and he brings his own off-beat flair to the song, too.
Alessia Cara — "Rooting For You"
Alessia Cara continues her trend of f*ccboi-eviscerating bangers with "Rooting For You." The second track we've heard off her upcoming EP This Summer, "Rooting For You" is all thumping bass and twinkling guitars. It's not a breakup song, per se — Cara is mourning a friendship rather than a romantic relationship. In subject matter and melody, "Rooting For You" sounds unlike anything else in pop right now. Cara's an exciting young talent, and This Summer is coming (you guessed it) later this summer.
Lana Del Rey — "Looking For America"
Ahead of the release of Norman F*cking Rockwell later this month, Lana Del Rey got a spark of inspiration. Unfortunately, this inspiration comes from tragedy. Del Rey debuted a live performance of "Looking For America" on Instagram early last week following the mass shootings in El Paso and Dayton. In "Looking For America," Del Rey tries to reconcile the America she wishes existed with the bloody, gun-torn one we live in. Her voice is delicate and beautiful, and the song's acoustic melody makes the lyrics hit that much clearer and harder.
Mallrat — "Charlie"
Mallrat's first solo single of 2019 is a delicate, sweet reflection on home life. According to interviews, the "Charlie" of the song is the singer's beloved golden retriever. "Charlie" is a bittersweet family portrait. With Lady Bird-like attention to detail, Mallrat sings of puppy dreams, moms with broken hearts, and "warm cups of tea" over a twinkling, snap-and-clapping synth-pop beat. Mallrat's new EP Driving Music is out September 6.
Yebba — "Where Do You Go?
Yebba has made quite an impression this year with features on songs by Mark Ronson and Ed Sheeran, but the singer-songwriter is ready to show us she's a formidable talent on her own, too. In her collabs, Yebba has used the full power of her massive voice, but "Where Do You Go?" is an exercise in restraint. Her soft vocals convey nostalgia and wishing for a better time, and the lyrics are full of beautiful little details like pink dresses and ticking second hands. It's hard to believe "Where Do You Go?" only her second single as a solo artist — hopefully there's many more to come.
Nasty Cherry — "Live Forever"
Nasty Cherry's "Live Forever" is half pop anthem, half new wave rock favorite. "Live Forever" sparkles with jagged, glittery confidence and chaos. In one line, they sing about popping pills "like birth control" — so with day-to-day consistency down to the minute hand. Like all of Nasty Cherry's singles so far, the track has a cool retro-rock sound and catchy guitar riff, but with the pop sensibility of the best pop queens. ("Live Forever" was co-written by Charli XCX.)
Lulu Simon — "I Wanna Break Your Heart"
Lulu Simon's debut EP is a glossy, infectious collection of synth-pop brilliance. Coming from a family of musical legends (her parents are Paul Simon and Edie Brickell), Simon has a talent for writing the kind of iconic lyrics that could soundtrack movies or important coming-of-age moments. "I wanna be your best friend / I wanna be your worst ex / I wanna be your last dance / I wanna be your first time" might be the most evocative passion-pop lyrics I've heard this side of Carly Rae Jepsen. Simon's voice sounds a little like Chvrches' Lauren Mayberry, but she's a talent all her own.
Some artists covered here are Warner Music artists. Uproxx is an independent subsidiary of Warner Music Group.