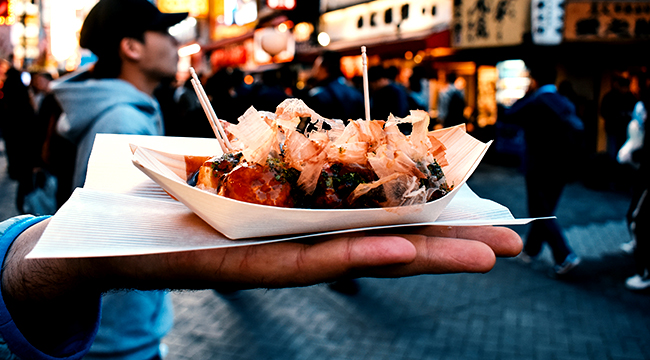 Well, friends, it's been long-promised and today is the day: We did a cooking battle live and we're excited to share the results. Zach was visiting LA, Vince lives in the city, and I'm an easy drive away. The stars aligned.
In our neverending quest to entertain you, we invited comedians Matt Lieb, Francesca Fiorentini, James Kirkland, and Anna Valenzuela to roast us live. Uproxx's publisher Jarret Myer came through too, as did writers Allison Sanchez and Mike Botticello. We also invited Joe — a longtime Uproxx reader who was taller and more attractive than all of us — to the roast/ feast. I won't use his last name, because he also has a super cool military job that he can't talk about, but needless to say the dude fit in great and our fans are the freaking coolest.
We'll get right to it with no more preamble, but please do check out one of Anna or Matt's standup shows, or watch Francesca on NatGeo, or read James' new book in which basketball legend Bill Walton stars as a private detective. Or do all of those things. All of our guests (except secretive Joe) are also on Twitter: Jarret Myer, Allison Sanchez, Mike Botticello, James Kirkland, Anna Valenzuela, Matt Lieb, and Francesca Fiorentini.
— Steve Bramucci, Editorial Director, Uproxx Life
BLT Showdown — 1) Vince 2) Zach 3) Steve
Mac & Cheese Showdown — 1) Vince 2) (tie) Zach, Steve
Taco Showdown — 1) Steve 2) Zach 3) Vince
Winter Stew Showdown — 1) Zach 2) Steve 3) Vince
Date Night Showdown — 1) Zach 2) Vince 3) Steve
Pasta Showdown — 1) Steve 2) Zach 3) Vince
Hot Beef Showdown — 1) Zach 2) Vince 3) Steve
Shellfish Showdown — 1) Vince 2) Zach 3) Steve
BBQ Showdown — 1) Steve 2) Zach 3) Vince
Pumpkin Spice Showdown — 1) (tie) Vince, Zach 2) Steve
Thanksgiving Side Dish Showdown — 1) Vince 2) Steve 3) Zach
Christmas Dessert Showdown — 1) Steve 2) Vince 3) Zach
Chili Cook-off Showdown — 1) Zach 2) Steve 3) Vince
Nacho Showdown — 1) Vince 2) Steve 3) Zach
Burger Showdown — 1) Zach 2) Vince 3) Steve
Breakfast Burrito Showdown — 1) Vince 2) Zach 3) Steve
Fried Noodle Showdown — 1) Steve 2) Zach 3) Vince
Fried Chicken Sandwich Showdown — 1) Vince 2) Steve 3) Zach
Christmas Dessert Showdown Rematch: 1) Zach 2) Steve 3) Vince
Italian Comfort Food Showdown: 1) Steve 2) (tie) Zach & Vince
Date Night Showdown Part II: 1) Vince 2) Zach 3) Steve
CURRENT SCORE:
We're giving three points to the winner and one to second place for each round. As it stands, the score is:
VINCE: 32
ZACH: 31
STEVE: 26
VINCE'S ARMENIAN-SPICED ĆEVAPCICI WITH TOUM AND PITA
So it looks like it's my turn to be the "too-long explanation guy" this week. I apologize in advance. I heard "party food" and my mind immediately went Middle Eastern, since almost all Middle Eastern food kind of feels like it's intended to be served hot from a grill at some kind of chill kicker, where everyone's kind of lounging around on couches and stuff.
My direct inspirations were: 1. Armenian food, which I sort of grew up with, my mom being half Armenian, and 2. Cevapcici, a kind of Balkan sausage that I discovered a few Summers ago. A friend and I had driven all day, from Dubrovnik in Croatia, down through Kotor, Montenegro, and up through a series of incredibly small, weird roads that felt like someone's driveway until we finally got to smoky Sarajevo, in Bosnia. We were starved half to death by the time we got there, and we asked our tour guide for a recommendation. "Do you like meat? Do you like beer?" our tour guide asked (Bosnian Muslims seem to take the whole alcohol prohibition thing a lot less seriously than other Muslims).
He recommended this cevapcici place, where they grill these tiny sausages under a direct flame and then dip pita bread in the meat drippings and I don't think either of us spoke for 20 minutes as we shoveled food into our mouths.
Except for size, cevapcici are pretty similar to the ground meat skewers you get pretty much everywhere from North Africa to the Caucuses to the Levant to Greece. Armenians have kufta and lulu kebabs which are pretty similar, and my girlfriend had just gotten me a collection of my great grandmother's Armenian recipes bound and laminated for my birthday. So I used her kufta spice blend for my cevapcici. Phew, sorry, man, I warned you it was going to be long.
Appetizers

Steve and Zach didn't have the burden of hosting as I did, so I wanted to make sure people weren't starving to death while Steve carefully chiffonaded seven types of obscure herbs. Around the rim there, that's roejig. They take walnuts, hang them on a string, and then pour this sweet fruit juice (white grape, for roejig) with a gelatinizing agent down it. You end up with this big turd-looking kind of thing with sweet fruit roll-up type stuff on the outside and walnuts on the inside, that you can slice into lil' discs as I've done here. It's hard to wrap your brain around at first, but really addictive.
In the middle is just Armenian string cheese. It's braided string cheese flavored with caraway seeds, and it's good as hell. Seriously, go buy some. I didn't make either of these things myself but I did present them.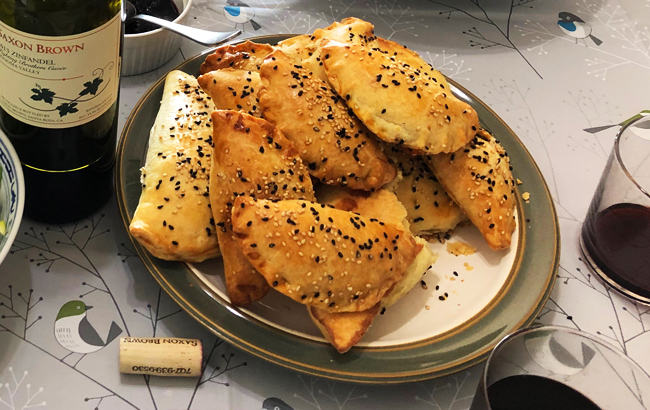 This is boreg, which I did make. They're sort of like Armenian empanadas filled with cheese. The dough is mostly butter and flour, like a pie dough, but with one egg and a little water. The filling is about half sheep's milk feta and Mexican manchego (my favorite melting cheese) — you want half funky cheese half mild — with two eggs and an extra yolk, chopped parsley, and a dash of Aleppo pepper. Sprinkle with black and white sesame seeds, bake for half an hour, and serve with pomegranate jelly. I think the pomegranate jelly thing must be a my-family tradition and not an Armenian tradition because I went to three different Armenian markets and they all had 87 different types of jams and jellies with no pomegranate. I had to get it off Amazon.
The Meat
So my great grandma's cookbook had listed, for her kufta spice, "half cumin and half chamin." What the fuck is "chamin," you ask? No idea. I googled it and the closest I got was "chemen," or "chaimen." I modified this recipe I found, equal parts allspice, fenugreek, cinnamon, and cumin, with two parts paprika and a dash of cayenne. I doubled the cumin (all whole spices, toasted and ground myself) and added two parts granulated onion and one part black pepper.
For the meat, I mixed a pound each of beef, lamb, and pork, the fattiest blends I could find (I actually ground a few slices of bacon into the pork because it didn't look fatty enough).
For the sausages, I mixed the spice blend into the meat along with four crushed garlic cloves, two tablespoons tomato paste, one teaspoon baking soda, and two egg whites. I let that sit in the fridge for an hour before rolling into pinky-sized sausages.
I stuck them in my cast iron pan and cooked under a hot broiler for about eight minutes, with some green onions on top. I wanted the onion flavor to infuse the meat as it cooked. Honestly, the hardest part was being in the same kitchen with Steve's lard heating up in the deep fryer. It smelled awful. It kind of put me in a bad mood.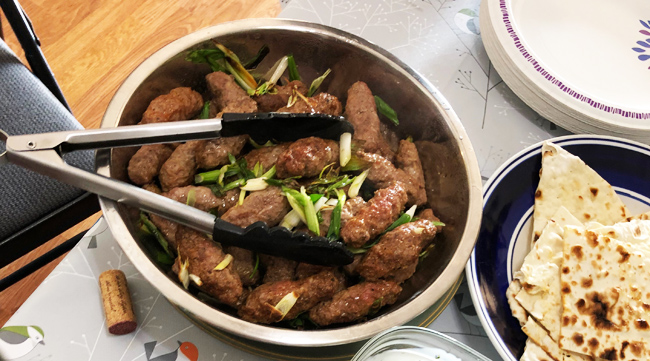 The Sauce
The first time I made this I served it with tzatziki, but it wasn't quite right. There was another, a more pungent white sauce I was thinking of. What was it called again? That stuff you get at Zankou Chicken, that stuff. According to the internet, it's called toum, and it's kind of weird. You can actually just make it with a neutral oil (I like grapeseed), garlic, and lemon juice, and done correctly it whips up all fluffy like mayo.
For mine, I used a whole head of garlic, a teaspoon salt, about 1/4th cup lemon juice, and about a full cup of grapeseed oil. The garlic cloves, salt, and lemon juice go into the food processor first, scraping the sides a few times, to get good and chopped up. Then you keep it spinning and add the oil little by little. It should come out all creamy and fluffy and white — it's a neat trick. I added a couple of spoons of plain yogurt to mine at the end to even it out a little, to make sure we didn't kill each other with garlic breath, plus some MSG because that makes all white sauces tastier.
Garnish
I served with thinly sliced and rinsed red onions (I bought a mandolin, Steve!), chopped up ripe tomatoes with dill (lightly salted), and warm pita bread.
Steve on Vince's Dish:
Last month, I gave advice to Vince on what to make, telling him about my beloved stracci (torn pasta). He tried it, got excited, prepared to make it, and then had to deal with me texting him the night before he was set to cook, "Sorry dude, got in a jam and had to make stracci." I did that because my dinner guests were all very close to abandoning my house, with dinner still not served at 10:30 (#SorryJenae), and I had to ditch my stuffed pasta concept. But still… it was cold-blooded.
Here's one that's worse: Vince knowing I was making empanadas and making his own FOR AN APPETIZER THAT WOULDN'T BE CONSIDERED IN THE COMPETITION. Because boreg are virtually empanadas, as you can see. In fact, his manchego cheese and pomegranate jam combo tasted incredibly similar to the Colombian cream cheese and guava paste empanadas that the Little Havana restaurant where I got pointers specializes in. And his empanadas looked perfect with dumb little toasted sesame seeds on top. The second I saw them I went into a cold panic.
Okay, for Vince's actual dish… How do you say "meh" in Armenian? Mind you, the sausages were great. They were a little dense. Like it felt like there was no air in them. But the taste was great. Could have used a little char, too, but they were fatty and flavorful, which is the overarching "point" of sausage, in my opinion.
Then I had to do like 17 pieces of assemblage. Pita (cold, limp, begging to be dipped in a little hot oil, just like someone's something), onions, tomatoes, the sausages, the sauce. Thanks for the job at your cultural version of Chipotle, Vince, but can I eat already?
The sauce was fine. It was garlic. It smelled strong of raw garlic. It tasted like garlic. The aftertaste was garlicky. That was all. But apparently no comic in LA has ever enjoyed the pleasures of garlic before because people lost their goddamn minds about this sauce. It was out of control. They raved as if Vince had served us the flesh of the slender loris, smoked with wood from Louisiana's ancient Seven Sisters tree.
So I guess vote for Vince if you like having to make your own appetizer or if you, like Matt Lieb, are amazed by having pure garlic rubbed all over your palate.
Zach on Vince's Dish:
Just to be clear, Vince's appetizer was not up for contention in this contest. Had Vince simply served his Boreg, he likely would have won. But, alas, he flew too close to the sun and burned out.
I love cevapcici. The one and only key element to a great cevapcici is fire. You need that flame-grilled char for them to shine. That was simply not present with these sausages and they suffered for it. The spice-profile was great, the fattiness was spot-on, but the execution was lackluster.
I wasn't put off by the make-your-own-pita sandwich aspect that much — it allowed me to skip on the store-bought, slightly stale pita — but people were definitely confused about what to do with everything. That's not ideal for party food. That toum though, bravo.
The Crowd on Vince's Dish:
ZACH'S PAV BHAJI
In my best Steve-voice: "So when I was traveling around India for four months, I ended up staying in Mumbai an extra ten days to catch Roger Waters' Dark Side of the Moon tour. This gave me a chance to really dive into the local street food scene around Grant Road Junction."
Okay, Steve's going to have a bad enough time with the rest of this challenge, so I'll stop. Truth be told, all of the above is true. That trip is when I fell in love with one of Mumbai's signature street foods, Pav Bhaji. To break it down, Pav is a sweet bread roll very similar to a Hawaiian roll that's seared in butter. Bhaji is a vegetable curry with, checks notes, a shitload of butter in it. It's a buttery, vegetarian delight and I'd eat it every day if I could.
So, as with all curries, you have to learn the fundamentals and then make it your own. That's what I'm doing here. This is not an authentic Mumbai recipe but more of a memory of my time there using the best ingredients I could find in L.A. at a Mexican supermarket.
Ingredients:

This is a pretty straightforward dish as far as curries go. I'm using about eight Roma tomatoes, half-a-head of cauliflower, two medium white potatoes, a chili pepper, a thumb of ginger, four cloves of garlic, three carrots, a yellow onion, a stick of butter, and a teaspoon each of smoked paprika, allspice, cumin, turmeric, and cinnamon with about ten cardamon seeds. I also use one-half liter of vegetable stock (you can use chicken but I want to keep this vegetarian).
I also went over to the same Mexican bakery where Vince bought his fried chicken sandwich buns and picked up their in-house made sweet Hawaiian rolls. Eventually, I used another two sticks of butter to toast those bad boys off.
Lastly, I have a red onion, fresh cilantro, and lime for garnish.
Prep:

This is also pretty straightforward. I diced everything into smallish squares. It doesn't have to be fancy as this is going to cook down for hours, losing all shape. Let's say a one-third to one-quarter inch dice on everything and a nice mince on the garlic, chili pepper, and ginger.
I loaded the tomatoes into a blender and blended those until they're juicy (skin on). I get my spices ready in a bowl. And, well, that's it, I'm ready to go.
Cook:

So, I get out a nice, heavy-bottomed braising pan. I put in a good glug of olive oil and bring it up to medium-high heat. I added in my onion, garlic, and ginger. I lowered my temp to medium to medium-low and let that sweat out for about 20 minutes. I added a little water (maybe a couple of tablespoons) to help that process. You want a nice, light browning as it turns translucent.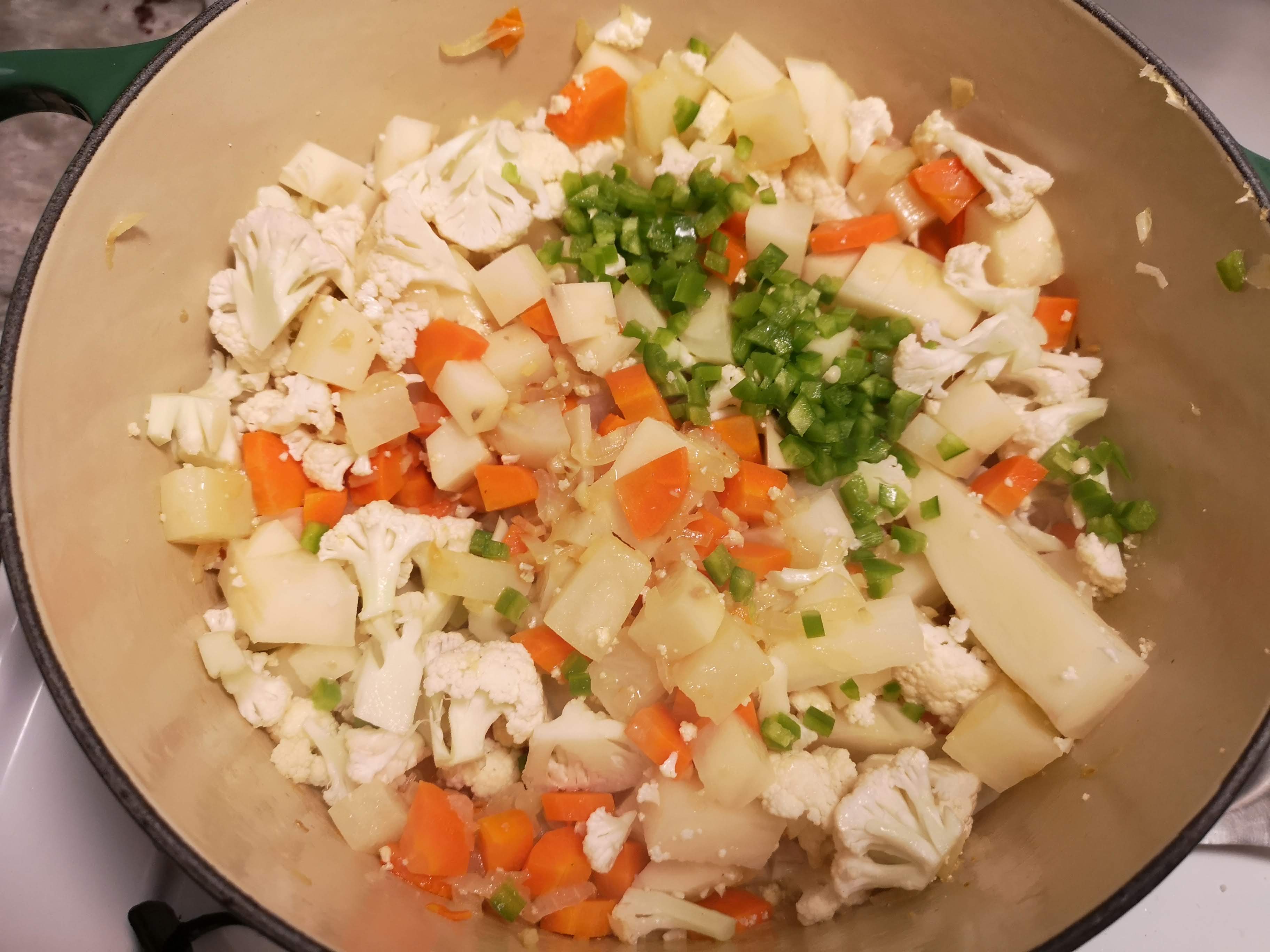 Next, I added in the veg: Potato, cauliflower, carrot, chili pepper, and stock. Keep the heat on medium-low. You want a nice light simmer here. This takes about 45 minutes.
Basically, the starches and sugars are going to start to overtake the liquid as it cooks off. Some recipes would call for you to make the potatoes on the side, mash them, and add them in after you've braised off the carrots and cauliflower. I like it with a little more heft from the potato in the mix. I've also seen recipes with green peas and even chickpeas in Mumbai but decided to keep this basics-orientated.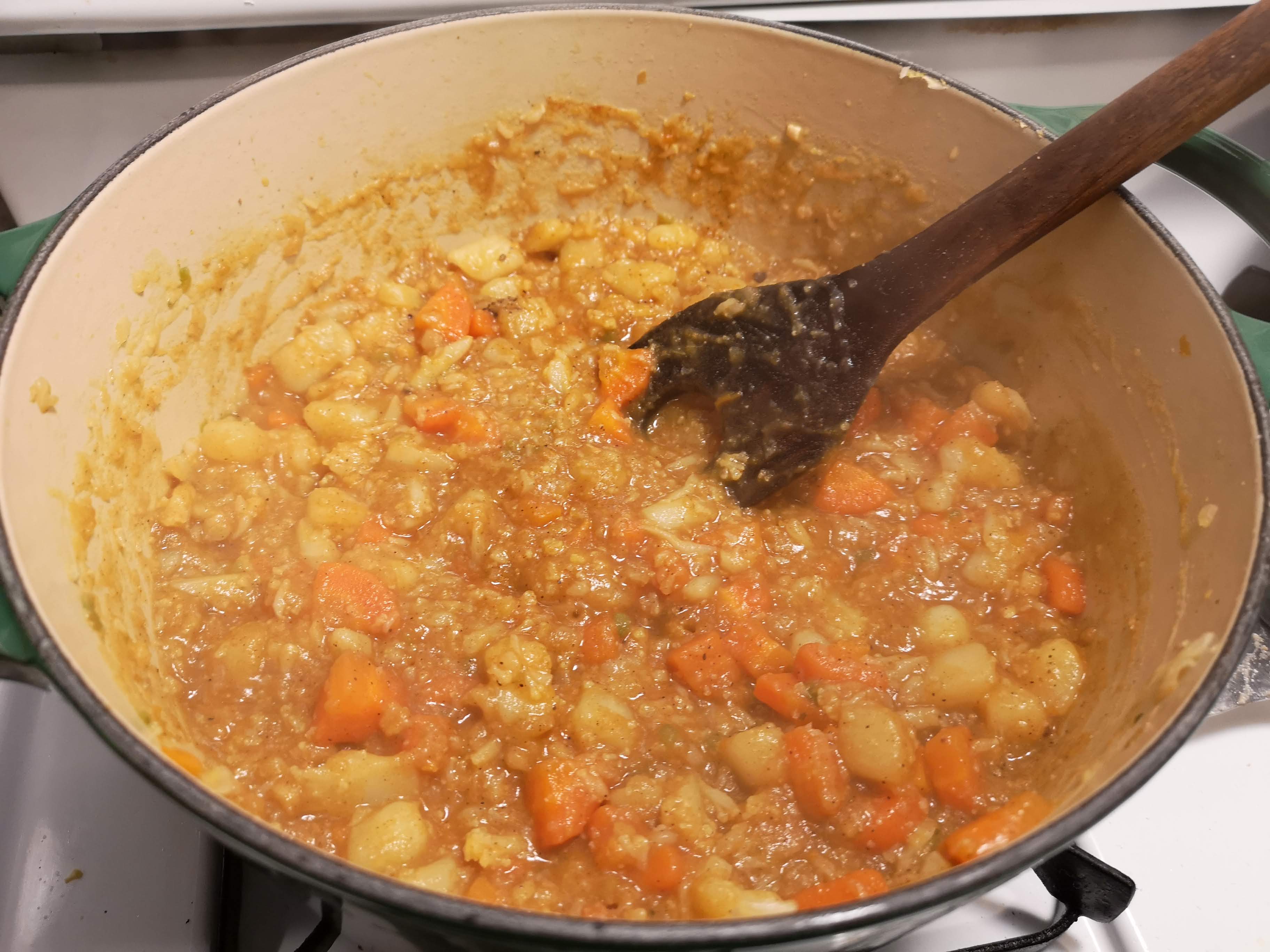 Once the liquid is pretty much gone and you have a nice veg mush, toast off the spices in a small pan on the side and while hot and crackling pour them into the pot. Stir in.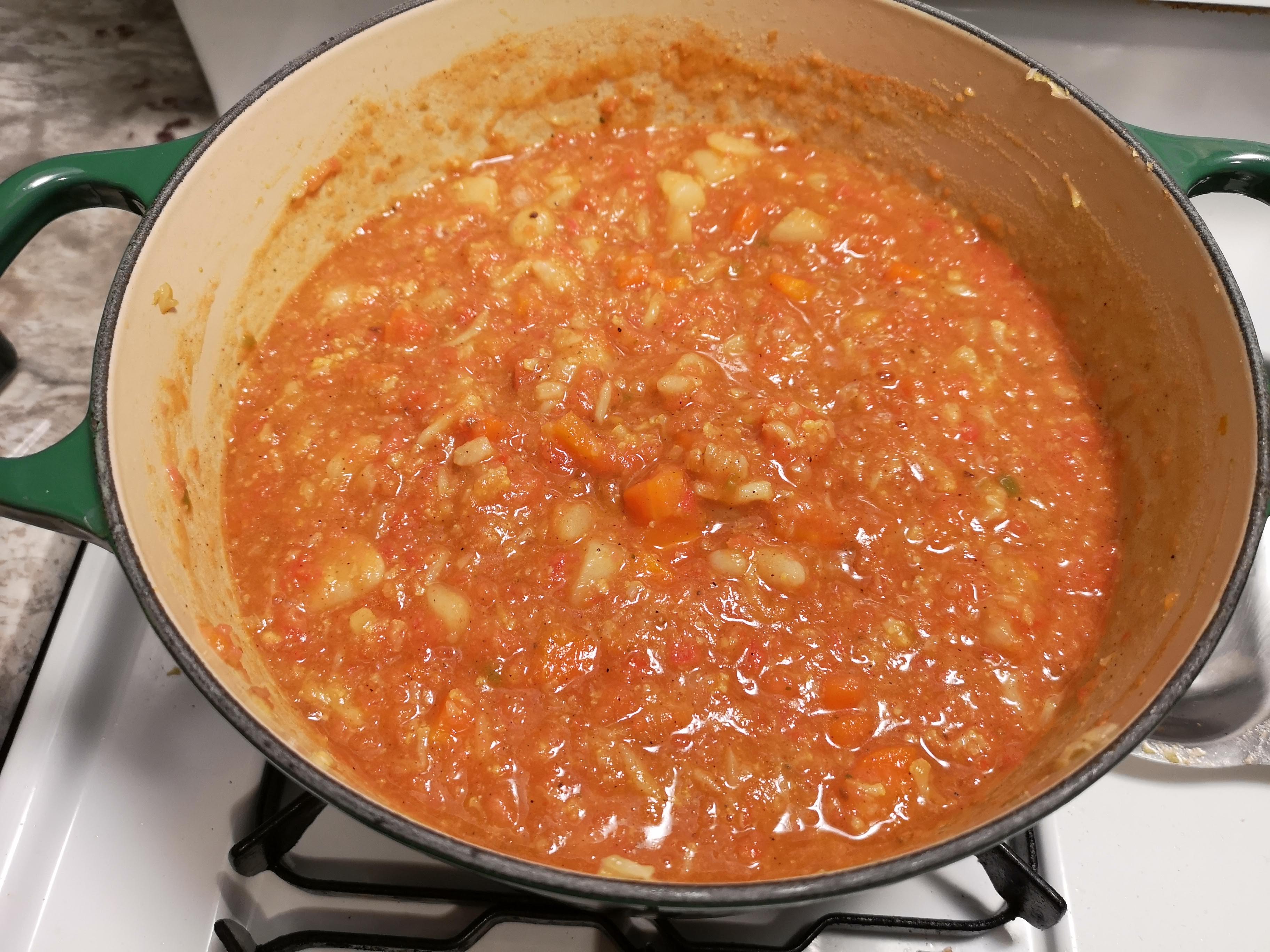 Next, add in the tomato puree. Stir in thoroughly and bring up to the mildest of simmers. Lower the heat to the lowest setting and pop a lid on. Simmer for 45 minutes, checking it every ten to 15 minutes for a stir.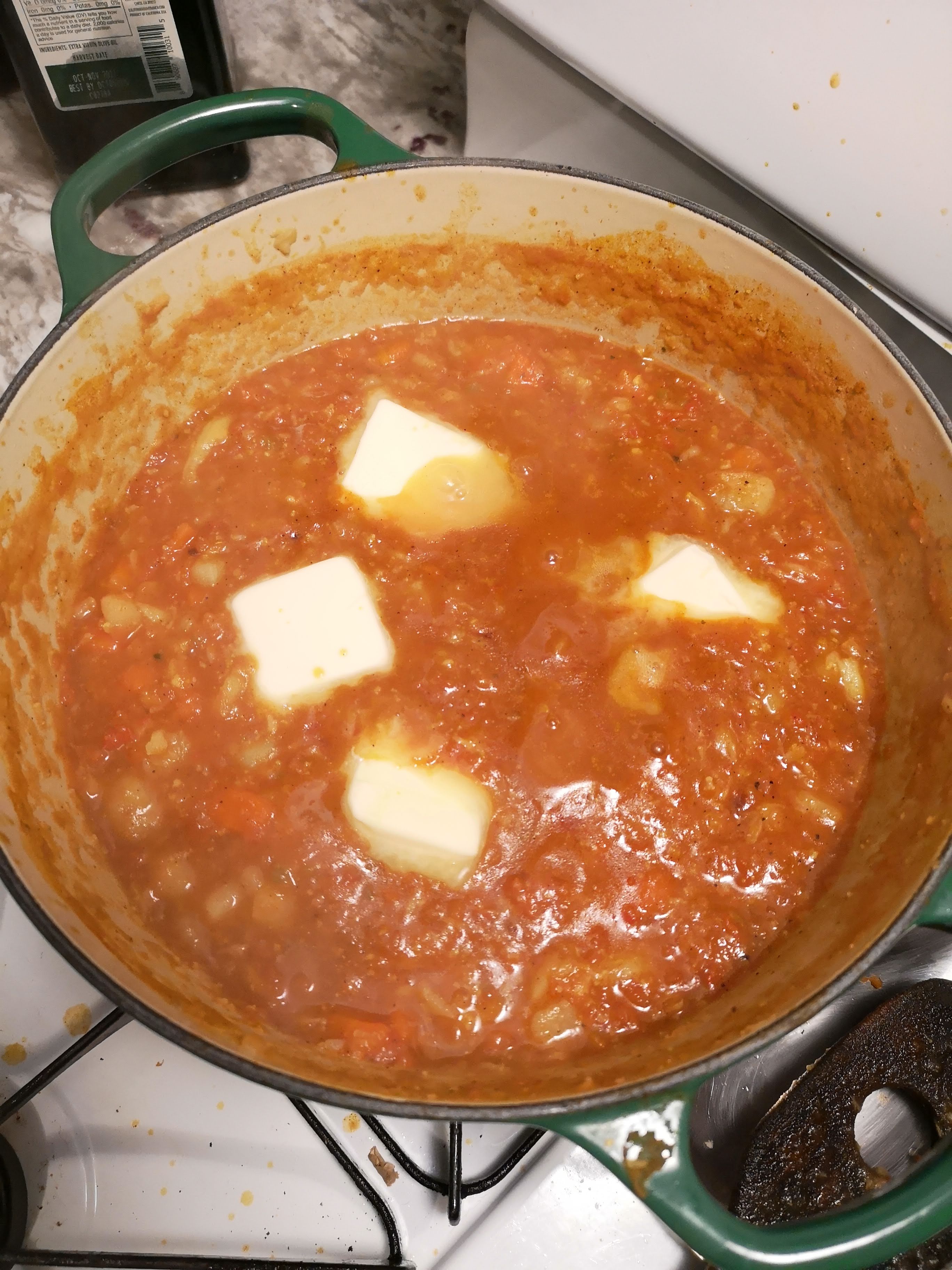 Lastly, add a stick of butter and stir in completely. Keep it on low, cover, and let simmer for at least another two hours, stirring every 15 to 20 minutes. It's okay if a little fond forms at the bottom of the pan. Scrape it into the curry for added flavor.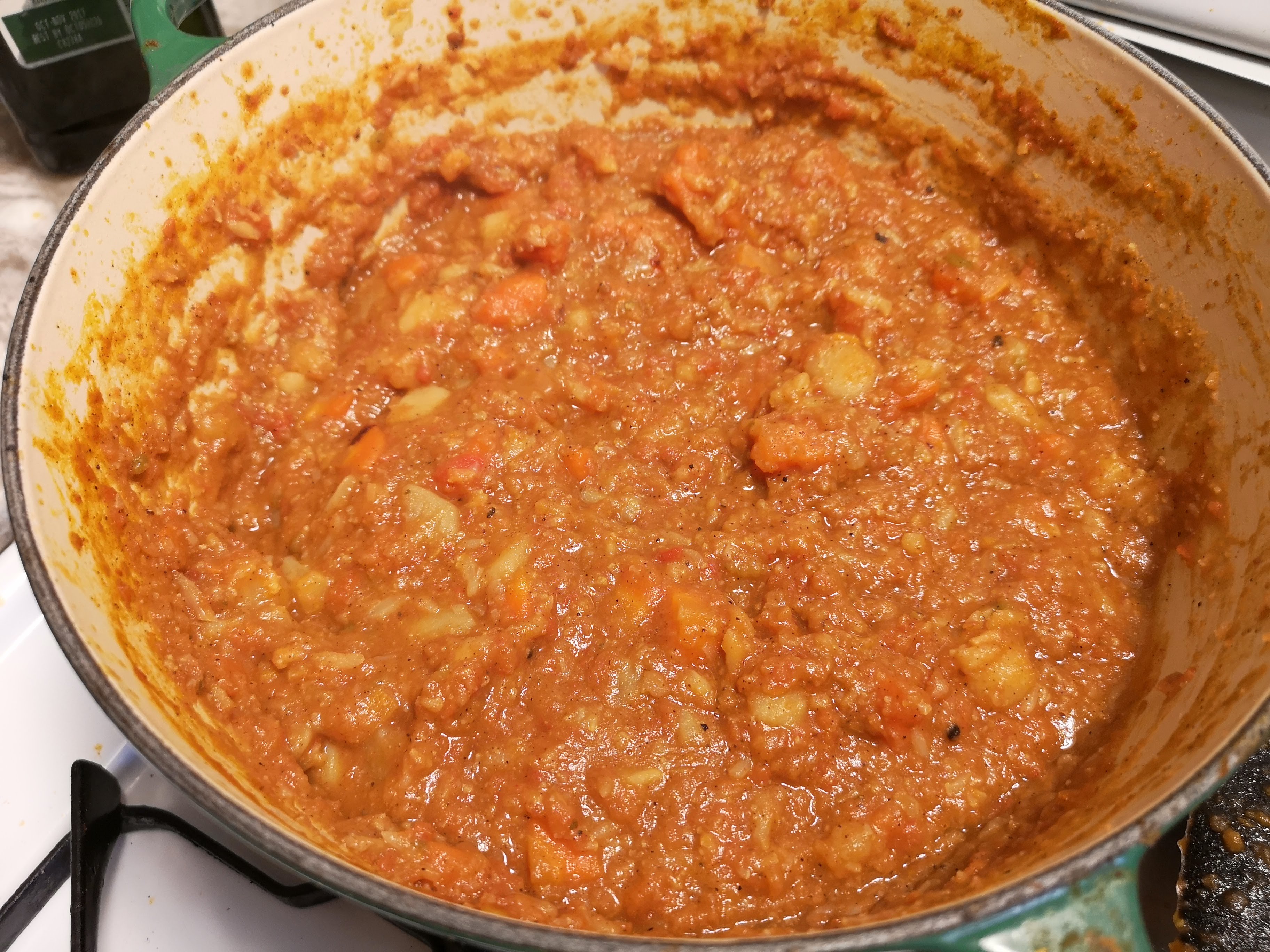 Serve:

So, the Bhaji curry is made. Time to get this on the plate. I diced some red onion and added in diced cilantro then squeezed about two limes worth of juice and a large pinch of salt onto them and let that sit.
Next, I got out a large skillet and melted about half-a-stick of butter into the pan on medium-high heat.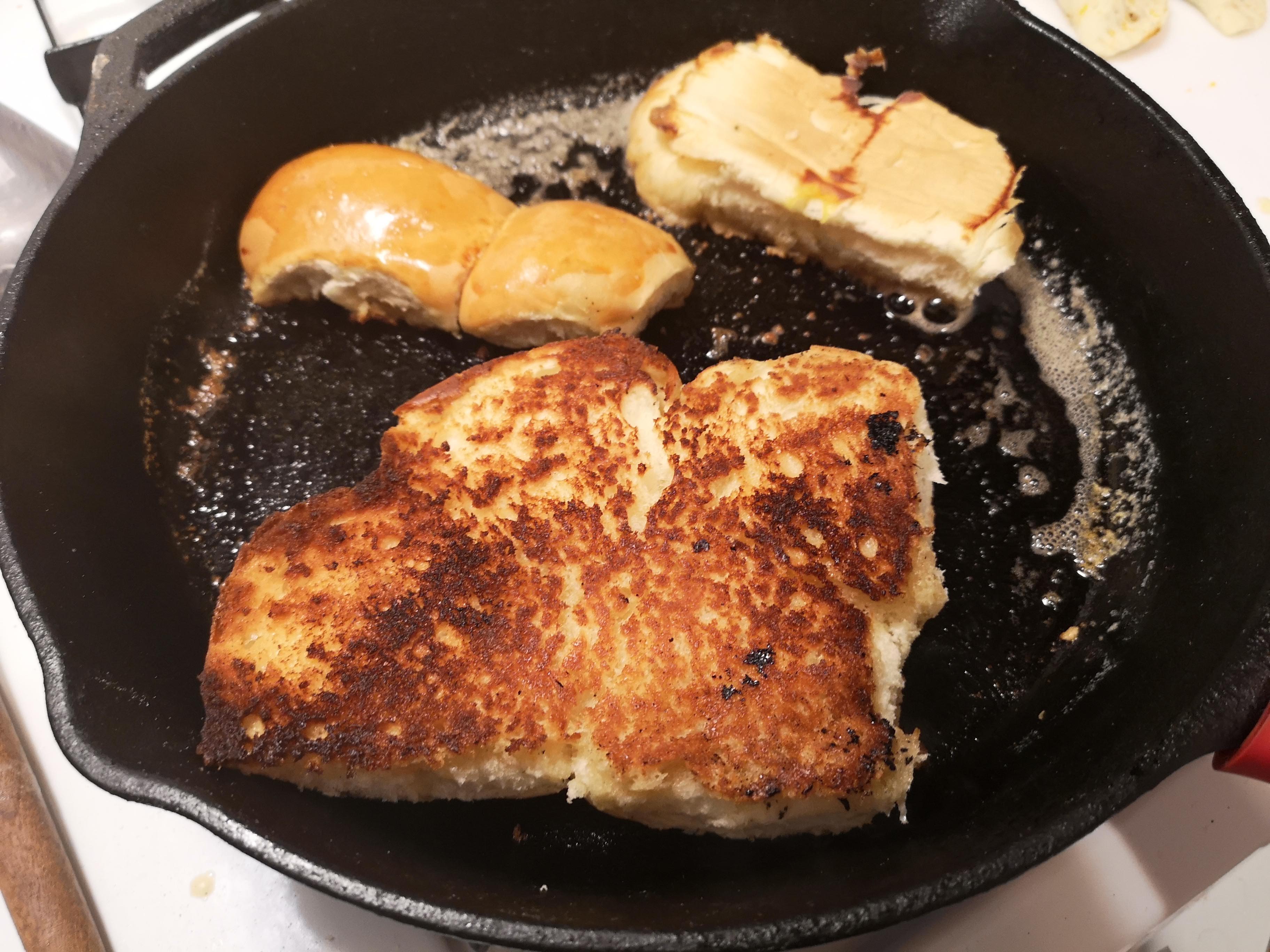 I sliced my sweet Hawaiian rolls in half, leaving some still in groups of four or two so party guests can tear off pieces and have an interactive street food experience.
I placed the rolls cut-side down in the pan and toasted them off until golden brown. Don't forget to flip and toast the tops and bottoms.
I toasted off all the buns and placed them on a large cookie sheet serving tray. This is the final crucial element: I then transferred my Bhaji curry, one or two scoops at a time, into the buttery skillet to heat it up before placing it on the butter toasted bun.
Once all of the pavs were covered in bhaji, I garnished some with just lime juice and cilantro, and the rest with the red onions, cilantro, and lime I'd made earlier. This was to assure all the guest can sample some if they don't like red onions.
The mild spiciness of the curry with the lush toasted sweet roll is always a winning combination and the perfect party food for people to gather around and tear into.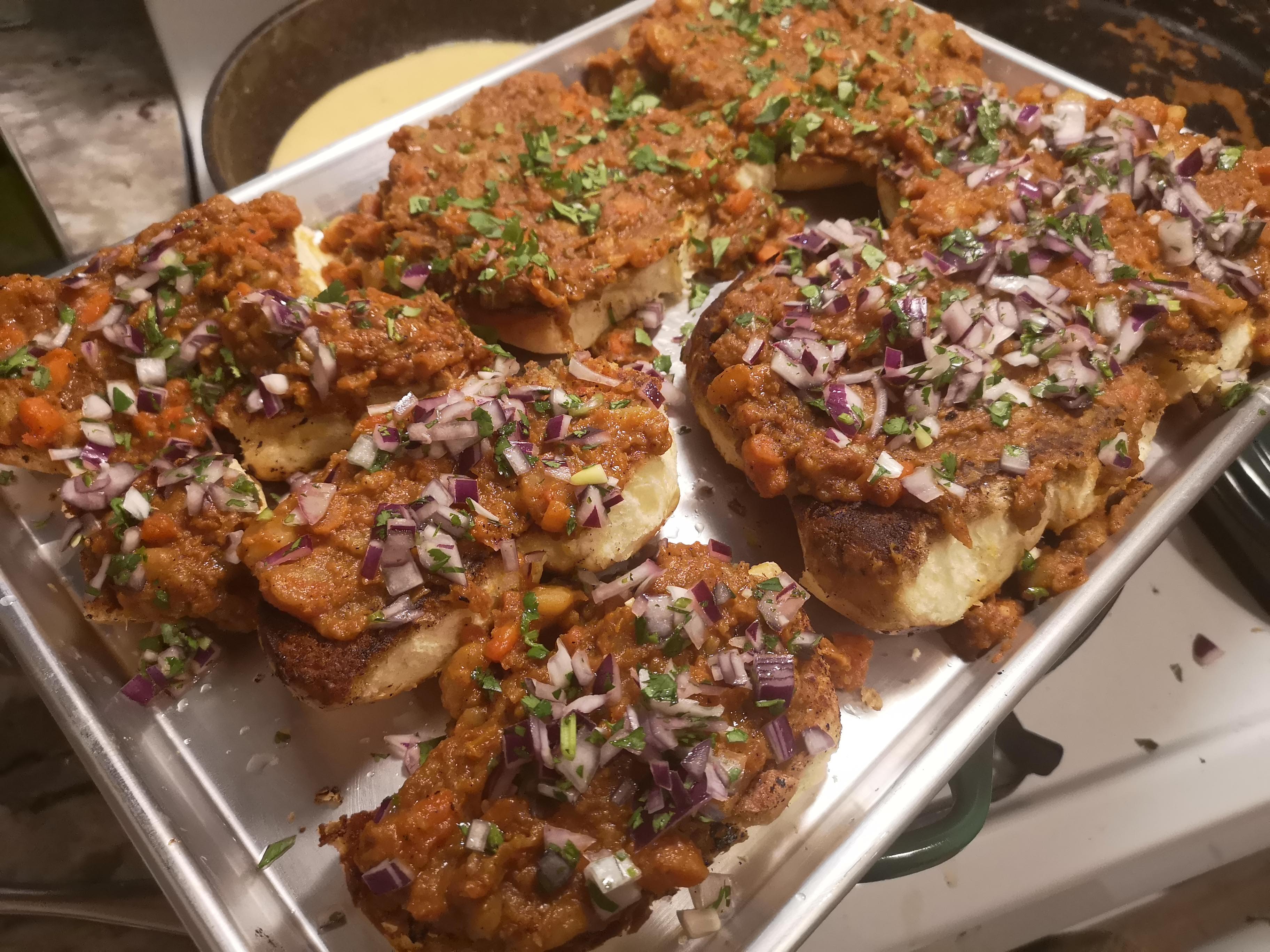 Vince on Zach's Dish:
Original burn from roast night: "Zach, it looked like something I would get from a prison cook if we were in rival gangs. Also, the curry was too tomato-y."
To elaborate on my initial comments, Zach's dish absolutely looked like "shit on a shingle" and I can't believe I lost to it. The man himself called it "veg mush!" It's like he was trying to save me the trouble of coming up with sweet burn involving the word "slurry," as I usually do. Also, were you trying to confuse people by being a Native American serving the crowd "Indian food" from India? I'm reminded of that Ali G bit where he goes to the veterinarian who is also a veteran.
This is basically an open-faced, vegetarian sloppy joe. And I do think the tomato-to-spice ratio was slightly high, and the bread was a soggy disaster (maybe next time some kind of Italian Beef-style bread that can stand up to the liquid), but I confess it was pretty good. With hindsight I also understand why Zach won: he presented a series of composed bites that were easy to eat, unlike me, giving people deconstructed pita sandwiches with three garnishes and expecting people to do it themselves. That's on me. I choked. But not on Zach's soggy Joe.
Steve on Zach's Dish:
So… this was our first time doing one of these live. It was a practice run. And what we discovered was this: don't let one person charm all the guests with a pile of mashed veggies on storebought bread while the other two competitors are in the kitchen. Zach's presentation and the general excitement of the night meant that people gorged themselves on his dish. Allison Sanchez literally announced, "I'm stuffed; couldn't eat another bite" after having three of Zach's pav bahji.
I guess that's a great sign, but if Zach wins, he wins for gamesmanship, not cooking (he also listed his freaking dish as a "must have" culinary experience just a day prior to our contest). His total time in the kitchen was four minutes, to toast his bread. Everything else was pre-made.
Flavor-wise, Zach's dish was… pleasant. Like an unobtrusive party guest. I didn't get Vince's tomato thing all the way, but I think I can be more direct about the issue: This tasted closer to bland-sounding "veg-mush on rolls" and less like "street food from India." There was zero spice and not even a ton of curry taste. The butter came through, which seemed to be Zach's focus.
If your snacking goal is "imagine a bunch of vegetables together on top of Hawaiian rolls with no one distinguishable flavor" then this is a huge win for you.
The Crowd on Zach's Dish:
STEVE'S "BURGER NIGHT" EMPANADAS WITH BEER-CHEESE DIP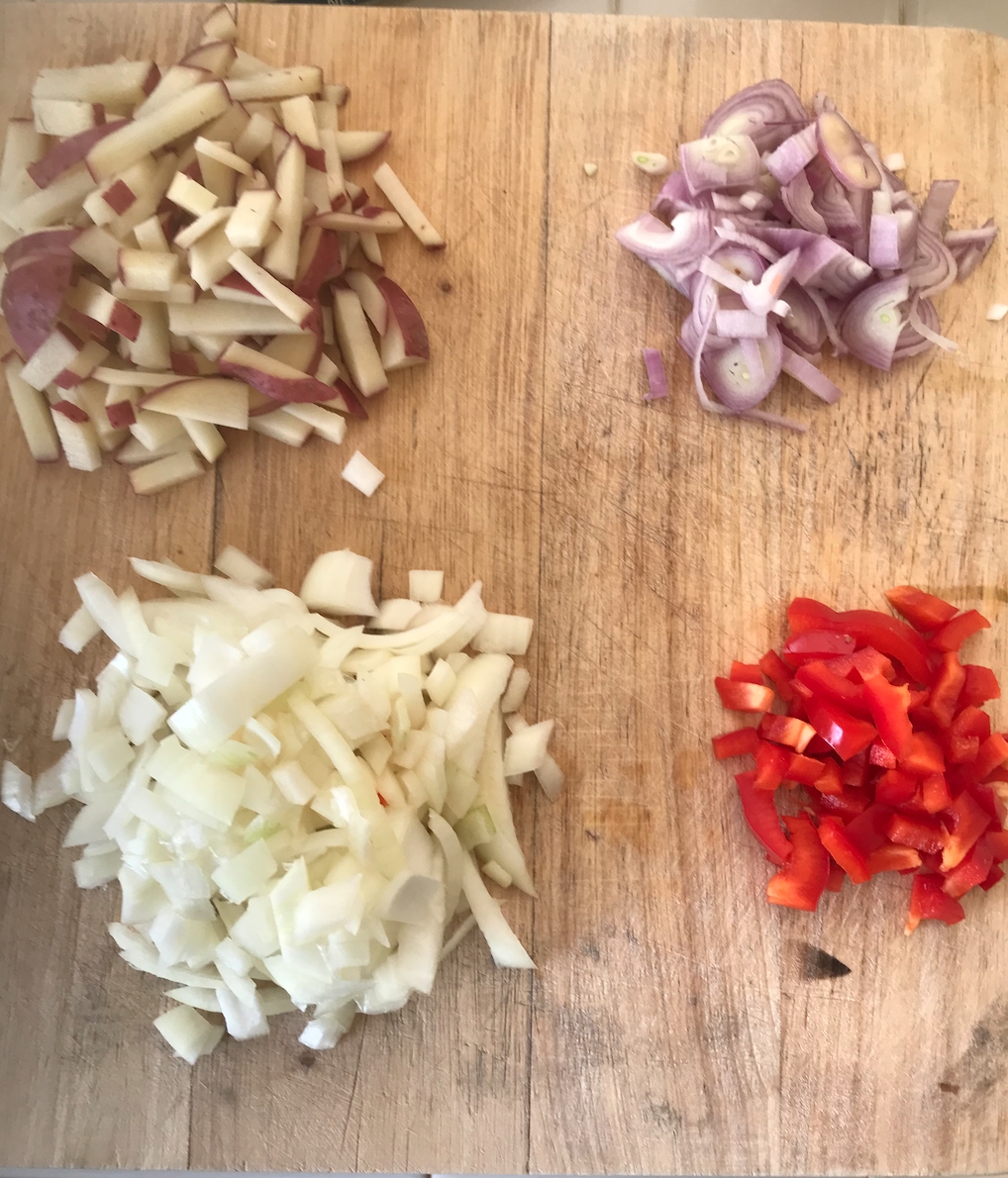 Hey, my bad. I guess I really misunderstood the challenge. Old Steve really Steve'd up the Steve this time. I'd thought we were in a cooking contest, not a premade food contest. So I went to Vince's house to cook and everyone acted like I was a maniac. While Zach warmed his dusty curry and Vince broiled his airless sausages, I made empanada dough from scratch, chilled it, rolled it, shaped the empanadas, and fried them. While they fried, I made beer cheddar sauce.
But if warming pre-made dishes under absolutely no pressure is your jam, by all means, give your vote to Zach or Vince. You have my blessing.
With that said, I did make my filling at home (the day of, not a night before like Zach). Here's the rundown: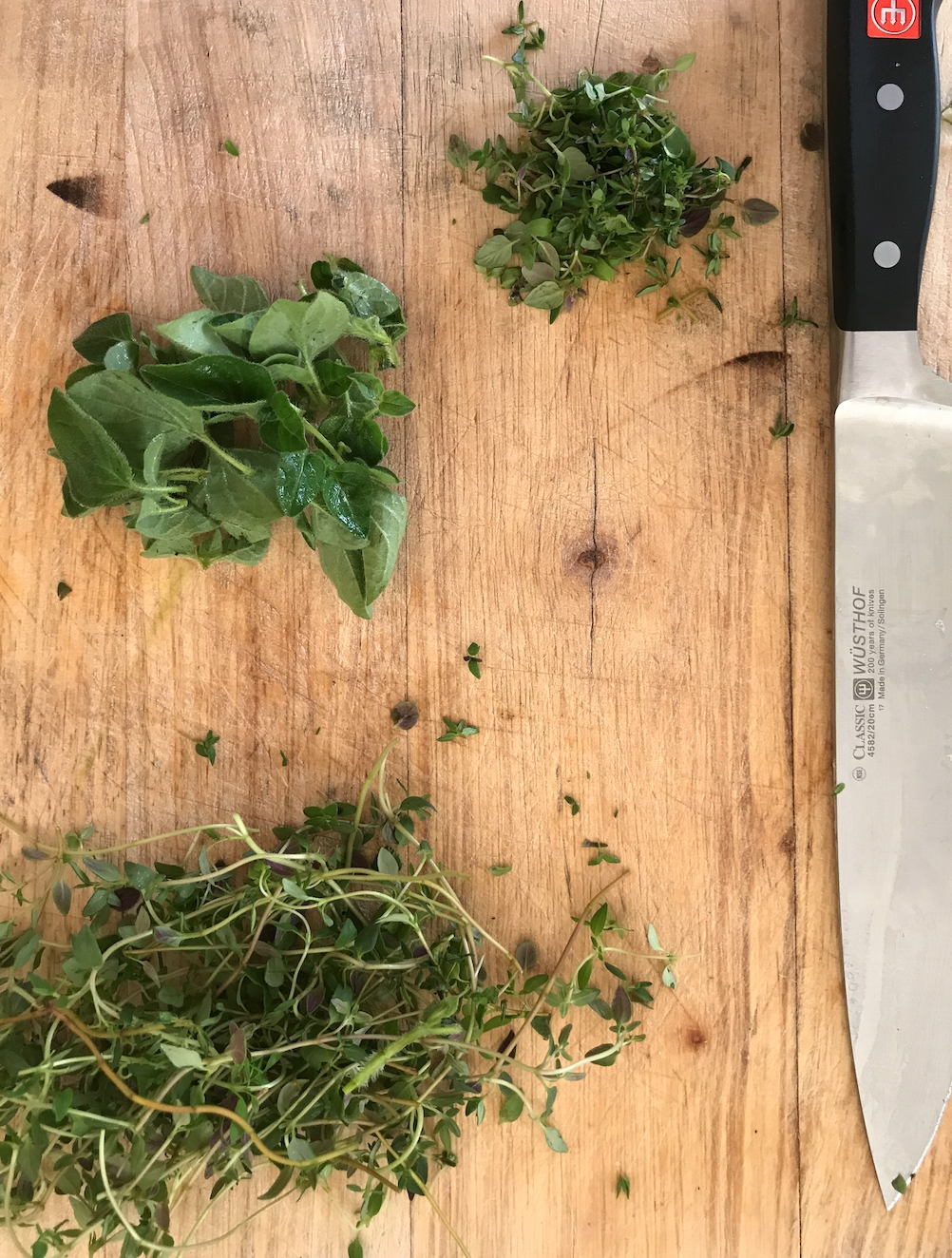 Sooooo many herbs.
I used fresh thyme and oregano from my garden. I called my dish "Burger Night in Miami" — with a goal of making a cheeseburger in empanada form. I'd learned how to make empanadas in Miami but didn't dare try to make it authentic. This was my riff, still, I retained some elements.
Below you see:
Beef stock.
Red potatoes.
Red onions.
Red peppers.
Shallots.
Garlic.
After those sweated for a few minutes, I added chorizo (3/4 lb) and beef (1 lb). Later, I'd add tomato paste, apple cider vinegar (for the ketchup effect) and more broth.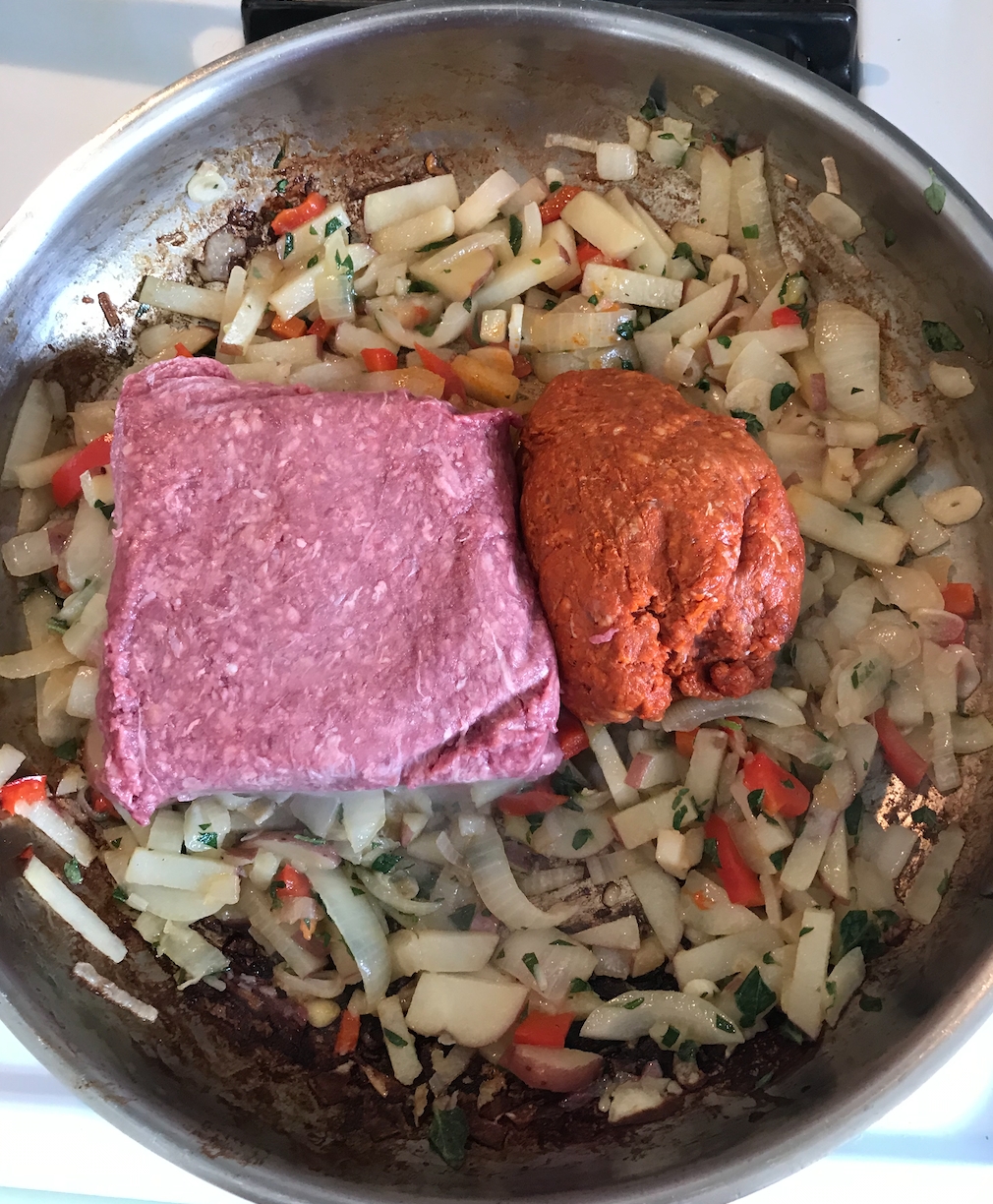 Before long I was looking at this:

The potato pieces keep this from being upscale Hamburger Helper in empanada form (not a bad pitch) and they're consistent with the Colombian recipe I learned. They also play like the fries in my "burger night" theme.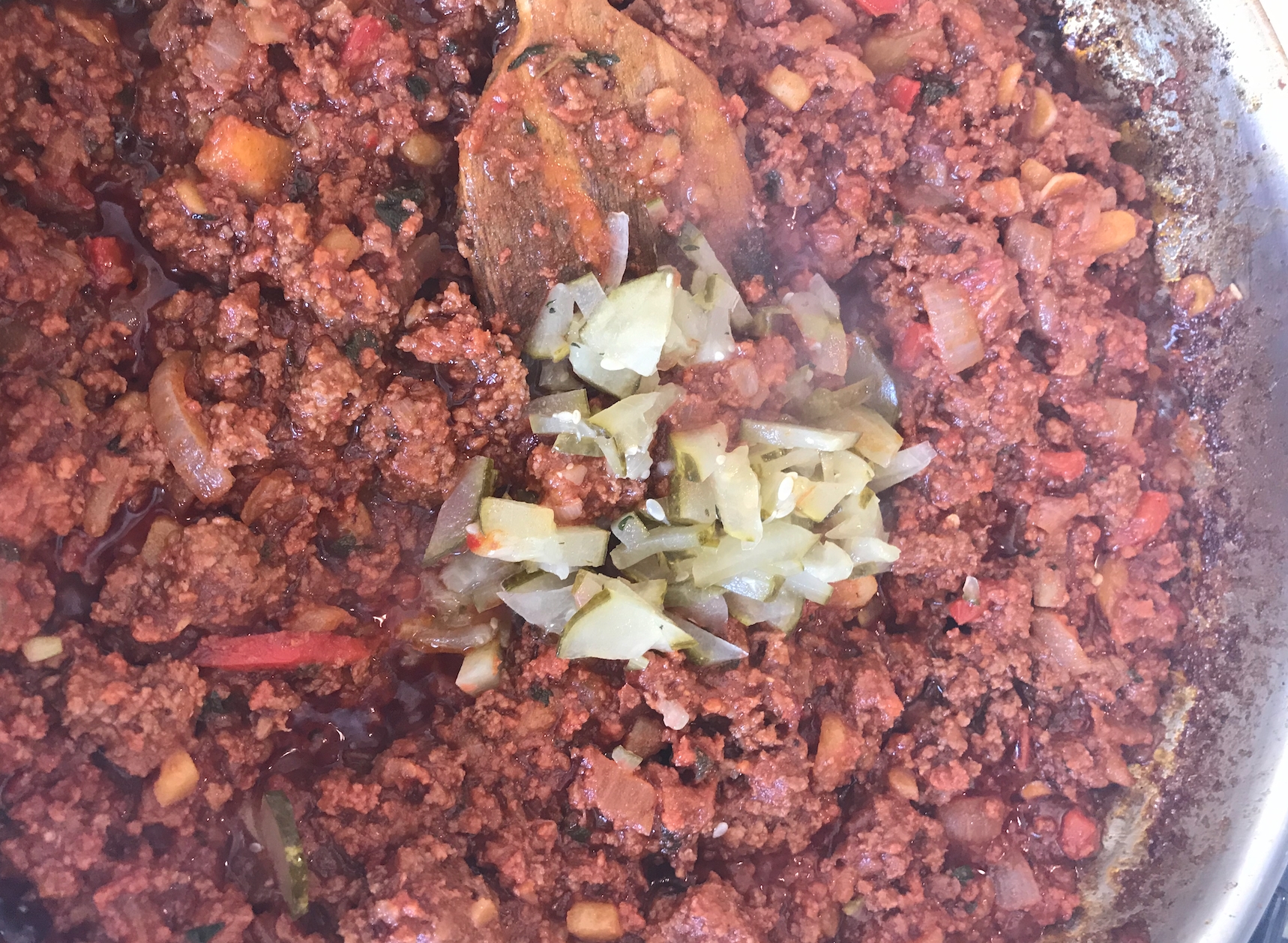 Near the end, I added pickles, chopped pickled pepperoncinis, and pickle juice. Empanadas often have olives, but I thought that would be disjointed. I used pickles and pepperocinis and couldn't have been happier with the bright notes they added. Plus there was an extra layer of spice, something my competitors could have used.
I chilled that filling so that I could work with it and drove north to Vince's. Along the way, I picked up Zach, Jarret, Mike, and Allison at the Uproxx office. This was totally out of my way but they wanted to be able to Uber home after drinking. As a reward for this act of kindness, I sat in traffic for two hours and arrived at the same time as all the starving guests. This highlighted the fact that I was actually cooking and not just reheating old food.
My empanada dough is as follows:
3 cups all-purpose flour.
1 teaspoon salt.
1/4 cup lard.
1 teaspoon white vinegar.
1 cup of ice cold water.
paprika for color.
Goya chicken bullion powder.
The Goya spice addition is because I think I tasted that in the secret dough recipes of the empanadas I got in Miami. I made the dough and shaped the empanadas while my cohorts slapped each other on the back for toasting bread and putting it in front of people.
While those fried (in a 50-50 veggie oil/lard mix that annoyed Vince to no end), I made beer cheddar sauce for the "cheese" part of the burg.
Generic lager.
White cheddar.
White cheddar powder.
Nutritional yeast.
Onions.
Butter.
This had mixed reviews. Some people liked it, others despised it. The best joke of the night came from Francesca, who said: "Wait, so you learned to make empanadas once and then said 'I'm a white male, I'm sure can improve this age-old recipe!'?"
Obviously, my goal was to do my version, but still, that's a solid burn.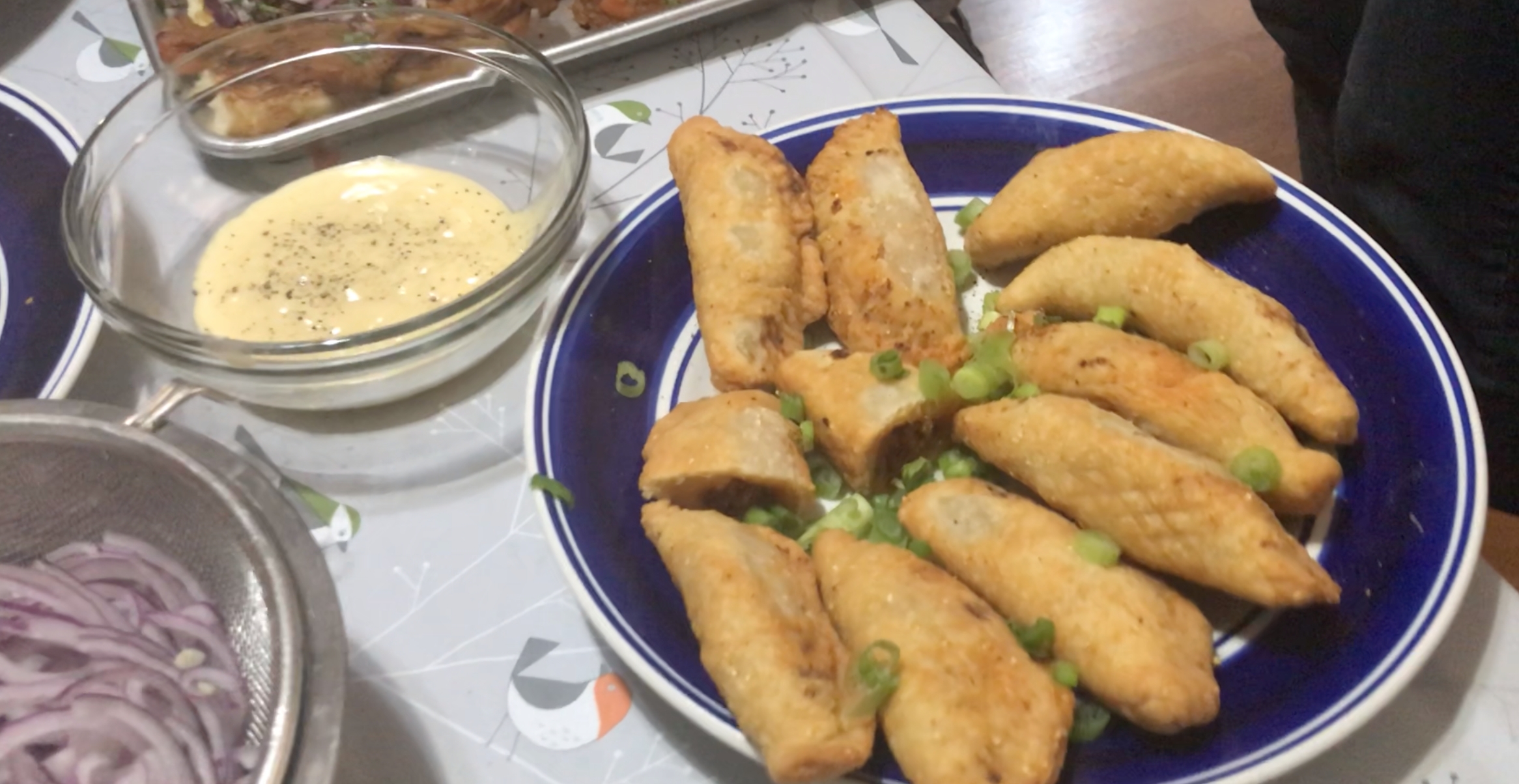 I personally loved the beer cheddar, but I get that two dudes who didn't cook need something to cling to. Still, if you were planning a menu, would you go to the guy who made bold moves with mixed results or the two people who showed a paucity of imagination? I know what I would vote for… which probably explains why I'm so far behind.
Zach on Steve's Dish:
At one point, I was standing in the kitchen watching Steve stir his beer cheese sauce with a butter knife. I handed him a whisk. I think that says it all, folks.
I have to say, the filling on Steve's empanadas was killer. They had that perfect balance of tangy funk, heft, and umami meatiness. The dough was a little hefty but worked well. Overall, these were good gas station empanadas — and I say that as a compliment.
To bring it all back home, as much as Steve suffered over his beer cheese sauce, it just fell flat. I agree with Vince that it was wholly unnecessary in the end and just didn't quite emulsify well enough. There was a lot leftover is what I'm saying. Not to Monday-morning-quarterback but a nice chili sauce would have worked wonders.
Vince on Steve's Dish:
Original burn from roast night: "Steve, your empanada was crusty on the outside and flabby in the middle, just like your mother. This tastes like the kind of food you get in Argentina when they let the ex-Nazis cook."
To elaborate: When Steve showed up to my apartment with unassembled empanadas I honestly thought this was going to be another disaster where the food isn't finished until 10 pm and people leave to go get McDonald's. I don't want to play the blame game, but I think my fear that Steve wouldn't have any food to serve our guests pressured me into rushing my dish out and ultimately torpedoed my chances. Also, the smell of Steve's lard heating up in the deep fryer honestly made me want to vomit, it was like being Dutch-ovened in my own kitchen. If I had grown up with that smell in my house I'd probably be a vegetarian.
All that being said, I have to be honest, the empanada was a lot better than I expected. The filling was tasty and the dough, while not ideal in texture did get fried in pork fat. The beer cheese was unnecessary, like fat on fat, something you'd serve with a pretzel, not an empanada, but the empanada itself did taste pretty good. Not good enough to justify turning my kitchen into a Superfund site, perhaps, but good nonetheless. My biggest criticism is that he didn't fry them hot enough, and they didn't get those crispy little air bubbles in the dough. I want my empanada skin dimpled, like Steve's mom's thighs. If your empanada skin ain't bubblin', get the hell out of my house.
The Crowd on Steve's Dish: