The Gin Fizz is one of those classics that go in and out of fashion again and again over the centuries. Well, it's time to dust off the ol' shaker because it's one of the most refreshing cocktails you can make during the dog days of summer.
The mix is pretty simple: Gin, citrus, sugar, egg white, and a little soda water for extra oompf is all it takes. But the balance of those ingredients is more delicate, and can make or break this cocktail. You'll also need to shake this one twice. Which, I know, sounds labor intensive but it's really not that bad. We're talking two minutes tops instead of 30 seconds to make this one.
Okay, let's get shaking this up before it gets too hot today.
Also Read: The Top Five Cocktail Recipes of the Last Six Months
Gin Fizz
Ingredients:
2 oz. London dry gin
1 oz. fresh lemon juice
0.5 oz. simple syrup
1 egg white
1 oz. Soda water (already chilled)
Ice
You can use any good London dry gin you have around. Standard Bombay Dry Gin is a good pick. So is Gordon's. I'm using Costco's Kirkland Signature London Dry Gin because it's a decent version (likely made by Tanqueray or Gordon's) and is $19 for 1.75 liters. It also has a nice, easygoing flavor profile that suits cocktails. The botanicals and juniper are there but it's very soft.
The rest is pretty straightforward. I'd highly recommend using a medium-sized egg that's farm fresh or pasteurized (if you're worried about it).
What You'll Need:
Cocktail shaker
Cocktail strainer
Paring knife
Hand juicer
Jigger
Collins glass or lowball glass
Method:
Prechill the glass in the freezer or fill it with ice and set it aside.
Add the two ounces gin, one ounce lemon juice, egg white, and half ounce simple syrup to a cocktail shaker. Affix the lid and dry shake (without ice) for about 15 seconds — this will help the proteins and sugars emulsify to create a frothy head.
Open the shaker and add a handful of ice. Re-affix the lid and shake for another 15 or until the shaker is ice cold to touch.
Fetch the glass — remove the ice if you used that method to cool it. Strain the cocktail into the prechilled glass. Let it sit for at least 60 seconds in a fridge.
Once the drink is set, gently pour about one ounce of fizzy soda water into the drink. This will raise the foam to the top of the glass. Serve.
Bottom Line: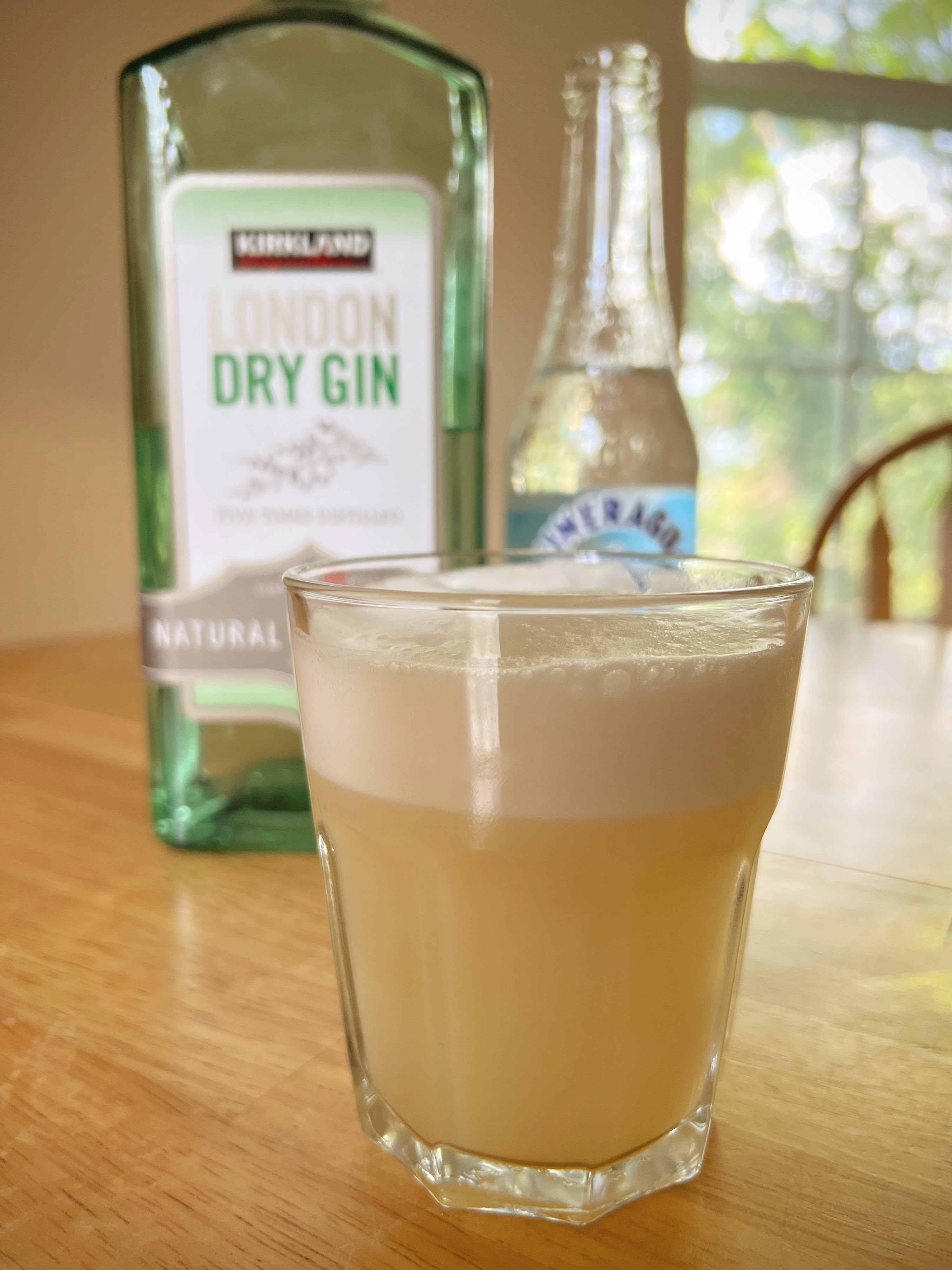 This is a very quaffable cocktail. The mixture of egg white and sugar creates a silken texture that makes this a lush sipper.
The real star of the show is the botanical gin and bright lemon that comes through with just a touch of sweetness. It's so refreshing and soft with a hint of floral undertones. It all goes down far too easily, especially on a hot day.
I'm trying to think of a drawback to these and I can't find one. I think even if you're not that into gin, this is still going to be a solid drink to try. It's not that the gin is buried. It's more that the gin takes a side seat to the egg white, lemon, and sugar with a bursting effervescence. Give it shot. You won't be disappointed.