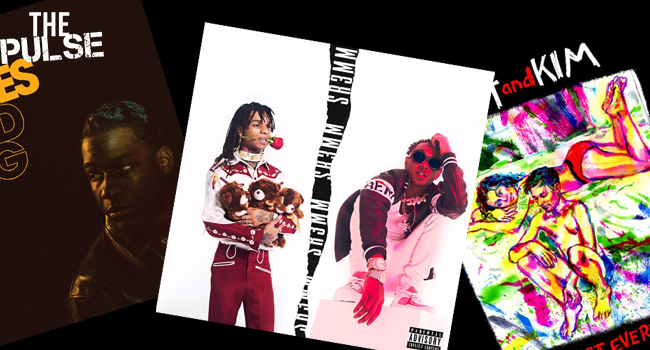 The Pulse is the Uproxx Music guide to the best new albums, mixtapes, and other music releases that matter this week. Find our complete list of the records coming out in May here.
Let's take a break from Kanye West for a minute to talk about stuff that's less confusing and strange. Leon Bridges has a new album out, and he's perhaps the finest artist in the game today that your parents (and grandparents, for that matter) would enjoy. This week also saw the release of Rae Sremmurd's triple album, cheerful indie pop from Matt And Kim, and an array of hip-hop from the likes of Desiigner, BlocBoy JB, and Asian Doll.
Leon Bridges — Good Thing
Bridges is the premiere throwback soul man of the modern era, but that doesn't mean his new album sounds anything close to old. There's the ever-danceable "Bad Bad News," the bluesy and string-laden "Bet Ain't Worth The Hand," and "Beyond," an early contender for the most romantic ballad of 2018. It's a strong record from an artist whose stock is rising by the minute, so now is definitely the time to buy.
Rae Sremmurd — SR3MM
Swae Lee — Swaecation
Slim Jxmmi — Jxmtroduction
Rae Sremmurd decided to pull an Outkast for their latest effort: The new album is actually two solo albums (Swae Lee's Swaecation and Slim Jxmmi's Jxmtroduction), but there's also a more traditional joint album, SR3MM. In the lead-up to the record, the duo did a fine job at teasing each of the three albums and therefore giving equal weight to each: There's the Rae Sremmurd and Travis Scott track "CLOSE," Swae Lee's summery "Guatemala," and Slim Jxmmi's Pharrell-featuring "Chanel."
Matt And Kim — Almost Everyday
On their sixth album, Matt And Kim are just as anthemic you probably remember based on their 2009 breakout single "Daylight," especially on their new minimally electronic single "Forever." Then there are songs like "Like I Used To Be," a slice of charming indie pop that borrows some jerky rhythms from dubstep. All in all, Matt And Kim have been making some of the finest indie pop of the last decade, and they're back with more.
Eleanor Friedberger — Rebound
Friedberger has been killing it since her band The Fiery Furnaces went on hiatus in 2011: She's made a real name for herself with her four albums, including the one that just came out today. It features tracks like "In Between Stars," a timeless-feeling indie cut that sounds like a synthier Fleetwood Mac. There's even a bit of a disco or ABBA-meets-Beach-House vibe in "Everything," the title of which describes what's appealing about this record.
Read our interview with Friedberger here.
Asian Doll — Doll Szn
The "Dolls" are taking over hip-hop, and leading the pack is Asian Doll. She's only 20 years old, but she's already making her presence known, thanks in part to her guest spot on Bhad Bhabie's "Hi Bich" remix. She's more than capable of bringing the energy on her own though, like on the breakneck Doll Szn highlight "Crunch Time." Asian Doll is capable of working in a variety of styles as the record proves, although her drill-influenced instrumentals and electronically processed vocals are a signature part of her sound.
Jon Hopkins — Singularity
Techno and ambient music have two very different goals: The former is meant to pump you up, while the latter goes in the opposite direction. That doesn't mean they can't be combined, though, and that's something Jon Hopkins does well on his latest effort. Album opener "Singularity," for example, has a forward-moving techno rhythm, but it's just slow enough and accompanied by the right amount of sparse atmospheric elements that getting lost in it is an easy task.
Desiigner — L.O.D.
Desiigner had his 21st birthday yesterday, and to celebrate, he decided to bestow some joyful news onto the world: He would be releasing his debut album at midnight on Friday (it's actually an EP, despite what the art indicates). This is the first of two albums he previously said he has in the works, and on this effort, he goes full J. Cole with no features. The good news is that if you like anything Desiigner has done so far, you'll probably be into this too.
BlocBoy JB — SIMI
A Drake co-sign is great to have in your pocket, but even more so is a track that Drake actually cared enough to hop on, such as "Look Alive." The Memphis rapper has a knack for getting famous guest stars on his seventh mixtape: Elsewhere on the record are features from 21 Savage, Lil Pump, and YG. The J. Cole-inspired album cover suggests that he aspires to be as big as those folks, and the fact they they're giving him the time of day is a good sign.