The Weeknd's After Hours is an ongoing event in a way that few albums have ever been. Yes, he started releasing singles from it in 2019 and dropped the album itself in 2020, which is all pretty standard stuff. All the while, though, he has been building a narrative that extends beyond the actual 56 minutes of audio on the record.
Through his songs, videos, and public appearances, The Weeknd has been telling a story, a long-running bit to which he has shown unwavering commitment. His antics have generated a lot of brow-raising attention in recent days due to The Weeknd's appearance, specifically the plastic surgery-altered look he first presented in his "Save Your Tears" video. This look didn't pop up out of nowhere, but was instead a wild progression from start to now.
Now that The Weeknd is fresh off performing at halftime of the Super Bowl, it seems like an appropriate time to run through how he went from first putting on his red suit to where he stands today.
November 2019 — The Weeknd introduces his red-suit look with "Heartless" and "Blinding Lights"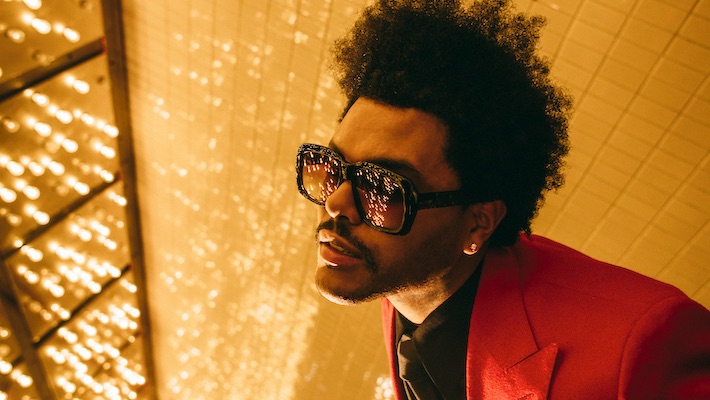 The Weeknd kicked off the After Hours era with the album's lead single, "Heartless," which he released on November 27, 2019. Two days later, he released "Blinding Lights," which is improbably but understandably still near the top of the charts all this time later. The promotional images for those singles were the public's introduction to The Weeknd's new aesthetic: short afro, big glasses, and red suit.
In early December, The Weeknd shared his video for "Heartless," which launched the de facto After Hours cinematic universe. In the clip, he has a wild night in a casino and starts to lose control after licking a psychedelic toad. Soon after, he put on the first in a series of innovative late-night TV performances with a fourth-wall-breaking rendition of "Heartless," in which he performed the song while working his way to the Colbert stage, eventually making it there just in time for the song to be over.
January 2020 to August 2020 — Rough shape
As was the case for much of the rest of the world, 2020 was when things started going wrong for The Weeknd… or rather, just for his character and not real-life Abel Tesfaye, who had as prosperous a year as anybody. On January 21, he released his "Blinding Lights" video, in which he emerges from a night out with a face covered in cuts and bruises. A couple of days later, he performed the song on Jimmy Kimmel Live! and was seemingly still recovering from his wounds, as he had a streak of fresh blood on the side of his face and a bandage on the bridge of his nose.
That's a look he maintained for a while with some tweaks here and there, as he appeared to be in similar condition in his "After Hours" short film, while performing on Saturday Night Live in March, in the "Until I Bleed Out" video, in his animated "Snowchild" visual, and while performing at the VMAs in August 2020,
March 2020 and October 2020 — The Weeknd loses his head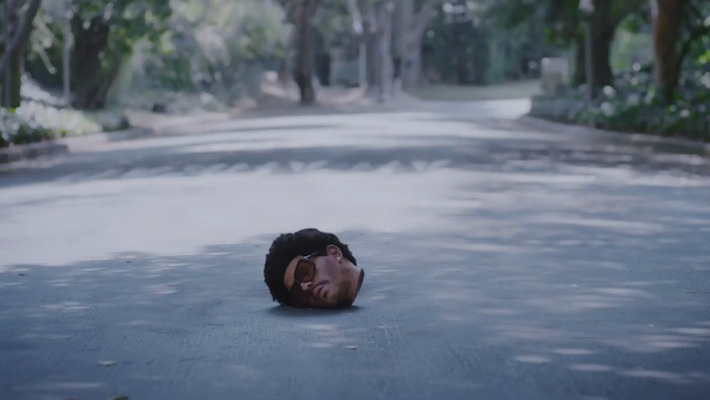 This is where it starts to seem that maybe the story The Weeknd is trying to tell isn't told in an entirely linear way or at least isn't presented in strict chronological order. On March 23, he released a video for "In Your Eyes," and that visual ends The Weeknd being decapitated by an axe (which, glass half full, was at least an efficient way to get beheaded). Then, on October 22, that head turns up on a neighborhood street in the "Too Late" video, in which it is eventually attached to a new body. Between those two points, The Weeknd made plenty of public appearances and released videos with his head intact.
So who knows: Maybe the After Hours story isn't entirely linear, maybe the decapitation arc is a side story that's not completely canon, or maybe I should stop being so nitpicky and just enjoy things.
November 2020 — Under the knife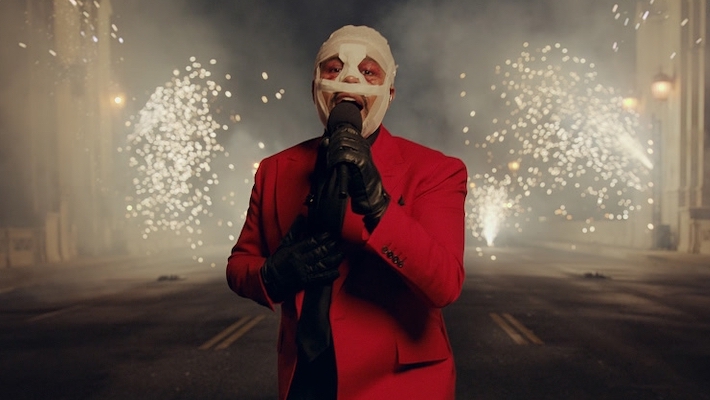 On November 22, The Weeknd performed at the American Music Awards, and some major progression (or regression, depending on your point of view) began, as pretty much all of The Weeknd's face was covered in bandages. He explained the look in a recent interview, saying, "The significance of the entire head bandages is reflecting on the absurd culture of Hollywood celebrity and people manipulating themselves for superficial reasons to please and be validated."
After the beating his face had been through, it was understandable that his visage could use a little TLC. "A little" is a gross understatement for what we saw next, though.
January 2021 — The Weeknd's new face
The situation came to a head with the "Save Your Tears" video on January 5 — and what a head it was. In the clip, The Weeknd introduced his transformation, which looked like the end result of configuring the most extreme face possible while making a custom NBA 2K player. All of his features were wildly exaggerated, but the look was convincing enough to make some people believe it was real. He has since made public appearances where he looks like the Abel Tesfaye we all know and love, though, and the person behind the "plastic surgery" explained how the prosthetics came together.
February 2021 — The Super Bowl halftime show
Ahead of his big performance, The Weeknd noted that his halftime show was part of the After Hours narrative universe, saying, "I will still incorporate some of the storyline. It's a very cohesive story I've been telling throughout this era and throughout this year. So the story will continue." So, if what happened during halftime was "canon," as it were, then it appears The Weeknd's journey of facial transformation is over, at least for now.
Throughout his performance, The Weeknd was back to his old self, his face free of alterations, bandages, and the like. He made a nod to his under-the-knife work, though, as he was joined by many dozens of bandaged backup dancers at various points during the show.
Saying that something positive was the perfect analogy for 2020 is a tired trope at this point (especially since that year is gone), but in a way, The Weeknd's After Hours look really did mirror the pandemic: It had a lot of twists that nobody saw coming and gradually became a trainwreck from which we couldn't look away. The big difference, though, is that this odyssey is something we actually enjoyed and want to see continue into 2021.