The Witcher
1 season, 8 episodes | IMDb: 8.5/10
Henry Cavill leads this fantasy epic based on a best-selling series of books and a popular video game franchise. The expectations are high, but they're more than exceeded by Cavill, who plays a mutated monster hunter named Geralt. Showrunner Lauren Schmidt Hissrich laid out for us the changes she made from page to screen, introducing key characters like the sorceress Yennefer and the destined princess Ciri early on, changes that take this show to the next level. It's a cross between a police procedural and a Lord Of The Rings-style adventure. You'll love it.
Living With Yourself
1 season, 8 episodes | IMDb: 7.3/10
The only thing better than a series starring Paul Rudd is a show starring two Paul Rudds. The funnyman leads this new original series while playing a man named Miles, who seems pretty dissatisfied with his life so far. After agreeing to participate in a mysterious spa treatment that promises a better, more successful life, Miles is left with a practically perfect doppelganger intent on taking his life from him. It's dark and weird, and did we mention the two Paul Rudds?
When They See Us
1 season, 4 episodes | IMDb: 9/10
Director Ava DuVernay's limited series about the wrongfully accused men in the Central Park Five case is an emotionally heavy reimagining of a truly tragic event in our history. The series sheds light on racial profiling and corruption in the NYPD as a group of young Black men are targeted for a heinous crime and put on trial with little evidence. It's a gripping, heartbreaking retelling, but one that feels sadly relevant.
I Think You Should Leave with Tim Robinson
2 seasons, 12 episodes | IMDb: 7.8/10
Saturday Night Live and Detroiters alum Tim Robinson creates and stars in this 15-minute sketch comedy series that is perfectly happy to offer up a few irreverent laughs without all of the post-comedy commentary that weighs down other funny shows in 2019. It's a mixed bag of unconnected stories about toddler pageants and old men out for revenge and how Instagram has warped our social interactions in hilariously bizarre ways. What each of these skits has in common is Robinson's particular brand of comedy and his unrivaled ability to make you laugh.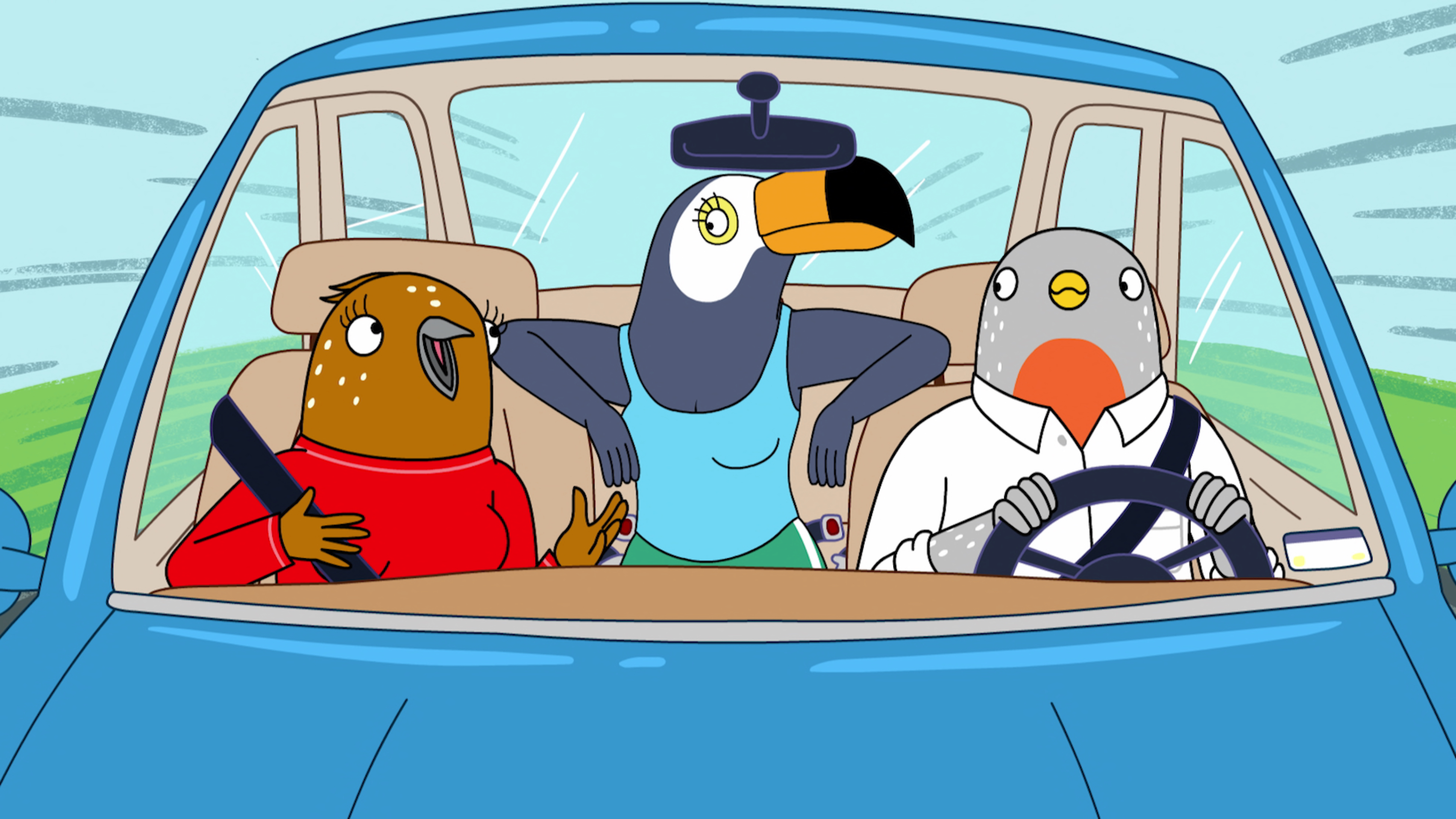 Tuca & Bertie
1 season, 10 episodes | IMDb: 7.4/10
Ali Wong and Tiffany Haddish voice the stars of this animated comedy from BoJack Horseman artist Lisa Hanawalt. Wong plays Bertie, a 30-something songbird thrush with debilitating anxiety, a knack for baking, and a truly toxic work environment. Haddish plays her best friend Tuca, a loud-mouthed toucan who loves to party and hates the thought of settling down. The friends try to hold on to their single days, even as Bertie takes the next step in her long-term relationship and Tuca struggles to find her place in the world. It's a more colorful, comforting world than BoJack, but it's got the same great humor and surprisingly-thoughtful musings.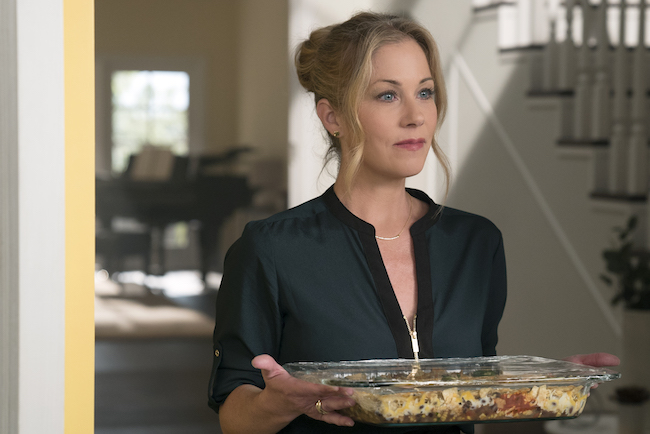 Dead To Me
2 seasons, 20 episodes | IMDb: 8.1/10
Christina Applegate returns to TV with this grief-com about a woman trying to pick up the pieces after her husband is murdered in a horrible hit-and-run accident. Applegate plays the angry, grieving widow with equal parts humor and empathy while Linda Cardellini plays her sunny, optimistic best friend. The two meet in a grief group and navigate the challenges of moving on after loss while also solving a murder mystery. There's no way you'll know what to expect here, which is half the fun of watching and the show dispelled any worries that it couldn't keep up its cliffhanger-heavy intrigue with a second season that saw Applegate and Cardellini involved in a new, just-as-illegal cover-up.
Russian Doll
1 season, 8 episodes | IMDb: 7.9/10
Natasha Lyonne stars in this Groundhog Day-from-hell remake about a woman who's forced to relive the last day of her life over and over again. It's been done before, but this series stands out thanks to its mix of dark humor and a tinge of the supernatural. Lyonne is one of the often-overlooked OITNB stars, but it looks like this series is giving her a chance to show off her comedic chops as her character, Nadia, endures a constant loop of partying, dying, then waking up to do it all over again. As bleak as the premise is, Lyonne manages to find a silver lining, a universal message that basically read, "The world is sh*t, let's help each other out if we can."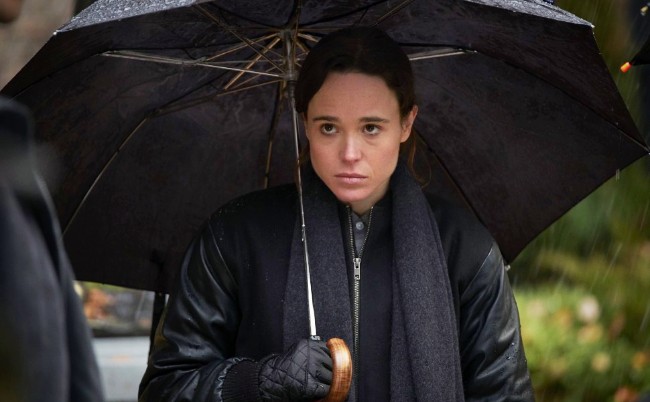 The Umbrella Academy
2 seasons, 20 episodes | IMDb: 8/10
Superhero team-ups are a dime a dozen, but the TV adaptation of this award-winning comic series created by Gerard Way — yes, the lead singer of My Chemical Romance — feels wholly unique and thus, totally refreshing. The show follows the story of seven kids, all born on the same day to mothers who didn't even know they were pregnant. They're adopted by a mysterious billionaire and trained to use their supernatural abilities to fight evil in the world, but when they grow up, their dysfunctional upbringing catches up with them, and they're left struggling to live normal lives. In season two, that means time-jumping to the 60s, starting doomsday cults, and seriously f*cking with the assassination of JFK. It's all kinds of weird, which is exactly what the genre needs right now.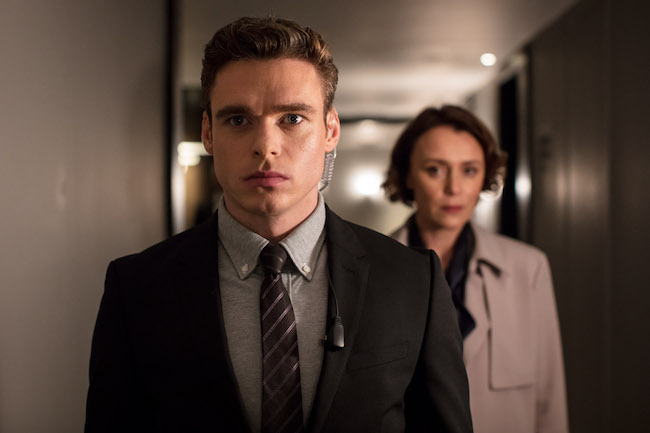 Bodyguard
1 season, 6 episodes | IMDb: 8.2/10
The UK's most popular new drama has made its way across the pond. The procedural thriller stars Game of Thrones' Richard Madden as David Budd, a military vet turned police officer tasked with protecting a high-profile politician during a, particularly dicey time. There's plenty of suspense and action to string you along, coupled with a vulnerable performance by Madden, who ditches his King of the North swagger to play a man conflicted by his past and his present duty to his country.
The Haunting of Hill House
1 season, 10 episodes | IMDb: 8.7/10
Mike Flanagan knows how to do horror, and The Haunting of Hill House is proof of that. The show, like the book off which it's based, follows the fractured Crain family as they try to make peace with their dark and twisted path. Of course, through some carefully-timed flashbacks, we see why the Crain siblings are so messed up: They lived in a haunted house as children, a house that eventually caused the death of their mother. There are plenty of frights to keep horror fans interested in this thriller, but the real point of this show is investigating trauma and its lingering effects. Makes sense that horror is the best way to do that.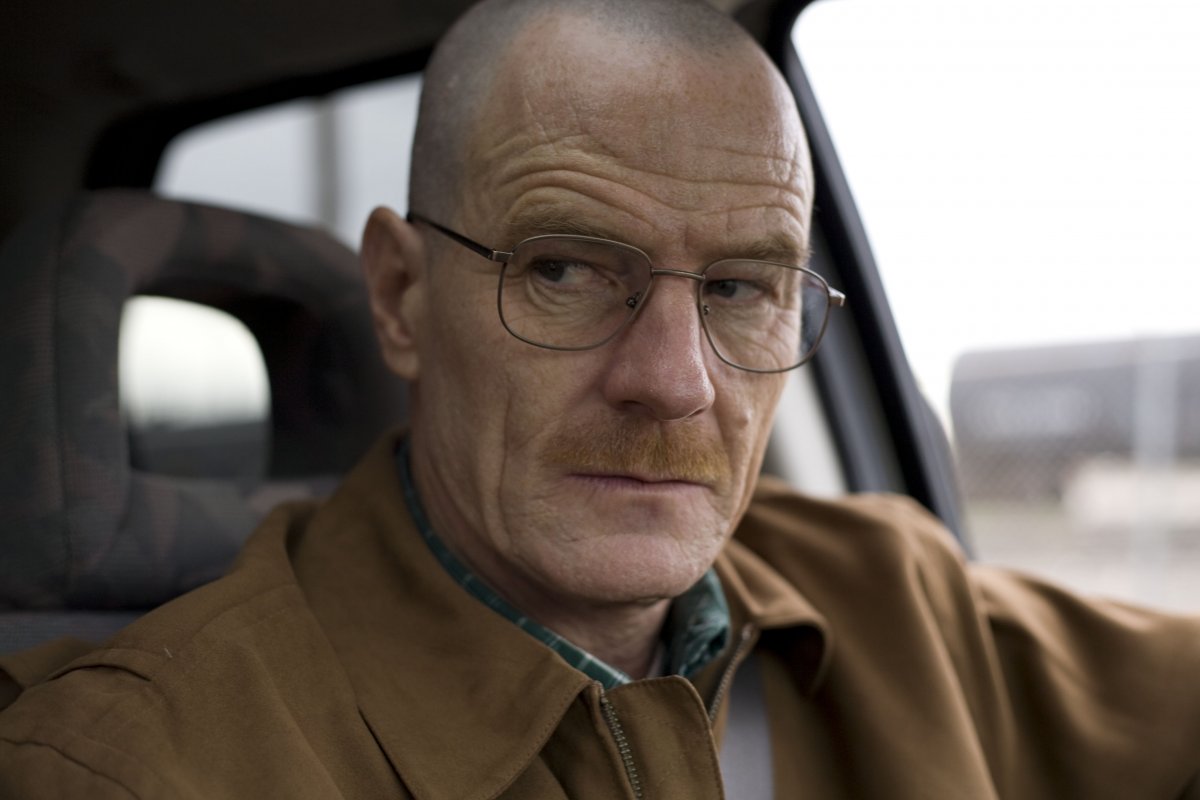 Breaking Bad
5 seasons, 62 episodes | IMDb: 9.5/10
Not just the best series on Netflix, Breaking Bad is the best series of all time. There's no debate about that. Unless you've caught onto the Better Call Saul hype. Then there might be a debate to be had. Still, this series proved what a dramatic powerhouse Bryan Cranston was and launched the b*tchin' career of Aaron Paul, two good reasons to give it a re-watch — or a first watch. No judgment.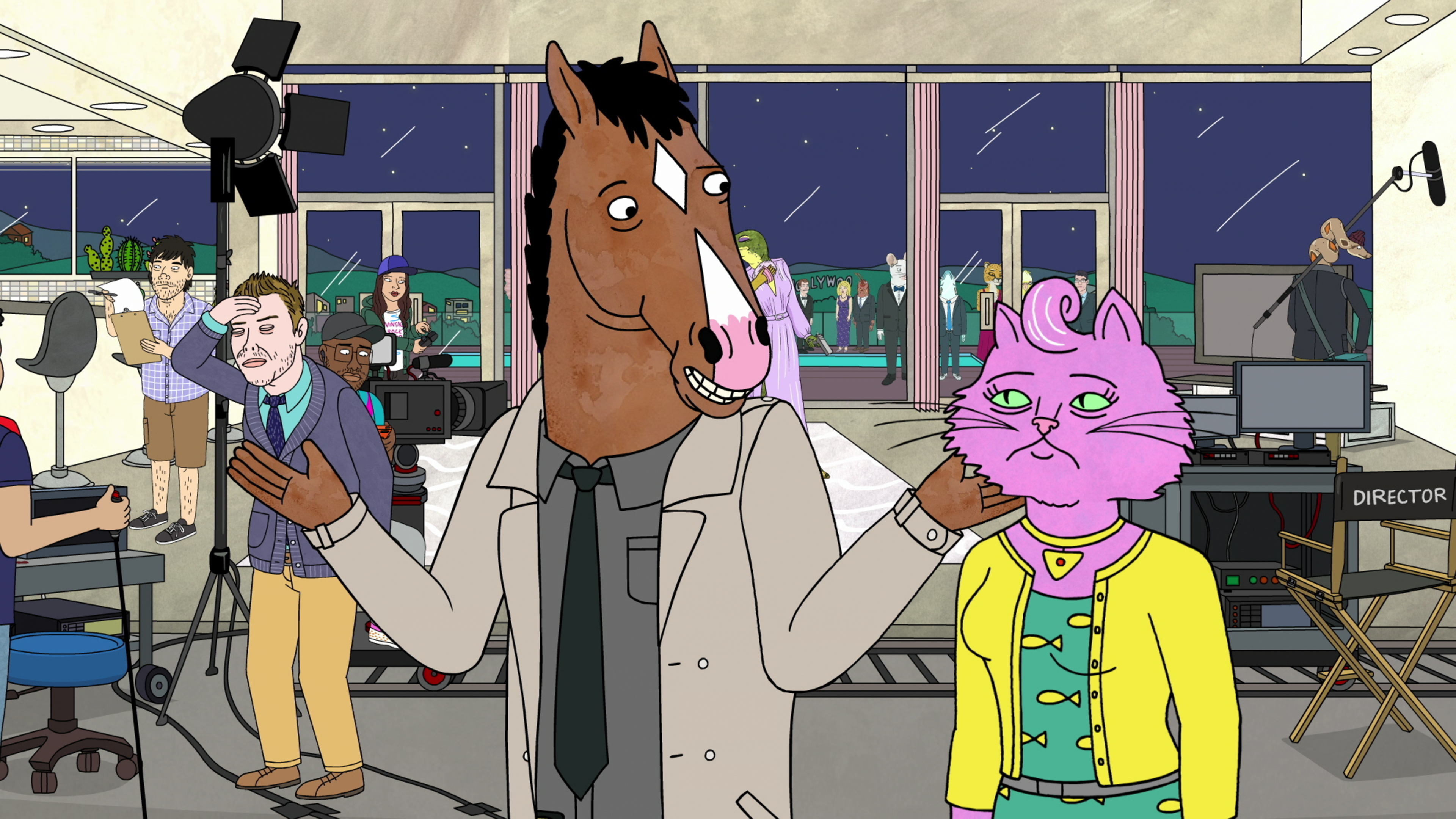 BoJack Horseman
6 seasons, 77 episodes | IMDb: 8.5/10
Not enough people on the Internet have explained that BoJack Horseman is not what it might seem like. Not enough people raved that it was an often very funny, often very heartbreaking meditation on depression. It's an animated sitcom about a washed-up horse, and somehow, it's also an incredibly profound look at deeper themes. It's amazing, but it may also leave you in a depressive funk for days afterward. Its fourth season even placed it among our best TV shows of 2017, and it's just never left that list, not in its fifth or final sixth season, which ended as poignantly and darkly funny as you'd expect it to.
Stranger Things
3 seasons, 25 episodes | IMDb: 8.9/10
A throwback and love letter to the early 1980s movies of Steven Spielberg and John Carpenter, the Duffer Brothers' Stranger Things feels both familiar and new. It's about a boy named Will (think E.T.'s Elliot) who is captured by a The Thing-like creature and trapped in a Poltergeist-like world. His mother (Winona Ryder) recruits the local sheriff to investigate Will's disappearance. Meanwhile, Will's dorky, Goonies-like best friends take to their bikes to do some sleuthing of their own and eventually befriend an alien-like girl with telepathic powers (the E.T. of the series). Season two continued that vibe as the show dove deeper into government conspiracies and alien monsters intent on wreaking havoc on small-town Indiana while the show's latest season let its magnetic young cast grow up a bit, giving them more complicated villains to fight and a Soviet conspiracy to uncover. It's great PG horror/sci-fi, like the blockbusters of the early '80s, and even if you didn't come of age in the era, there's something for everyone to enjoy.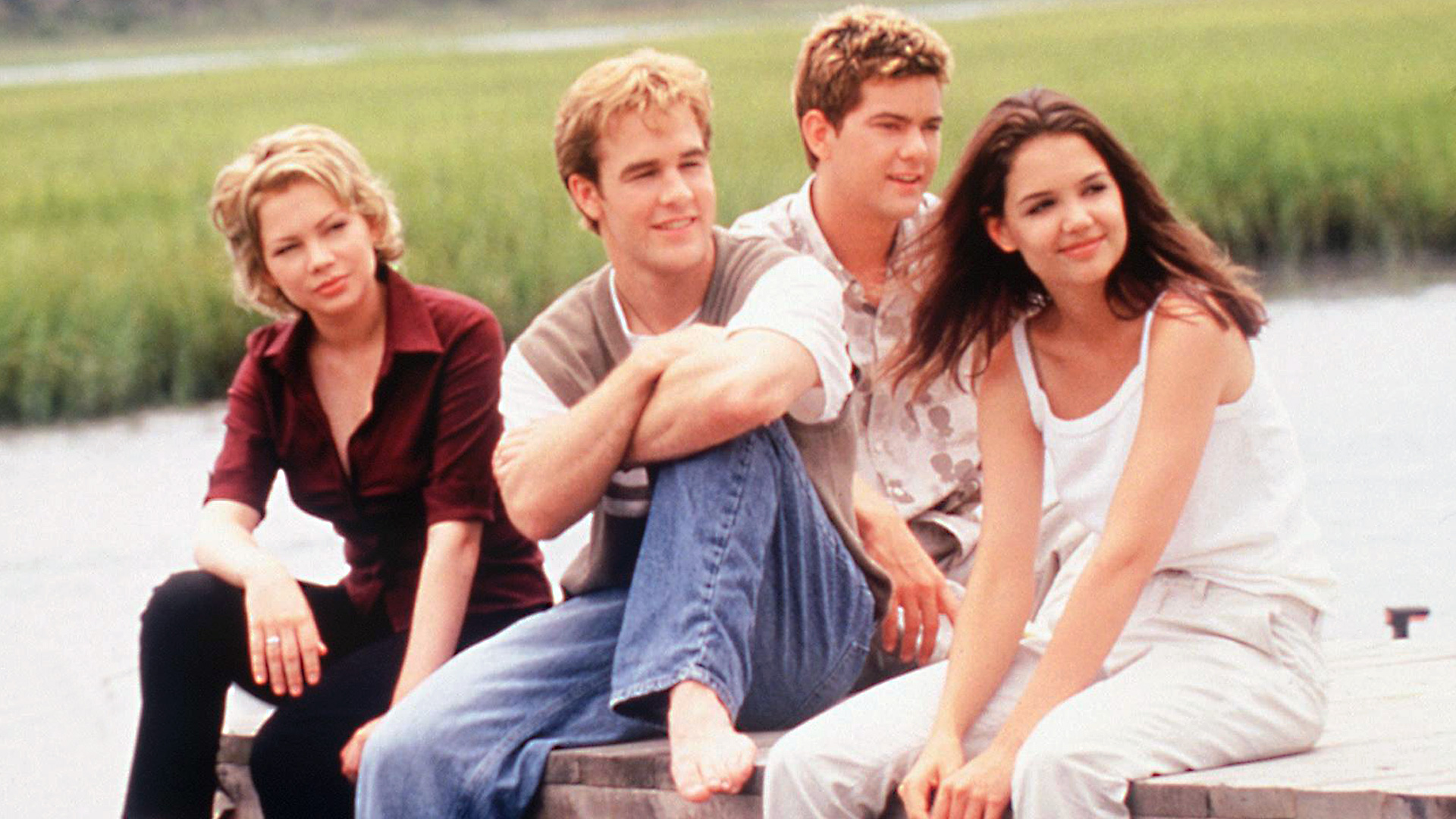 Dawson's Creek
6 seasons, 128 episodes | IMDb: 6.6/10
Opening theme song or no, Netflix dropping this beloved teen drama is exactly what we need right now. Dawson's Creek is the reason shows like The O.C., One Tree Hill, and Gossip Girl even exist and yet somehow, it still feels fresh and timely. It gave us an epic love story, likable characters, Katie Holmes, an unhealthy obsession with a young Joshua Jackson, and of course, the James Van Der Beek crying meme that just keeps on giving.
Halt & Catch Fire
4 seasons, 40 episodes | IMDb: 8.4/10
AMC's 80s-centric tech drama is a seasons-long look behind the invention of the World Wide Web and the tech boom that came to define that era. Lee Pace plays Joe MacMillan, a smooth-talking salesman who worms his way into more than a few tech ventures over the course of four seasons. He's joined by a couple of married computer engineers and a gifted programmer (Mackenzie Davis) in his bid to control (and make money off) the invention of the internet. Even if the more technical aspects of this series fly over your head, watching this kind of tangible human drama play out amidst a backdrop of Silicon Valley start-ups is more than enough reason to watch.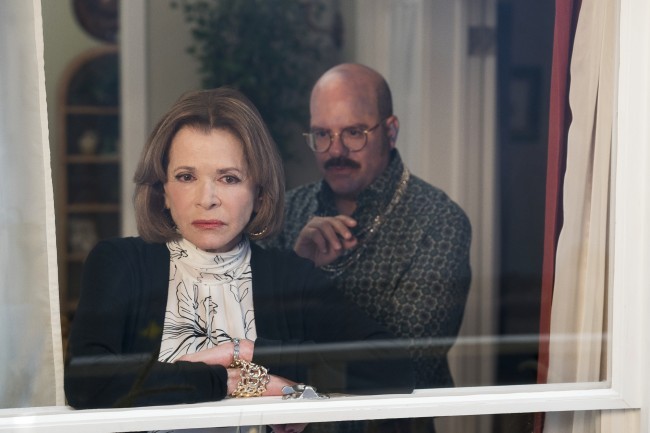 Arrested Development
5 seasons, 84 episodes | IMDb: 8.9/10
The series lost some of the mystique it had gained after its cancellation because Netflix's season four wasn't to everyone's satisfaction — though it flowers with repeat viewings, especially with the recut version of it. Arrested Development still stands as one of the funniest, most inventive, and most influential sitcoms of the generation however and it's got an unbelievably watchable cast in Jason Bateman, Michael Cera, Will Arnett, Jessica Walter, and David Cross. Seriously, you can't go wrong here.
Orange Is the New Black
7 seasons, 91 episodes | IMDb: 8.2/10
One of the best original shows on Netflix, this prison dramedy is a deeply human, funny, moving, realistic, progressive show about life and the bad decisions we're all destined to make. OITNB humanizes the dehumanized, transforms labels — felons, thieves, murderers, embezzlers — into real human beings and reminds us that, even in prison, life isn't put on hold. Life is being led. It's a remarkably excellent series, and addictive as hell.
Better Call Saul
4 seasons, 40 episodes | IMDb: 8.7/10
In its first season, Better Call Saul quickly put to rest any fears anyone might have had about a spin-off from arguably the greatest drama of all time, Breaking Bad (which sits atop this list). Vince Gilligan and Peter Gould return as showrunners, and they continue to bring the same level of complexity, intensity, and character development to Saul as they did for Breaking Bad. What's most remarkable about the series, however, is that they managed to transform the Saul character into someone humane and sympathetic while staying true to the same character in the original series. Indeed, Saul is the most detail oriented and perhaps the smartest show on television, and one hell of an intense, suspenseful drama, which is all the more impressive because we know roughly where it will end up.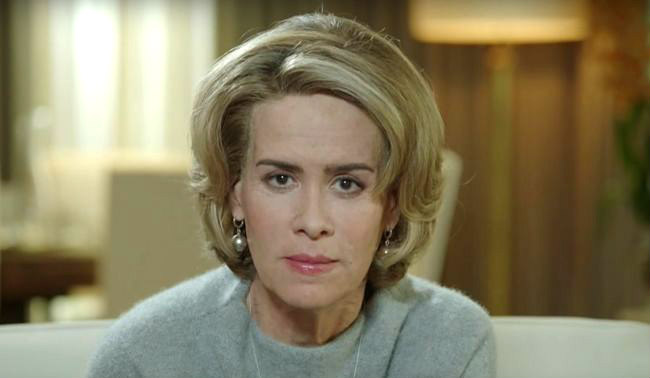 American Horror Story
9 seasons, 115 episodes | IMDb: 8.1/10
Ryan Murphy's horror anthology on FX is an unpredictable tour-de-force that, when it sticks its landing, is one of the best shows on TV. The series chronicles truly terrifying, mind-warping plots across multiple seasons, connecting some, ignoring others. What grounds these outrageous storylines involving haunted hotels, murder houses, insane asylums, cults, and covens is the cast, most notably Jessica Lange, Sarah Paulson, and Evan Peters. Murphy relies on their visceral portrayals of individuals unhinged to sell this whacky, nightmare-inducing rollercoaster and sell they do.