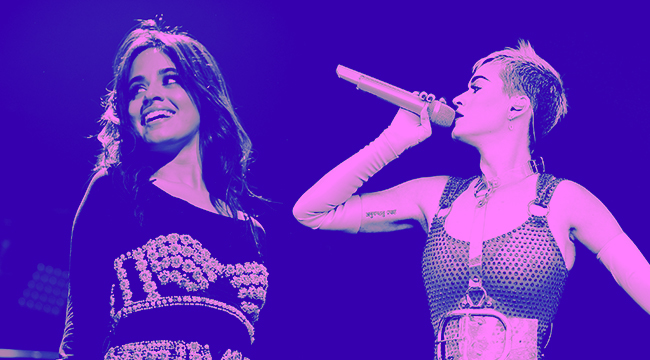 This was a thrilling week for pop diva returns. Katy Perry is back with her first new solo music of 2019, the immediate Song Of The Summer contender "Never Really Over." No, you're not dreaming — Camila Cabello has a new single with Mark Ronson, co-written with Tame Impala's Kevin Parker. Kim Petras is continuing her pop domination with her sixth single in as many weeks, and Charli XCX honored The Spice Girls with an infectious, creative cover of "Wannabe." It's all a little overwhelming, honestly, but an enjoyable kind of chaos, because pop doesn't get any better than this.
Every week, Uproxx will round out the best new pop releases of the last seven days. Listen up.
Kim Petras, "Do Me"
Kim Petras has delivered the summer fling anthem of the season. "Do Me" is arguably the best song of Petras' career so far, fun and unique and endlessly catchy. "Do Me" delights in the raunchiness of its lyrics (it's about exactly what you think it's about), and Petras gets some top-tier vocal moments. "Do Me" is the sixth single the German pop singer has released in the last six weeks. That kind of pace is impossible to keep up forever, but as long as the bops are this great, we've got no choice but to match her tempo.
Herve Pagez, Feat. Diplo And Charli XCX, "Spicy"
Even if you think you've heard "Wannabe" by The Spice Girls a million times, I promise you've never heard it like this. French electronic artist Herve Pagez, American EDM staple Diplo, and English electro-pop princess Charli XCX are the Avengers of pop music on "Spicy." The trio turn "Wannabe" into a breezy Latin-and-dancehall-inspired track, with Charli perfectly playing the roles of all five Spice Girls. The song itself is great, but the music video is an especially crucial watch. It's a trippy, technicolor (dolphin) ride.
Rosalía, "Aute Cuture"
Preceding a killer set at Governors Ball this weekend, Spanish flamenco-pop singer Rosalía released a fantastic standalone single, "Aute Cuture." In the song, Rosalía continues the trend she set with her recent single "Con Altura," blending her signature flamenco sounds, flawless vocals, and club-ready reggaetón beats into some really exciting pop. "Aute Cuture" is barely over two minutes long, but it's breathless from the get-go.
Mark Ronson, Feat. Camila Cabello, "Find U Again"
Rejoice, Camilizers — Camila Cabello is finally back with new music. Technically, "Find U Again" is a Mark Ronson song. It's the latest single from his upcoming album Late Night Feelings, a self-proclaimed collection of "sad bangers" featuring female vocalists. Ronson might be top billed, but "Find U Again" is Cabello's moment to shine. The song's moody, labyrinthian production is the perfect backdrop for Cabello's elastic voice. Although Cabello hasn't officially announced a follow-up to 2018's Camila, "Find U Again" suggests the rest of 2019 has exciting things in store for the pop singer.
Katy Perry, "Never Really Over"
Though her 2017 album Witness was panned by many critics and fans, never count Katy Perry out. The pop icon who gave us generation-defining pop anthems like "Teenage Dream" and "Hot N Cold" is back. "Never Really Over" is a perfect return to Perry's bubblegum dream sound. Her voice is as incredible as ever, and the endlessly catchy melody (a sample from Norwegian pop star Dagny) is sure to get plenty of radio play. Katy Perry is back where she belongs — dancing at the top of the charts.
King Princess, "Cheap Queen"
Speaking of queens who are back, King Princess (real name Mikaela Straus) has released her first new single of 2019, the playfully named "Cheap Queen." Straus has been performing the song on tour and festival dates all year, and with a refrain like "I'm a real queen / I can make grown men cry," the song is already a fan favorite. Straus' star has been rising all year, and her debut record must be close to finished. Grown men, get ready to shed some more tears — our cheap queen isn't going anywhere anytime soon.
Tove Lo, "Glad He's Gone"
Swedish singer-songwriter Tove Lo has to be one of the most underrated stars in pop. Her voice is passionate and evocative, and her songwriting is top-notch, whether she's writing about wild parties twisting out of control or expressing emotional vulnerability. Tove Lo's latest falls somewhere in between. It's a tender ode to friendship and reassurance that your best pal deserves better than some dirtbag, but it's also full of lively descriptions of the fun of single life. "Glad He's Gone" is the first single off Tove Lo's upcoming record Sunshine Kitty.
Nasty Cherry, "What Do You Like In Me"
Charli XCX might be the busiest woman in pop. Apart from Charli's own release schedule, the band she has called her "brainchild" has also been dropping new singles over the last few months. "What Do You Like In Me" blends pop and rock to perfection, with catchy hooks and New Wave-esque bass riffs. The song finds the vulnerability in the band's confident, assured sound, as singer Gabbriette Bechtel muses on relationships and connection. It's only their second single, but Nasty Cherry is one of the most exciting new groups of 2019, and whatever they've got in store for us the rest of this year is sure to be iconic.
Some artists covered here are Warner Music artists. Uproxx is an independent subsidiary of Warner Music Group.