(This artwork is the work of David Rappoccio. You can find him on Twitter at @drawplaydave.)
It's late August and on the NBA calendar, even in an Olympic year, that means not much is going on. But fall television premieres are right around the corner, and after debating the intersection between TV characters and NBA players, we realized there's a fun Venn Diagram we could draw where the two overlap. We've made art for NBA logos as superheroes, then turned them into hip hop artists. We looked at NBA players' wrestling equivalents as well, and even ranked NBA mascots based off their creepiness.
Now, we're mashing together NBA players with their television character counterparts. For the most part, we kept this to contemporary television shows and NBA players, but sometimes the fit was just too good for some all-time players and characters.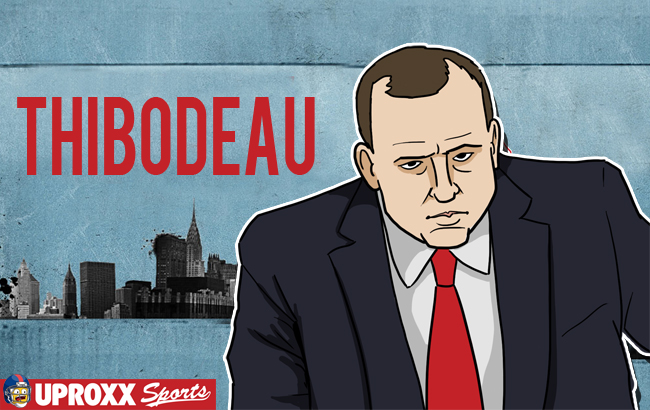 Tom Thibodeau X Louis CK (Louie)
The whiskey-soaked voice of the former Bulls coach and current Timberwolves GM and coach is perhaps the only thing that separates these two annoyed curmudgeons. Louis CK has a voice that's an octave higher, but Thibodeau didn't care about resting his starters in Chicago, and Louis used to come up with a full hour of new material every year. They're both workhorses, and the success they've found spawned from that zealous approach to their respective fields. Plus, can't you just see the two of them sharing some Scotch in a dingy back room of a New York City comedy club?
Gregg Popovich X Coach Eric Taylor (Friday Night Lights)
These two are both leader of men. Gregg Popovich has led the San Antonio Spurs to five NBA titles, and coach Eric Taylor led the Dillon Panthers to a state title and a state title game appearance and leading the East Dillon Lions to a state title in season five. They're both winners, but more than that, they're the moral center of their teams, which is crucial when you're the leader of young men.
Metta World Peace X Tracy Jordan (30 Rock)
Zany, wacky and more than a little fun, as underrated as they are known. Metta World Peace (formerly Ron Artest) had to come back from the Malice at the Palace to hit the game-winning three-pointer in Game 7 against the Celtics during the 2010 NBA Finals. And Tracy Morgan, whose Tracy Jordan character was a satire of himself, had to come back from a car crash that almost killed him to get back on his feet. He's currently touring again, and his set is still fantastic. Check out his interview on Howard Stern if you wanna laugh as hard as you did when you heard about Ron Artest's name change.
Carmelo Anthony X Tom Haverford (Parks And Recreation)
Both Aziz Ansari's character on Parks and Recreation and New York's shoot-first star, Carmelo Anthony, dig emojis even if they're at the end of an important bit of activism. Plus, Roy Hibbert has rejected Carmelo and Tom.
Kawhi Leonard X Eleven (Stranger Things)
Both are quiet despite how deadly their skills can be. One of the stars of Netflix's heralded Stranger Things, Millie Bobby Brown playing Eleven, doesn't look anything like Kawhi Leonard, but her psychokinetic abilities parallel the preternatural way Kawhi Leonard can mirror an opposing ball handler on his way to consecutive Defensive Player of the Year awards.
LeBron James X Jon Snow (Game of Thrones)
Both died, and (spoiler) came back from the dead. LeBron infamously, "took his talents to South Beach," and Jon Snow got stuck by the blades of a small clique of his black brothers, then in the heart by rival, Olly. But Jon Snow comes back from death, and after winning two titles in Miami, LeBron returned to capture last year's trophy.
J.R. Smith X Jesse Pinkman (Breaking Bad)
Can't you see Jesse Pinkman, Walter White's immature and beloved sidekick on Breaking Bad, refusing to wear a shirt after winning the NBA title? Plus, you just know J.R. is calling defenders "bitch" after he step backs to drain a three on them.
Michael Jordan X Don Draper (Mad Men)
The GOAT of the fictional New York ad copy world meets the GOAT to grace a basketball court. Both are rather reserved publicly despite a tendency to psych out their opponents behind the scenes. Both are fabulously successful with a few dark secrets that would severely change public perception if they had exposed at a bad time. Except, we doubt Don Draper will ever be immortalized for future generations by a ubiquitous meme.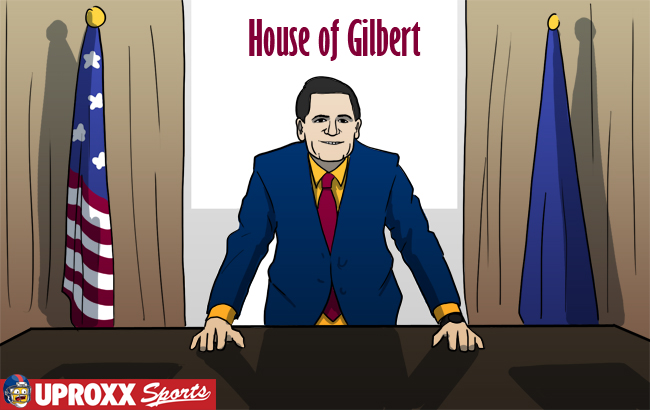 Dan Gilbert X Frank Underwood (House of Cards)
Dan Gilbert is the owner of the Cleveland Cavaliers and while LeBron finally brought a title to Cleveland, it wasn't without some malicious behavior from Gilbert before all was forgiven. Let us never forget his comic sans letter blasting the "coward" LeBron when he changed employers in 2010. Conversely, Frank Underwood would have never so publicly reveal his thinking, even if he felt the same way. Then again, both would install a fart machine to mess with a subordinate.
Kevin Garnett X John Luther (Luther)
Eponymous John Luther (played by Idris Elba) is a towering figure in England's Metropolitan Police Service, but the horror of his job has cracked his psyche so that he's often going against the bad guys and his own peers in the service. Doesn't that sound a lot like Kevin Garnett? The embattled former Celtic and Net has taken to head butting the basket stanchion before games and he did the same to Dwight Howard. He's made talking junk an art form of sorts and that sort of craziness falls right in line with the tormented Luther.
Joel Embiid X Kimmy Schmidt (The Unbreakable Kimmy Schmidt)
The title character of The Unbreakable Kimmy Schmidt is exactly what Joel Embiid has been the past two years. The No. 3 pick in the 2014 Draft still hasn't ever suited up for a real NBA game, instead being locked in his injury bunker. But he's kept working and remained positive (just like Kimmy!) and now he's poised to break out in a big way during the upcoming NBA season. Embiid is now old for a rookie at 22, but as Kimmy tells us "Age doesn't matter, you could die at anytime." Plus, can't you imagine Kimmy drinking three or four pitchers of Shirley Temples per day?
DWyane Wade X Dexter Morgan (Dexter)
Both are from Miami. Both have made Miami denizens very happy. Both have also made more than a few Miami residents bleed. Dexter when he's spotted a fellow foe and murderous psychopath similar to himself, or when the show runners mailed in the final season. Wade knifed them when he signed with his hometown Bulls, but it's really Pat Riley whose to blame.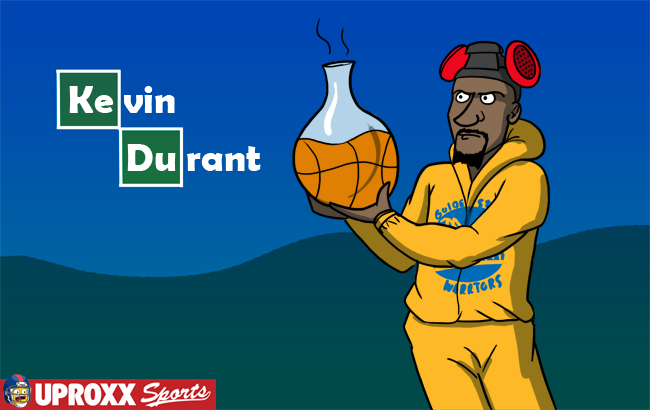 Kevin Durant X Walter White (Breaking Bad)
Both KD and Walter White started out as lovable characters who fans could get behind. White's poor schlub of a high-school science teacher performed a Bildungsroman to a bad guy, though. And a lot of silly people feel the same way about the 2014 NBA MVP because Kevin Durant decided to switch employers — despite the fact he's in a better place to be successful at his chosen profession. Walter was a pretty good cooker of meth, but he never got the drug dealer thing to really work that well, so hopefully KD has more luck in the Bay next season.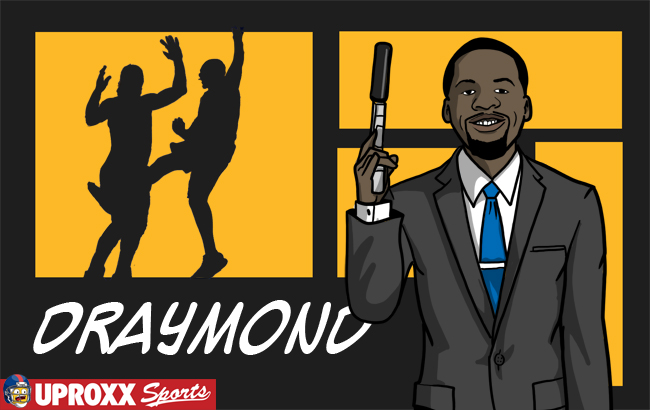 Draymond Green X Sterling Archer (Archer)
Oh man. The narcism is high on this one. Sterling Archer is the devil-may-care eponymous lead spy/alchie/dad/son and whatever else he wants to be. Draymond Green is considered equally as louche after a summer filled with dick kicks, a dick pic and bar brawls. But that doesn't change the fact Sterling Archer kicks ass and Draymond Green is one of the best players in the world right now. Plus, both would definitely ask an assailant "do you know who I am," despite the fact Sterling was supposed to be a spy once upon a time.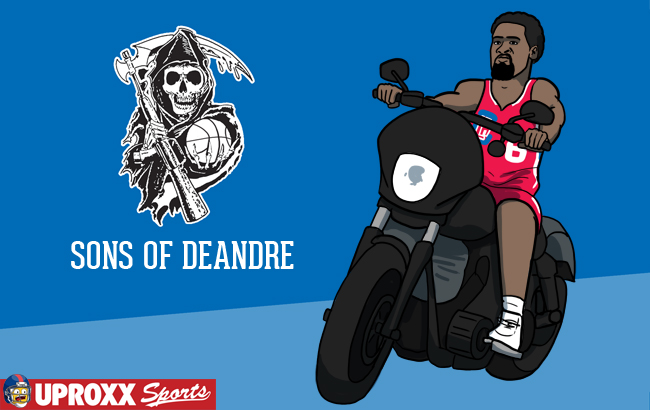 DeAndre Jordan X Jax Teller (Sons of Anarchy)
Throughout the course of Sons of Anarchy's seven seasons, protagonist Jax Teller was living a perpetual "what-am-I-gonna-do" narrative after the death of his father. The parallels with Shakespeare's Hamlet are hard to ignore, and the same issues where on display when DeAndre Jordan turned the summer of 2015 into an emoji-filled one of similar indecision. The big center on USA Basketball's gold-medal winning 2016 team flip-flopped on his moratorium pledge to sign with the Mavericks and re-signed with the Clippers. At least his his mom (spoilers) didn't murder his baby momma, though.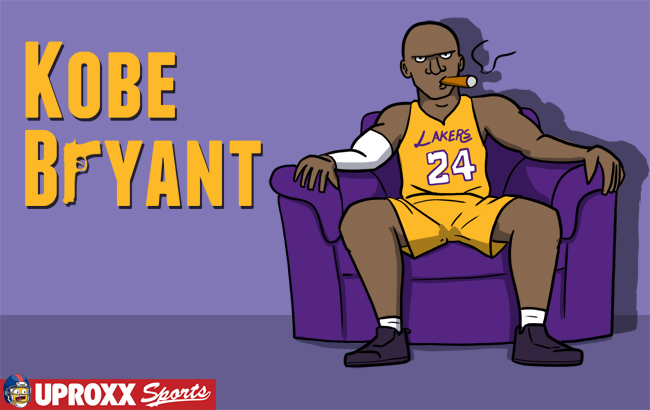 Kobe Bryant X Tony Soprano (The Sopranos)
Cold-blooded. That's the patriarchal head of the Sopranos family and the former shooting guard for the Los Angeles Lakers. One is the head of New Jersey's top crime family, and the other was the head of two title-winning teams after acting as consigliere on a three-peat to start the 2000s. Remember, Bean Bryant ended his career on a high note, even with his usual smack-talking verve. Tony's on-screen career was a bit more ambiguous, but it did have a few high notes.
Blake Griffin X Saul Goodman (Better Call Saul)
Blake Griffin almost needed a lawyer this past season. So who better than one of the standout characters of Breaking Bad, who ended up getting his own standalone spin-off that's already loved by critics and viewers. Plus, Blake's dry humor in commercials and TV shows mirrors that of Saul's own deceptively dour mood.
Charles Barkley X Frank Reynolds (It's Always Sunny In Philadelphia)
Danny Devito's character on It's Always Sunny in Philadelphia has a sordid back history and so does the Round Mound of Rebound. Barkley will say just about anything on TV and it matches the untamed persona of Frank Reynolds. Plus, Danny Devito is super short and Barkley was always an undersized power forward.