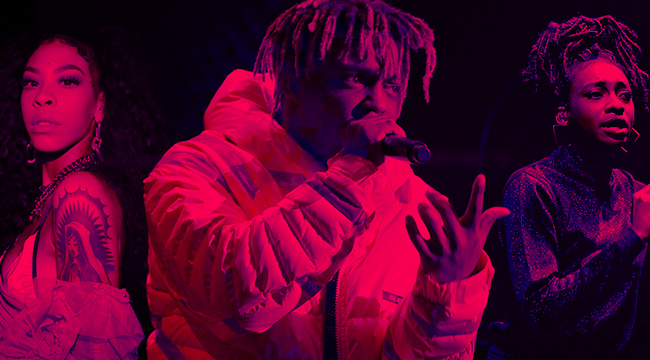 Coachella has announced the lineup for its 2019 festival and as usual in recent years, it's a diverse, eclectic group, running the gamut from underground rap and soul to dance, pop, and psychedelic rock. While its wide-ranging scope makes the festival a perfect format for music discovery, it's not a "hip-hop" festival and for fans of specific genres like hip-hop, it can be a little difficult to sort out which artists on the roster suit your specific tastes, especially if you've never heard of some of these artists before.
Have no fear, though. We're here to break down the must-see hip-hop artists performing at Coachella this year with a guide to the hottest acts hitting the festival's many stages, from the newest up-and-comers to the established vets. This list doesn't cover every hip-hop-related artist (some, like Wiz Khalifa and Kid Cudi, ought to be pretty self-evident). Instead, it focuses on the artists who've come — or will come — to dominate the conversation in hip-hop, the ones who will leave you with the greatest sense of FOMO should you miss out on their sets. Some are new, some you may have heard of before, but they're all guaranteed to put on a show worth seeing.
070 Shake
https://www.instagram.com/p/BlQperqHGo3/
This 21-year-old singer/rapper hails from North Bergen, New Jersey and is signed to Kanye West's GOOD Music, which is still a recommendation in itself. She appeared all over the label's 2018 spate of releases after making her debut with the six-song Glitter EP featuring "Mirrors" in the spring. 070 made her television debut during Kanye's infamous SNL appearance performing "Ghost Town" alongside him and Kid Cudi. While she doesn't have much of a catalog at the moment, her highlight track has the relatable title "I Laugh When I'm With Friends But Sad When I'm Alone."
88Glam
88Glam is a Canadian duo signed to The Weeknd's XO Records. The two have fully embraced the glitchy, hazy dynamic their region is best known for, with a yin-and-yang dynamic that makes use of members Derek Wise and 88 Camino's easygoing chemistry. Just picture Travis Scott, Future, and Nav getting chucked into a blender and turned into a smoothie of sneering one-liners and icy melodies set to the tune of the most lit 8-bit video game theme ever.
Burna Boy
Burna, a Nigerian Afrobeat singer best known for going viral when fans mistook his song "Ye" for Kanye's album of the same name, caused a bit of controversy after the lineup reveal, fussing that his name appears too small on the flyer and calling himself an "African legend." While he's certainly earned the right to call himself that after an extensive grind that made him one of two Afrobeat artists on the flyer (the other being Mr. Eazi), Afrobeat's relative obscurity to the average American concertgoer means that he's pretty much honor bound to put on a show that no one forgets and introduce a well-established style to a whole new audience.
Childish Gambino
While Donald Glover is pretty well known by now and made a point of laying his Childish Gambino persona to rest on his last tour, Childish is still set to pop up at a few more festivals this year before (possibly) disappearing forever. After seeing what he can do with an arena show, I feel it's pretty safe to say his set will silence the few remaining naysayers if it comes close to spectacle and extravagance of his final shows at the LA Forum, opening the door for Donald Glover to become everyone's favorite singer/rapper for a good, long while.
Gucci Gang
https://www.instagram.com/p/Br8E_SeHL38/
Guwop has likely become best known for a certain generation of trap rap fans as the godfather and one of the originators of the style embraced by many of their favorite rising stars. And just like any good role model, he's taken a pair of them, Lil Pump and Smokepurpp, under his wing with a moniker that caused some amusement and confusion among music fans who saw the name of Pump's breakout hit attached to a photo of Atlanta's reigning royal figure.
JPEGMafia
JPEG is loud, boisterous, and unconventional, a noise rapper from Baltimore, Maryland who mashes up experimental beats with an unusual life story and emotive, soul-baring flows. His album Veteran made a splash in 2018 with its melange of industrial soundscapes and loosely-constructed, cynical bars. He'll throw a lot of listeners off at first glance much like Vince Staples, with whom he's going on tour soon, but if you give him a chance, he can surprise you with how much you relate.
Juice WRLD
https://www.instagram.com/p/BsC2bWWA6iB/
Juice's name should be familiar to pretty much anyone who's taken a gander at the hip-hop landscape at any point in 2018 after his single "Lucid Dreams" launched him into the mainstream's consciousness with its conspicuous Sting sample and endearing, dopey love story. Emo teens love him as much as grumpy boom-bap revivalists hate him, which is pretty much a guaranteed formula for success these days. It sure doesn't hurt that he's been working like a maniac, pumping out a mixtape, an album, and a collaborative tape with Future in the time it took "Dreams" to finally run its course.
Little Simz
No, that's not a typo: Simz really does insist that you pronounce the "T's" in her name, unlike the majority of American "Lil" rappers. Call it the proper British in this English rapper, whose diction extends to her fiery, intricate raps. She's a bar spitter of the highest order and had the distinction of opening for Gorillaz during their Humanz tour and their Demon Dayz Festival, as well as being praised by Kendrick Lamar. She's been in album mode throughout the past two years, and with the finished project dropping sometime in the near future, there's no time like the present to get familiar with this import from across the pond.
Playboi Carti
I made the argument last year that Carti, the 22-year-old genre-less upstart from Atlanta, Georgia, deserved his own musical category after his album Die Lit broke every conventional rule of rap on its way to being a fan favorite. He may not bring much lyrical wizardry to the stage but he makes up for it in raw energy — it's like trap jazz scatting, with hundred mile-a-minute ad-libs taking the place of limerick rhyme schemes and bass turned up to rib-shattering levels.
Rico Nasty
Speaking of bone-breaking, you'd best guard your grill if you end up in the pit at Rico's set. Hands, arms, elbows, wigs, and weaves go flying when this brash young lady hits the stage. She doesn't just rap, she screams her threats on her mixtape Nasty with a shocking blend of aggression and exuberance that resonates with her largely female fan base, sparking the sort of rambunctious reactions usually reserved for swaggering male artists. There's a reason Rico is at the forefront of a revolution for women in hip-hop.
Smino
Smino had a laugh with the lineup announcement flyer himself, turning every artist name on the list into a version of his own. It's his off-kilter sense of humor that informs the quirky, soulful raps that glide silkily along his funky beats. From eyebrow-raising metaphors to funkadelic-influenced melodies, Smino's experimentations with the form are well-worth the price of admission.
SOB x RBE
This Bay Area band was introduced to a wider audience early last year on the soundtrack to Black Panther, but California natives have been rocking out to their post-Hyphy party raps for quite some time. They are as heavily influenced by The Pack as they are E-40, but one thing that always shines through in their energetic delivery is their sense of fun and the invitation to turn up higher than ever.
Tierra Whack
Take away the visual elements of Whack World — you know, the part that has been highlighted in all the praise she's rightfully garnered — and what you have left is still an impressive collection of one-minute tunes that perfectly broadcast this Philly rapper's musical breadth and depth despite their brevity. But what you might not expect is how well her performance translates to a big stage. Seeing her at Camp Flog Gnaw Carnival proved to me that she has all the talent and star power to justify the hubbub that surrounded her in 2018 and surpass it in the very near future.
Some of the artists listed here are Warner Music artists. Uproxx is an independent subsidiary of Warner Music Group.