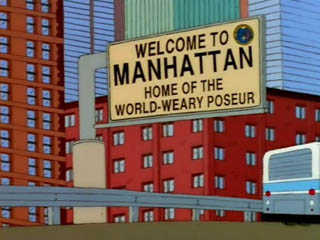 Like most right-thinking people, I don't really care that the Super Bowl will be played in cold weather, or even snow.  It'll seem more like a football game and less like the world's largest aspiring one-percenter convention.  And unlike others I don't mind the lack of tailgating, because Big Fan turned me off to tailgating at Met Life Stadium altogether.  But I do want to highlight the transit nightmare that attendees will experience after the jump.
You have 3 options to get to the game:
Buy one of the 13,000 parking spots and drive to the stadium.
Take a $51 bus ride.
Take the New Jersey Transit train to the Meadowlands.
I've gotten to Met Life Stadium and its predecessor by car, bus and rail before.  Car seems to be out of the option for most attendees because those spots will get snagged up by the elitest of the elitists.  So if you really need to go to the Super Bowl instead of watching from your comfortable living room with reasonably priced beer you should definitely take the bus.  They're blocking off roads around the stadium and it's actually pretty easy to get to Met Life once you've gotten through the Lincoln Tunnel.  And there are drop-off spots all around Manhattan in case you don't want to stay in Midtown (you don't want to stay in Midtown).  Yes, Manhattan traffic is lousy, but it's probably at its least lousy on a cold Sunday afternoon in February.
But if you are coming to town for the Super Bowl then I have one piece of immutable advice for you.  Do not, under any circumstances, take New Jersey Transit to the game.  First, you have to go to Penn Station, which is what you'd expect a train station to look like in the Soviet Union.  Then you need to take a train to Secaucus Junction and change to another train to Met Life Stadium.  Expect to wait on a too-small train platform with thousands of your closest, surly friends.  The train goes at a glacial pace for the last leg of the trip but that doesn't matter because there'll probably be a huge bottleneck of fans heading from the trains so you'll have to wait half an hour just to get from the train to the stadium.  Then, you repeat the whole process once the game is over!  It took me a good two hours to get from Brooklyn to the stadium using this method earlier this year.
So your best option to get to the Super Bowl is a $51 bus.  Welcome to New York, bitches.