On Sunday, Ape tweeted out a picture of an awesome Steelers back tattoo, and while I was trying to find it I came across like a dozen other Pittsburgh fans with incredible back ink. Even Jake Gyllenhaal got in on the action back in 2009 with a temporary one on the Jimmy Kimmel show. But there are SO MANY real Steelers fans with back tattoos I felt that it warranted a deeper look at the Pittsburgh culture, and how it stacks up with the rest of the NFL.
Generally speaking, "Pittsburgh Casual" is a wedding dress code that tells you that you have to keep your shirt on through communion and not bleed until after the salad course, but Jake's tasteful Steelers logo is also appropriate for formal occasions as well.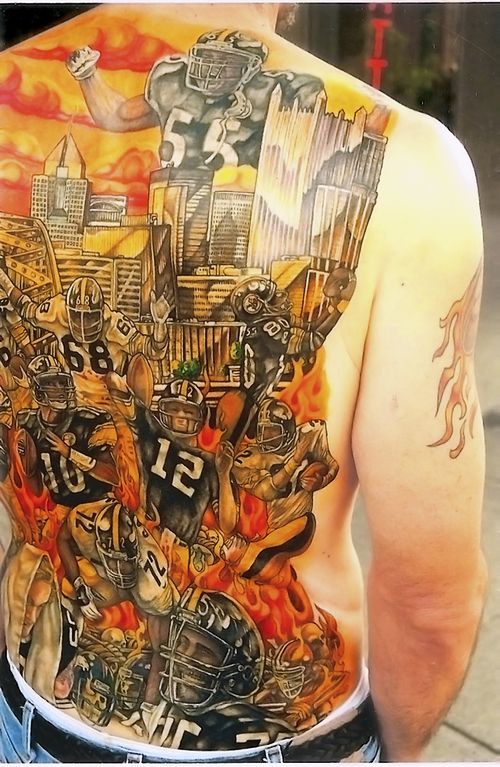 Is… is that a Kordell Stewart tattoo?
Simple. Classic. Almost like the Apple logo of back tats.We'll see more of that understated technique of getting a grown man's signature permanently sewn into your skin later.
[via]
This is a more traditional Pittsburgh arrangement. I don't know what "Total Image" means, but it's a safe bet that it's the name of the tattoo parlor that was added to the artwork as a sort of "wash-the-dishes-in-the-back-of-the-restaurant-if-your-credit-card-gets-declined" arrangement. Also I think they just used the Bill Cowher stencil for Mike Tomlin and just colored it in darker.
So while Steelers fans are clearly head and shoulders above the rest of the league when it comes to back tattoos, there are some strong showings from other teams as well:
Good thing he left ample room at the bottom for all of the future Redskins Hall of Famers that will be inducted. And he wore his Redskins underwear to training camp just in case… of something.
That type of attention to detail is what makes the Patriots such a winning organization.
I guess Dawkins had rough sex with another Brian Dawkins and this guy obviously wanted to commemorate that moment.
NOTE: THIS IS ACTUALLY JACOBY JONES' SUPER BOWL CHAMPIONSHIP BACK TATTOO
Back. (Those Bears actually kind of kick ass, especially the one with the moon right above its head)
And front
Now, for the Tebow Section: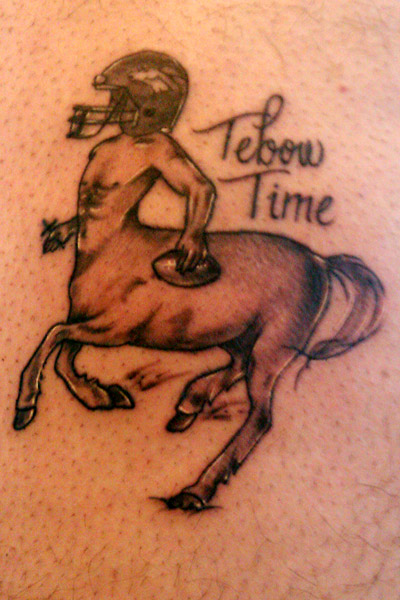 Now these next two aren't back tattoos but…
I found the real killer.
And finally… the face tattoos:
This is actually an official ad for the University Of Phoenix
He's right, looks ARE deceiving. Like for example you might think that the Raiders would have to be a good team to inspire this much passion.