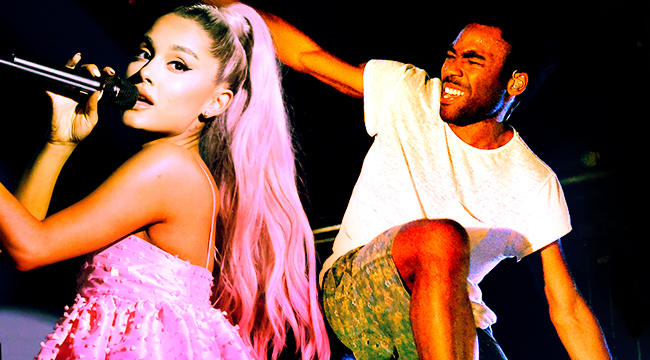 At the time of publishing this, the most talked about songs in the world are a pair of diss tracks that, for a moment at least, makes the world seem a bit more unpredictable and vibrant. It's not that music isn't normally fun, but it rarely has to the power to transport the listener away from whatever real-world issues bog them down.
It isn't just diss tracks from household names that hold this power. The following 50 songs all manage to do something close to this, be it in the desire to dance, to drive through the night, or to comfort a listener before laying down for sleep. Music is more than just entertainment. It is a tool, too.
50. A-Trak, "Ride For Me" feat. Young Thug and 24Hrs
Young Thug didn't exactly set the world on fire with his last couple of full-length releases, but when he's on, he's on. In "Ride For Me," we get a dose of peak, persona-shifting Thugger in all his tongue-twisting glory.–Corbin Reiff
49. Mike Will Made-It, "Aries (YuGo Part 2)" feat. Pharrell, Rae Sremmurd, Big Sean, and Quavo
Aries season has passed, but we can still bump this star-studded collaboration. Every artist is in their bag over Mike Will's spacey, pensive synths, rhyming melodically about keeping the party going with braggadocious bars full of future IG captions.–Andre Gee
48. MGMT, "Little Dark Age"
These synth-pop smart alecks captured the pop zeitgeist in the late '00s, but they've since matured surprisingly well into slightly grumpy middle-aged tunesmiths, as evidenced by this goth-tinged gem about the apocalypse.–Steven Hyden
47. Migos, "BBO" feat. 21 Savage
A trace of a glorious, golden horn kicks off a savage, icy hook from 21 Savage, who joins the Migos for the sharpest cut off Culture II. Several swathes of misogynistic lyrics aside — hit her for a minute then I passed her to the homies — the song is a flex anthem for the ages, and established Savage as a purveyor of hooks at least as catchy as this inimitable ATLien trio.—Caitlin White
46. Nine Inch Nails, "God Break Down The Door"
More than 30 years into their existence, Nine Inch Nails' leader Trent Reznor reveals that he does a mighty good Ian Curtis impression. But this isn't mere imitation, just one of rock's best showmen finding the right way to accent frenetic drums, droning synths, and weeping saxophones to create one of his most affecting compositions in years.–Philip Cosores
45. Lil Pump, "Esskeetit"
It's only right Pump turned his signature phrase into a song. Mr. "Esskeetit" leaves the murky sonics behind for a fun, swirling synth fit for him to flex on. Even before he rhymed "ice on ice on ice," he had demonstrated that he's among the coldest in his lane.–A.G.
44. Haley Heynderickx, "The Bug Collector"
Haley Heynderickx is haunted by bugs. There's a "centipede / naked in your bedroom," "praying mantis / prancing on your bathtub," and a "millipede / angry on your carpet." Heynderickx is an excellent storyteller, deft at weaving interesting and unexpected imagery into pure emotion, and "The Bug Collector" is a gorgeous folk tune about hunting the demons that plague a loved one.–Chloe Gilke
43. Amen Dunes, "Believe'
Damon McMahon's stunning transition from freak-folk outsider to mesmerizing heartland rocker on the great Freedom is epitomized by "Believe," the album's most anthemic moment, which builds subtly from a quiet confession to a hypnotic climax.–S.H.
42. Saba, "LogOut" feat. Chance The Rapper
Two of Chi-Town's finest link up for Saba's Care For Me album, unleashing their best double-time flows over a soulful bed of jazzy pianos and lush bass. Chicago's on the rise, and these introspective, inspiring MCs show why.–A.G.
41. Royce Da 5'9, "Boblo Boat" feat. J. Cole
J. Cole rarely does features, but it's impressive to see him link up with Royce, who barely anyone can keep up with lyrically. There's no freestyle bars here though, as neither lyricist wastes a word while delving into their come-up over an arresting soundscape.–A.G.
40. LGP Qua, "Hungry Before The Bite"
LGP Qua is a fiery Philly spitter on the rise. On "Hungry Before The Bite," the self-proclaimed "voice of the youth" harkens to Philly's street DVD heyday, with intricate, reflective bars and ceaseless energy over a Block Party-ready beat. Qua won't be hungry for long.–A.G.
39. Jeff Rosenstock, "Let Them Win"
The first album that dropped in 2018 came courtesy of DIY punk rocker Jeff Rosenstock. Post- is a stunning, resilient collection of tracks, the most powerful among them being the album closer, "Let Them Win." It leaves the rallying cry "We're not gonna let them win / f*ck nooooooooo!" ringing in your ears in defiance of the gloom that hung over the beginning of the year.–C.R.
38. Yuno, "Why For"
Sub Pop's latest discovery is this 27-year-old Jacksonville native named Yuno, who can operate just as comfortably in sunny bedroom pop territory as he can in this expansive, WU LYF-esque form. It all proves once again that great things can come from unlikely locations, just waiting for someone to turn over a rock and discover them.–P.C.
37. Flatbush Zombies, "Headstone"
The Zombies dropped one of the most complete projects in recent memory with Vacation In Hell. "Headstone" is a standout track that shows their mastery of the classic and contemporary. Where else do you get rhymes about outrapping other MCs and wordplay with rap classics over thunderous 808s?–A.G.
36. Arctic Monkeys, "Four Out Of Five"
The comeback is in full effect, and Arctic Monkeys' first album in five years leans less on the guitar than ever before. That's especially evident on "Four Out Of Five," which is led by a slinky rhythm and creepy organ hits tied together by Alex Turner's idiosyncratic and oh-so-missed vocals.–Derrick Rossignol
35. Natalie Prass, "Short Court Style"
When "Short Court Style" dropped in February, it turned out to be the perfect spring single. It sounds like new life, with Prass' airy vocals and the jaunty upbeat chorus creating a fun singalong. Even the green jumpsuit in the song's video is already pretty legendary.–D.R.
34. Rolling Blackouts Coastal Fever, "An Air Conditioned Man"
This zippy jangle-pop wonder with a Motorik heart encapsulates what's so wonderful about Rolling Blackouts Coastal Fever. The way bursting out of school on the first day of summer vacation feels is what this song sounds like.–S.H.
33. Towkio, "Symphony" feat. Teddy Jackson
Very few rappers would think to start their albums with such a nervy, exaggerated blowout, but then again, Towkio isn't most rappers. Going full-on Broadway production with WWW.'s opener, Towkio sets the tone for the album: Sprawling, symphonic, and unmoored from convention, "Symphony" waltzes right on out the gate with a punch that brings Towkio's energy sky-high before he exits the atmosphere for concept tracks like "2 Da Moon."–Aaron Williams
32. Ryley Walker, "Spoil With The Rest"
This Chicago psych-folkie's quick wit obscures a deep sadness that "Spoil With The Rest," a melancholy highlight from the recent Deafman Glance, spotlights. Over beautiful guitar picking that evokes Wilco with a jazz-rock spin, Ryley Walker admits to being a screw-up, while pleading for a little empathy.–S.H.
31. Kyle, "Playinwitme" Feat. Kehlani
Aaahhh, first love. As far as unrequited crushes go, nobody is as good at relaying the feeling as Kyle is here. With its cartoon-y keys and ridiculously catchy hook, Kyle and Kehlani have crafted an earworm that everyone can sing along to while reminiscing over that one who got away.–A.W.
30. Camila Cabello, "Never Be The Same"
While "Havana" might be the biggest breakthrough, its follow-up, the towering, urgent "Never Be The Same," is the song that truly established Camila Cabello as a pop superstar. It's a song that lacks an obvious gimmick and instead relies on Camila's fragile, breathy falsetto and her ability to deliver a showstopping chorus, cementing her as a singer worth trusting to take the audience anywhere.–P.C.
29. Jay Rock, "King's Dead" Feat. Kendrick Lamar, Future, James Blake
For a moment, set aside the goofiness of Future's helium-voiced homage to Juicy J — which became a meme in its own right after listeners couldn't let go of its abrupt tonal shift for the song. If "King's Dead" is meant to be taken as a sonic representation of Killmonger's momentary victory at the height of Black Panther's narrative build, it's perfectly suited to reflect his menace and brutality.–A.W.
28. Wet, "There's A Reason"
Synthpop bands are a dime a dozen nowadays, but Wet is worth significantly more than ten cents. Catchy tracks like "There's A Reason" show that they know their way around melody and hooks, and know how to wrap both in a glossy and endearing pop package.–D.R.
27. The Blaze, "Heaven"
French duo The Blaze create music and visuals to accompany them at the same time, which makes their music videos pretty essential to get the full experience. But even without it, "Heaven" taps into a cinematic euphoria that doesn't require watching to experience the song's ornate catharsis.–P.C.
26. Post Malone, "Psycho" Feat. Ty Dolla Sign
In a catalog stacked with legitimate bangers — hate him all you want, the charts don't lie — "Psycho" might be the best song Posty has released yet. A swirling spray of vocals set over trap drums calls back the vibe of his breakthrough hit "White Iverson" while also displaying his growth as a lyricist in the intervening years. Shoutout to Ty Dolla Sign, too.–C.R.
25. Preoccupations, "Espionage"
An exhilarating dose of industrial-tinged post-punk. To anyone who came up listening to Depeche Mode, Nine Inch Nails, or Joy Division, Preoccupations, and this song in particular, will feel refreshingly familiar. Those dark, spiky synth melodies are absolutely engrossing.–C.R.
24. Leon Bridges, "Bad Bad News"
It's ironic that Leon Bridges prefaced the fantastic news of his return to music with a song titled the opposite. If the bad news was supposed to be that he would no longer be performing a 24/7 Sam Cooke impression, it would seem that he misgauged his audience's eventual reaction to this slinky, saucy toe-tapper and the album it accompanied.–A.W.
23. Soccer Mommy, "Cool"
"Cool" isn't your typical unrequited love song. Sophie Allison sings her admiration for Mary, an "animal" and "stoner girl" who catches everyone's attention with her intense, off-putting demeanor. Though Allison longs to "be that cool," it's hard to imagine the 20-year-old Nashville native — backed by fuzzy guitar and a slick bassline — being anything but the most impressive kid in school.–C.G.
22. Let's Eat Grandma, "Falling Into Me"
Does the band name inspire optimism that the music's going to be good? Perhaps not, but Let's Eat Grandma is defying those odds by making some of the finest sugar-sweet synth pop this side of 2018, such as "Falling Into Me," a lengthy track that lives somewhere between Grimes and Chvrches.–D.R.
21. Justin Timberlake, "Say Something" feat. Chris Stapleton
While we didn't get the country album that some hoped for, the fact that Justin Timberlake's most exciting new song is a collaboration with Chris Stapleton does, err, say something about where the pop star could easily head. The song moves with determination from start to finish, chugging along with locomotive power, with the pair of singers creating a harmonious union between pop and country, happy to leave the first sets of footprints on this moon together.–P.C.
20. Maren Morris, Zedd, Grey, "The Middle"
Maren Morris has the kind of voice that could floor an audience in any genre, so Zedd's decision to pluck her out of a country niche and catapult her to full-blown pop stardom with this elegant EDM banger should be praised. Always at his best when pairing with female vocalists, the Russian producer hasn't been this on point since he combined forces with and Ariana Grande on the intergalactic "Break Free." A funny side effect of this latest pairing is that I'm now imagining Ari and Maren on a duet.—C.W.
19. MorMor, "Heaven's Only Wishful"
Few people have captivated the music world with a single song to their credit like Toronto up-and-comer MorMor has. "Heaven's Only Wishful" sent bloggers' fingers quickly to their keyboards, all writing about this soulful genre-bending song that borrows as much from alternative rock as it does from contemporary R&B.–D.R.
18. Alison Wonderland, "Church"
If you're not familiar with Alison Wonderland yet (yes, the pun is intended), press play on "Church" and immediately join the congregation of cult fans who already worship at this Australian producer's altar. Trapped in a hellish toxic relationship, Alison imagines a way out for herself — a partner who brings the loving reverence that accompanies a celebration in a sanctuary. Half prayer, half pop plea, Wonderland's declaration is pure scripture.—C.W.
17. Tyler, The Creator, "Okra"
Too good to just be a throwaway, "Okra" surfaced from Tyler, The Creator's Flower Boy sessions' cutting room floor. The song set the internet ablaze with its chaotic rhymes and suggestive reference to actor Timothée Chalamet — not to mention a damn near epilepsy-inducing video that saw Tyler's most outstanding imagery bolster some of his sharpest bars.–A.W.
16. Anderson .Paak, "Bubblin'"
Anderson .Paak is our greatest purveyor of musical effervescence. The latest example is his solo single "Bubblin'" which was tailor made for top-down highway excursions or beach-blanket bashes.–C.R.
15. Mitski, "Geyser"
There's has always been majesty in the delivery of Mitski, and even on "Geyser," there;s the feeling that only she could pull off a line like "I've turned down every hand that has beckoned me to come." But the drama packed in her regal vocals is matched better than ever by the canvas that surrounds it, caped in theatrics that refuses even the slightest wink.–P.C.
14. Drake, "God's Plan"
Sigh. No good deed goes unpunished, right? The 6 God tried to do some benevolent gifting of his own, and the internet decided now was the time to get salty about generosity. Tear-jerking video aside, this wavy, self-aggrandizing anthem only helped push Drake's they-love-to-hate-me ego further into the spotlight. And still — haters gonna hate, hate, hate. But you better believe they'll be bouncing along when this chart-topper comes on during parties all summer long.–C.W.
13. Ella Mai, "Boo'd Up"
Ella Mai is a name American audiences may want to get used to. The DJ Mustard-signed UK product has been waiting in the wings for her shot at stateside stardom and this wistful ballad might be her ticket to securing it. With a soulful, throwback beat and some clever songwriting, you just might find yourself crushing on Ella Mai as much as she is on the song's subject.–A.W.
12. Beach House, "Dive"
Beach House's appropriately titled seventh album is filled with surprises both small and large, but none is greater than in the middle of "Dive." If the song had been submerged for its first half, the world turns to color when the song shoots like a rocket for the surface, exploding to grab a gasp of air and a glimpse of blinding light. It's the most rocking bit of music in the band's catalog, and enough that viewing Beach House through the same lens is impossible.–P.C.
11. Lucy Dacus, "Night Shift"
Lucy Dacus' second album established her as a rock songwriting force, and on "Night Shift," she spends six minutes singing about breakups, because they're important formative experiences. Listening to somebody talk about their ex for six minutes can be a drag, but the way Dacus does is makes you want to listen, and then listen again.–D.R.
10. Deafheaven, "Honeycomb"
Deafheaven's first new song in three years isn't going to rewrite their narrative or change fans' perspectives. It's the same expansive, sweltering blasts of beautiful screeching that they've become known for on their last few albums. What's amazing is how the band's willingness to break genre boundaries remains intact, like a mission statement that sits laminated on the wall above their desk. "Honeycomb" is the sound of commitment.–P.C.
9. Cardi B, "Bickenhead"
I defy you to listen to this Invasion Of Privacy linchpin without squawking along to its infectious chorus. In the spirit of hip-hop's defiantly rebellious tendency for re-appropriation, Cardi shanghais the once-derogatory term into a bold statement of sexual freedom.–A.W.
8. Stephen Malkmus And The Jicks, "Middle America"
There's nothing like hearing an all-time favorite artist return to form, and that's exactly what former Pavement leader Stephen Malkmus does on "Middle America." The song manages to capture the rambling motion of some of his best work (think "Range Life") while rooting itself in a more mature and seasoned worldview. No other song this year felt like a gift in quite the same way.–P.C.
7. Janelle Monae, "Screwed" feat. Zoe Kravitz
Janelle Monae isn't in charge of the universe, but Dirty Computer is brilliant enough to double as an argument that she should be. Along with Zoe Kravitz — word to her recent glow up — Monae argues that given how f*cked up the world is at this point, the answer is to tangle it all up in sheets and let love rule. "You f*cked the world up now / we'll f*ck it all back down," the duo sing on this effervescent, twisted chorus. That's a political movement I can get behind (in some cases, quite literally).—C.W.
6. Father John Misty, "Disappointing Diamonds Are The Rarest Of Them All"
Josh Tillman is a lot faster than geological forces in that he doesn't need a ton of time to crank out a diamond. In under two-and-a-half minutes, he cranks out a healthy dose of melody and sardonic observation with a song that's as lovely and on-brand as it is short.–D.R.
5. Kacey Musgraves, "Slow Burn"
The peak moment on Kacey Musgraves' album-of-the-year contender Golden Hour is her sun-kissed ballad "Slow Burn," one of the most autobiographical songs she's ever penned. A tender, sepia-toned ode to taking your time to smell the roses.–C.R.
4. Ariana Grande, "No Tears Left To Cry"
What's left after unspeakable tragedy? The dancefloor, a sacred site of human celebration, despite the forces of evil that threaten it from all sides. Following the devastating attack on her concert in Manchester, Ariana Grande knew it was impossible to return to the same carefree, shiny R&B that she'd previously clung to without acknowledging what happened. So, instead, she brought her grief right inside of that freeform sound, shaping a way forward that decries hate without pretending like it doesn't exist. But while "No Tears Left To Cry" is on, the dancefloor feels like heaven — and a haven.—C.W.
3. Drake, "Nice For What"
Though he spends the majority of his discography bemoaning the way women treat him, on "Nice For What" new "nice guy" era Drake tentatively unfolds. Over an unfuckwithable Lauryn Hill sample, Drizzy sends prayers up to the single girl with a ladies night anthem that will go off in clubs all year round, and probably well into the next decade. Whatever flaws our dear OVO overlord might have, putting together a joyously arrogant kiss-off has never been one.—C.W.
2. Childish Gambino, "This Is America"
While the majority of the attention has rightly been diverted to Childish Gambino and Hiro Murai's masterful music video, the song at its core is an experimental evolution of the former's sound, combining his prior musical personalities to finally synthesize something truly singular and all his own.–A.W.
1. Kendrick Lamar, SZA, "All The Stars"
The single from the Black Panther soundtrack has been utterly inescapable, with SZA's hook anchoring Kendrick's majestic bars and Sounwave's cosmic beat evoking the same sense of wonder as the first glimpse of Wakanda.–A.W.